Donald Trump Is Just As Popular As Obama and Reagan, So Will He Also Sail to Re-Election?
Heading into his re-election campaign, President Donald Trump is enjoying approval numbers that mirror those of Presidents Ronald Reagan and Barack Obama, who both sailed to victory to secure a second term in office.
But the tailwinds that lifted the re-election prospects of Trump's predecessors may be functioning as headwinds for the current administration, as, despite Donald Trump Jr.'s tweet noting these parallels, the president is grappling with unpopularity unique to himself.
According to Gallup, Trump's approval rating currently stands at 43 percent, marginally higher than his average of 40 percent but still tethered to his relatively stable polling trendline throughout the first two years of his presidency.
Reagan's job approval numbers were similarly situated at 43 percent in June 1983, the year before he won re-election. But his numbers were recovering from an all-time low of 35 percent only a few months earlier, and he would still reach a relative peak of 54 percent before the end of the year. Most importantly, the broader context of the country's fiscal health during this point of the Reagan administration allowed the president significant room for improvement.
In 1983, the economy was rebounding from a historic recession, then the worst contraction since the Great Depression. Unemployment reached a staggering high of 11 percent and consumers were still coping with a steadily declining inflation rate that had spiraled out of control at the end of the Carter administration.
In the June before his re-election year, Obama's approval ratings had also sunk to 43 percent, a near-low for his presidency and a steep decline from the supermajority of support he enjoyed at the beginning of his first term. He would achieve 52 percent approval, though, on the cusp of the 2012 election, providing him enough support to muster a defeat of Mitt Romney.
By contrast, Trump's current approval ratings headed into 2020 don't appear to fluctuate in response to the kinds of external factors that moved numbers for Obama and Reagan. Trump's job approval polls have largely remained flat, despite significant developments during his administration—such as historic stock market highs and massively unpopular social policies—that might otherwise lift or depress another president's ratings.
Another complicating factor for the current president is that approval ratings only present a snapshot of the public sentiment, failing to account for underlying attitudes that could affect decision-making at the polls. Obama achieved an average approval rating of 49 percent during his first term in office; Reagan eked out a 50 percent rating. While Trump's current ratings match those of his victorious predecessors, his average is nearly ten points lower, granting him much less credibility with the public as he campaigns for re-election. His absolute high, according to Gallup, is only 46 percent, less than the first-term averages for both Obama and Reagan.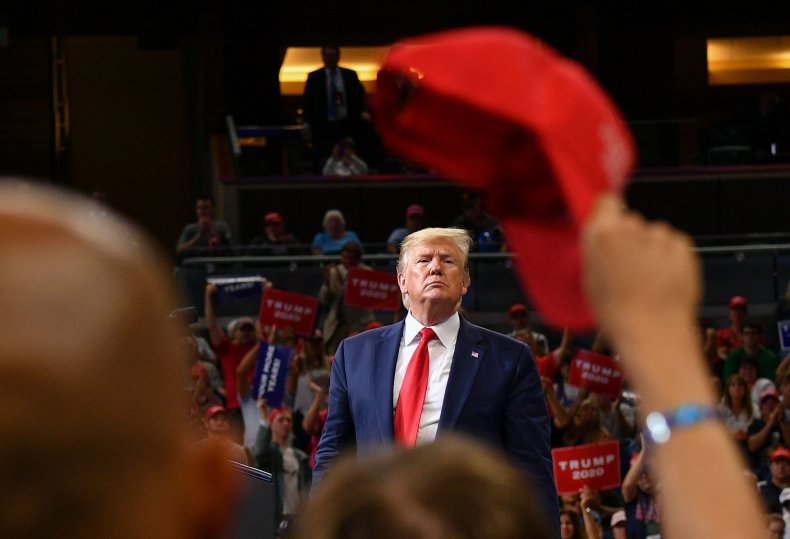 Job approval ratings are not the only measurement of presidential success, and they can cloud other assessments that paint a fuller picture of how a presidency may be faring. RealClearPolitics compiled a polling average of a related question—feelings about the general "direction" the country is headed in—and, on average, Trump is 15 points underwater. Recent polls recorded a negative gap as large as 24 points when voters were asked about the direction of the country.
Perhaps most troubling for the president in understanding his approval ratings is that he has, by some metrics, inherited a historically strong economy. The U.S. is experiencing one of the longest post-recession economic expansions in the country's history. The unemployment rate is being squeezed to generational lows and wage growth is picking up pace more than usual.
While structural changes to the economy have excluded many workers from the returns of the current rally, the perception of economic success, a critical factor in how Americans evaluate economic performance, is squarely within the president's favor. And yet against these challenges, Trump must contend with sclerotic approval numbers that won't budge.
As 2020 closes in, Democrats are cautiously optimistic about their chances against the president, regardless of marginal polling shifts. A Quinnipiac University poll released last week asked registered voters to choose between Trump and specific Democratic candidates in a hypothetical match-up. Voters preferred Vice President Joe Biden by 13 points, Senator Bernie Sanders by nine points, Senator Kamala Harris by eight points, Senator Elizabeth Warren by seven points and both South Bend, Indiana, Mayor Pete Buttigieg and Senator Cory Booker by five points.