Donald Trump on Democrats: 'You Don't Have to Have Matches to Be An Arsonist' (Kansas Rally Updates)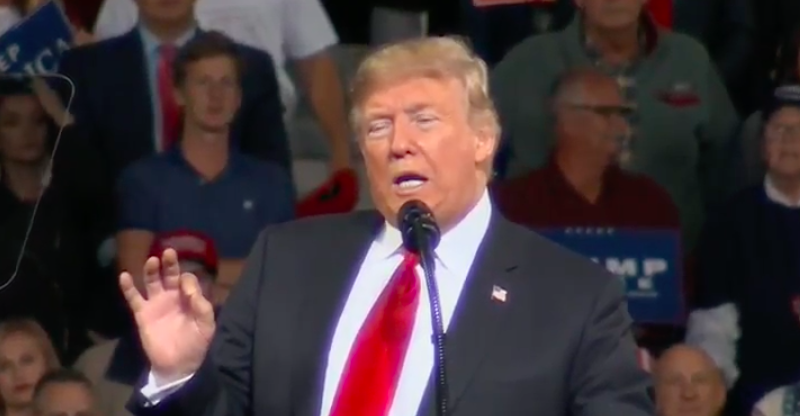 President Donald Trump, speaking Saturday night at a campaign rally in Topeka, Kansas, suggested that Democrats will destroy America if they get an edge in upcoming mid-term elections.
"You don't have to have matches to be an arsonist," Trump said, drawing loud applause.
Trump suggested that recent events before today's Senate confirmation of his Supreme Court nominee Brett Kavanaugh were evidence that Democrats are "willing to cause such destruction in pursuit of power, just imagine…if they obtained the power they so desperately crave."
"Republicans believe in the rule of law, not the rule of the mob."
Trump was speaking about Democratic efforts to block the confirmation of Kavanaugh to the U.S. Supreme Court. Conversely, under Republicans, the Supreme Court is moving in the right direction and so is the American economy, Trump suggested.
"Under Republican leadership, America is thriving," Trump said. "America is winning because we are putting America first. Unemployment has fallen to 3.7 percent, the lowest in 50 years. Manufacturing confidence at an all-time high, and we have the best economy in the history of our country."
The rally came on the night after Brett Kavanaugh, Trump's Supreme Court nominee, received Senate confirmation, ending a bitter political struggle and delivering the president a big win.
Trump said during the rally that African Americans are benefitting from having him in office and that more African Americans are becoming Republicans.
"African American unemployment has reached its lowest level ever recorded in American history," the President said. "[It's the] best in terms of poverty ever for African Americans. For 100 years African Americans have gone with Democrats, but now they are changing…thank you Kanye West…"
Trump also noted the media attending the rally, eliciting boos from the crowd.
"Look how many reporters," Trump said. "…wow, that's a lot."
Speaking about North Korea and its leader Kim Jong Un, Trump said he gets unfair criticism for progress not moving fast enough.
"They say, 'We aren't you going faster'? I was just there three months ago with Kim Jung Un. We got all the [nuclear] testing stopped."
"They say, 'Why do you meet'?" I like to meet. What the hell do we lose by meeting? That's what I gave away? I agreed to meet? These people are sick. Can you imagine how well we would do if we actually had a fair press?"
Earlier Saturday, just before the rally, Trump told reporters on Air Force One that he is a "hundred percent" sure that Christine Blasey Ford, the woman who accused Brett Kavanaugh of sexually assaulting her when they were in high school named the wrong person, according to the Associated Press.
Kavanaugh was confirmed by the Senate on Saturday by a 50-48 vote. Trump told reporters on Air Force One, the AP reported, that one of the reasons he chose Kavanaugh "is because there's nobody with a squeaky-clean past" like him.
Trump has been in a fast-paced rally mode approaching the mid-term elections on November 6. He's been to West Virginia, Tennessee, Mississippi, Minnesota and now heading to Kansas, with scheduled October stops in Iowa, Pennsylvania, Ohio, and Richmond, Kentucky.
At a rally earlier this week in Southaven, Mississippi, President Trump mocked Dr. Ford. A repeat performance Saturday night could damage Kris Kobach, a Trump ally who is Republican candidate for Kansas governor.
"You never know what Trump's going to do at a rally. For example, bringing up Dr. Ford in his last rally is something that up in the third district could really motivate women to vote against Kobach," said Bob Beatty, a political scientist at Washburn University in Topeka, according to the Wichita Eagle.