Donald Trump Calls Sexual Assault Victims, Anti-Kavanaugh Protesters 'Rude Elevator Screamers' Paid for by George Soros
President Donald Trump once again took to Twitter Friday morning, this time to take a swipe at those on Capitol Hill who have protested against the confirmation of Supreme Court nominee Brett Kavanaugh.
The protesters, many of whom have said that they themselves are victims of sexual assault, have urged senators not to support Kavanaugh in the wake of multiple sexual assault allegations against the nominee.
Trump claimed, without evidence, that the activists were "rude elevator screamers" who were "paid professionals only looking to make Senators look bad."
"The very rude elevator screamers are paid professionals only looking to make Senators look bad. Don't fall for it!" Trump said. "Also, look at all of the professionally made identical signs. Paid for by Soros and others. These are not signs made in the basement from love! #Troublemakers."
Trump did not provide evidence that the activists on Capitol Hill are paid by anybody. U.S. Capitol Police (USCP) said Thursday that 302 people were arrested for "unlawfully demonstrating" and other charges of massive protesting that included crowding, obstructing or incommoding.
In reference to the president's "rude elevator screamers," Trump appeared to be referencing those who have confronted senators on Capitol Hill as they go to and from Senate offices and chambers.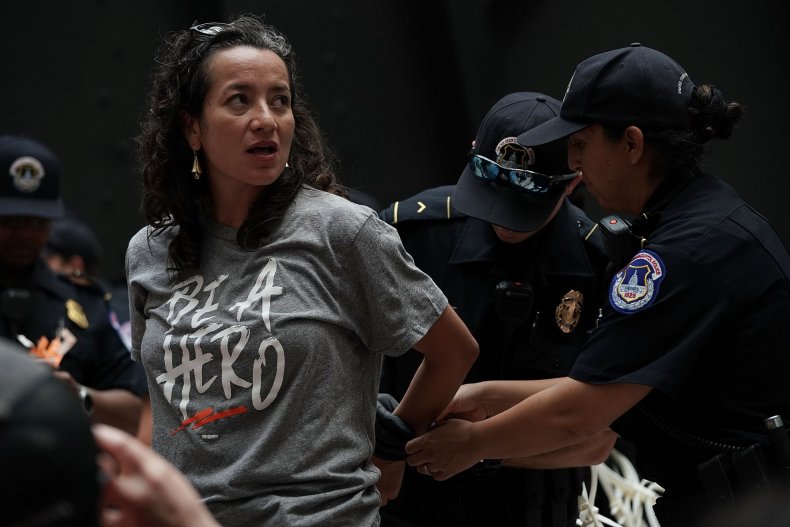 Two well-known confrontations took place in recent days involving sexual assault survivors and GOP Senators Jeff Flake and Orrin Hatch.
Hatch was approached by protesters as he was getting into an elevator on Thursday, waving his hand at them and telling them to "grow up."
It was a stark difference to the way in which Flake handled similar protesters. Flake, who is not running for re-election and is seen as one of the crucial swing votes who will decide Kavanaugh's fate, stopped to listen to the group of women who confronted him, identifying themselves as victims of sexual assault. Shortly after Flake's confrontation with those women, he called for the FBI to reopen their background investigation to investigate the validity of the numerous sexual assault allegations against Kavanaugh.
Ana Maria Archila, one of the two women who confronted Flake and is pictured above, refuted the president's claim that she is just a "rude elevator screamer" who is paid to make Senators "look bad" on MSNBC, saying she showed up to the Capitol Hill "with hundreds of people that my organization and others brought so that we could tell our stories." Archila is a member of the Working Families Party and executive director of Center for Popular Democracy.
"When I was talking to Flake in that moment, I was a woman," Archila said. "I was a mother. I was a survivor. I was someone who believs that we can connect, and through those connectins, make better decisions for each other."
The Senate will hold a procedural vote on Friday—the one-year anniversary of The New Yorker story on film producer Harvey Weinstein that began the #MeToo movement—on whether to advance Kavanaugh's nomination to a final up-or-down vote expected to take place on Saturday.
While the president has claimed multiple times in the past that protesters he disagreed with were paid, Trump himself reportedly paid background actors $50 each to cheer for him during his presidential announcement speech he made in June 2015. Emails obtained by The Hollywood Reporter sent to actors by Extra Mile Casting said the campaign was "looking to cast people for the event to wear t-shirts and carry signs and help cheer him in support of his announcement."
Update: This story has been updated to include comment from Ana Maria Archila.