Donald Trump Still Doesn't Understand Why Alleged Sexual Assault Victims May Be Reluctant to Report Attacks
President Donald Trump fired off a series of tweets on Friday morning questioning why Christine Blasey Ford didn't immediately come forward after allegedly being sexually assaulted by Brett Kavanaugh at a high school party more than three decades ago.
"I have no doubt that, if the attack on Dr. Ford was as bad as she says, charges would have been immediately filed with local Law Enforcement Authorities by either her or her loving parents. I ask that she bring those filings forward so that we can learn date, time, and place!" Trump wrote.
The president doubled down on his statement, writing in a separate Twitter post that "the radical left lawyers want the FBI to get involved NOW. Why didn't someone call the FBI 36 years ago?"
At a rally on Thursday, the president told the crowd that while Ford had the right to be heard, the Senate also had to keep going forward with the Kavanaugh nomination.
"They have to get on with it," Trump said.
Ford, who went public with her allegations against Kavanaugh last week, accused the judge of sexually assaulting her when they were both in high school. Ford claims that Kavanaugh was "stumbling drunk" and pushed her down onto a bed before groping her, trying to remove her clothes and placing his hand over her mouth. Ford said that one of Kavanaugh's friends, Mark Judge, witnessed the incident.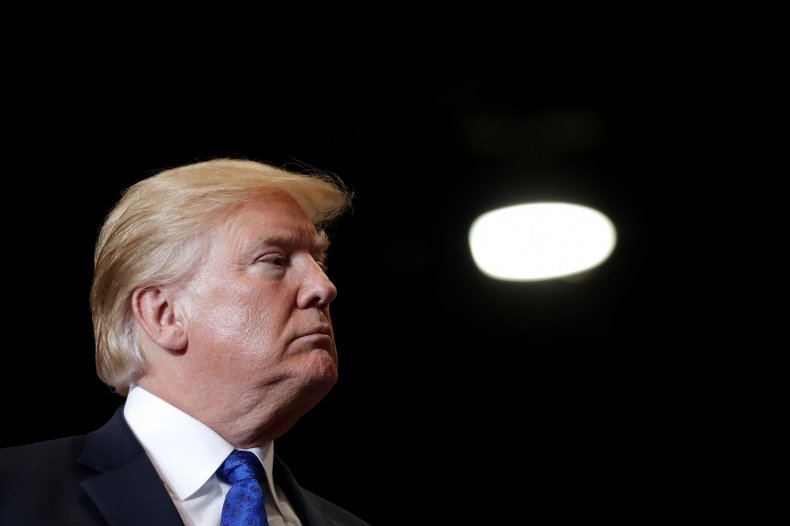 The Senate Judiciary Committee is urging Ford to testify as soon as next week, though she requested that an FBI investigation first take place to look into her allegations. Her lawyers said Thursday evening that she would be open to testifying next week as long as the committee could offer "terms that are fair and which ensure her safety."
Ford has already taken and passed a polygraph test and has provided notes from a 2012 therapy session in which she talked about the assault.
Despite Trump's assertion that if the alleged assault was "as bad" as Ford has stated she would have come forward decades ago, sexual assault experts say the most normal reaction for victims is to not come forward.
"With the amount of stigma, shame and blame that victims face, no one should ever be surprised that someone has waited to come forward," Laura Palumbo, the communications director at the National Sexual Violence Resource Center, told Newsweek on Friday.
Research has shown that sexual violence is the most underreported violent crime, Palumbo added, saying that a pretty conservative estimate of victims who do not come forward and file a police report is about 63 percent.
Palumbo also urged people to remember that Ford was living in a time completely different from today's Me Too movement, where it is now becoming increasingly common for victims to go public with their accusations. That was not the case decades ago, where cases of abuse or assault were not taken seriously and were even "normalized" in the culture.
Hearing the stories of women who experienced sexual harassment or assault decades ago, Palumbo said they often talk about how they "didn't know what to call what happened to them" or "they didn't know what happened to them was assault."
The lawmakers who will be listening to Ford's testimony and assessing her claims need to be patient and understanding of the way she has processed the alleged assault, Amy Oestreicher, a post-traumatic stress disorder specialist, told Newsweek on Friday.
"People will say 'Oh, why didn't you report it right away?' but you have to give us some time for us to come out of that shock and out of that deer in the headlights mode," she said. "Everyone needs to understand what PTSD is.
"It doesn't just happen to military veterans, it doesn't just happen to victims of natural disasters—it can affect anyone. They need to understand that often words come last and this is an experience that shocks you into another world that can't be immediately articulated, especially not publicly," Oestreicher added.
This is not the first time that Trump has questioned alleged victims of sexual assault why they didn't report their abusers immediately.
After 19 women accused Trump of sexual harassment and assault during and after the 2016 election, the White House issued a statement saying: "The timing and absurdity of these false claims speaks volumes and the publicity tour that has begun only further confirms the political motives behind them."
After former White House staffer Rob Porter resigned amid allegations of domestic abuse in February, the president defended him and wrote on Twitter that accusations are destroying people's lives.
"Peoples lives are being shattered and destroyed by a mere allegation. Some are true and some are false. Some are old and some are new. There is no recovery for someone falsely accused - life and career are gone. Is there no such thing any longer as Due Process?"