Donald Trump Blames Kellyanne Conway for Him Not Giving Bob Woodward an Interview for 'Bad Book'
President Donald Trump placed blame on his counselor Kellyanne Conway for not arranging an interview with investigative journalist Bob Woodward on his forthcoming book on the Trump presidency, a transcript of an early August phone call between the two men showed.
Throughout the 11-minute call—obtained, transcribed and released by The Washington Post Tuesday—Trump repeatedly claims that his staff did not tell him about Woodward's request to interview for his book. The book, Fear, paints a tumultuous White House and alleges that Trump's inner circle tries to control his impulses to avoid chaotic breakouts.
Woodward, an associate editor at The Post who helped uncover Watergate, says that he had lunch with Conway specifically about putting through the request to interview Trump.
"Kellyanne went to somebody, but she didn't come to me," Trump said.
"Well, does she have access to you?" Woodward asked.
"And she should've come to me. She does have access to me. Absolutely. She has direct access, but she didn't come to me. And you know what? That's okay," Trump responded. "I'll just end up with another bad book. What can I tell you?"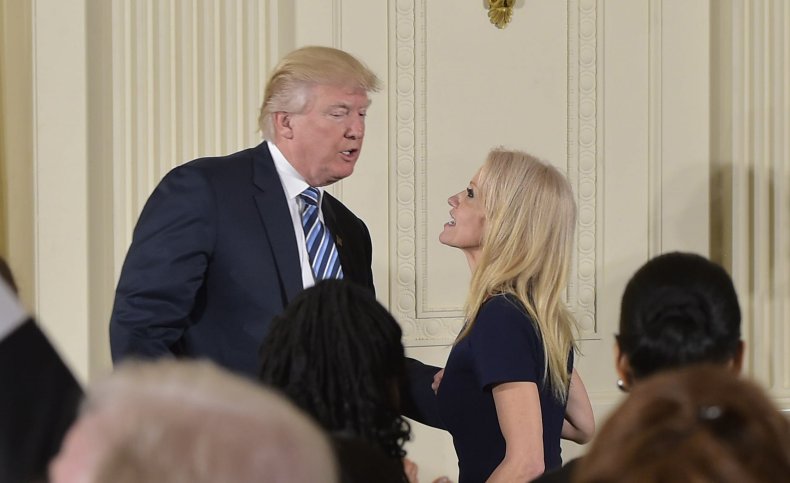 Before concluding that Woodward's book would wind up being "another bad book," Trump questioned Conway's involvement in the journalist's request and even put her on the phone.
At the start of the conversation, when Woodward said he was sorry they missed the opportunity to talk for the book, Trump brought up his counselor.
"Well, I just spoke with Kellyanne and she asked me if I got a call. I never got a call. I never got a message," Trump said. "Who did you ask about speaking to me?"
Woodward answered that he spoke to about a half-dozen people including a senator and Conway, over lunch two and a half months prior.
Trump later said he will speak to Conway about it, at the same moment that she walks into his room. "He [Woodward] said that he told you," Trump told Conway. "Yes," she replied.
"About speaking to me. But you never told me," Trump continued. "Why didn't you tell me?"
Conway is one of Trump's few remaining confidants since he took office more than a year and a half ago. Many original administration members departed or were fired, creating high turnover and reported instability within the White House.
While Trump pressed Conway and blamed her for not directly arranging the interview, he ultimately said "that's okay" because Woodward would've authored a "bad book" either way.
White House Press Secretary Sarah Huckabee Sanders in a statement Tuesday afternoon called Woodward's book "nothing more than fabricated stories," many by "disgruntled" former White House employees set on making Trump look bad.
"While it is not always pretty, and rare that the press actually covers it, President Trump has broken through the bureaucratic process to deliver unprecedented successes for the American people," Sanders stated. "Sometimes it is unconventional, but he always gets results."