Donald Trump, Kevin McCarthy Discuss GOP Taking Back the House in 2022
Donald Trump may be out of the White House, but he's not done with the Republican Party.
In a press release Thursday, Trump's Save America political action committee said the former president has agreed to help House Minority Leader Kevin McCarthy (R-Calif.) and the Republican Party reclaim control of the House in 2022. The two men discussed the matter at Trump's Mar-a-Lago golf resort in Florida in what the PAC described as a "very good and cordial" meeting.
"President Trump's popularity has never been stronger than it is today, and his endorsement means more than perhaps any endorsement at any time," the release said.
The PAC touted the GOP's success in the 2020 election cycle, when the party closed the gap in the Democrat-controlled House, as a positive sign heading into the 2022 election cycle.
"They worked very well together in the last election and picked up at least 15 seats when most predicted it would be the opposite. They will do so again, and the work has already started," the statement said.
As he left the White House on January 20, Trump vowed he'd be back "in some form." He earlier said in his farewell address that "the movement we started is only just beginning."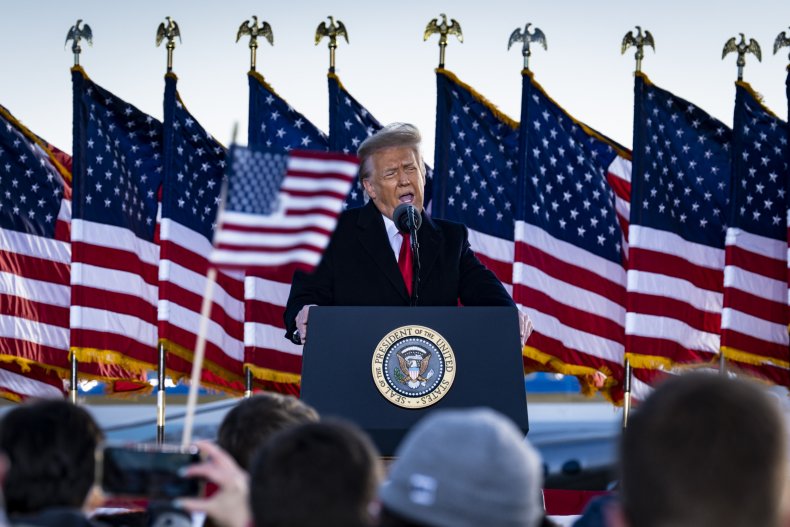 Democrats will have to defend a narrow 221-211 majority in the House in the upcoming election cycle, after Republicans vastly outperformed expectations in the 2020 elections. The GOP flipped more than a dozen seats from blue to red and elected a record number of female candidates.
It's not clear exactly how Trump will lend his efforts to the Republican cause in 2022. Newsweek reached out to the Save America PAC for comment on the matter but did not immediately receive a response.
Before he left office, Trump encouraged primary challenges to conservative members of Congress whom he perceived as disloyal to him and his administration. On January 6, the day a mob of his supporters stormed the U.S. Capitol to protest certification of President Joe Biden's victory, Trump told his supporters to "primary the hell" out of conservative lawmakers who did not object to the Electoral College results.
In the aftermath of the January 6 attack, McCarthy has struggled to unify his caucus. In a private conference call on Wednesday, the minority leader reportedly warned his members to stop attacking each other in public.
Newsweek also contacted McCarthy's office for comment on his meeting with Trump but did not hear back before publication.
Recent polling has found Trump is still overwhelmingly popular among Republicans, as his approval rating has gone up since the deadly riot at the Capitol. A Morning Consult survey released Wednesday found 81 percent of Republican voters held a favorable view of the former president, a slight increase from 76 percent in mid-January.