Donald Trump Says 'Rogue Killers' May Have Murdered Saudi Journalist, Despite Cleaning Crew Shown Entering Consulate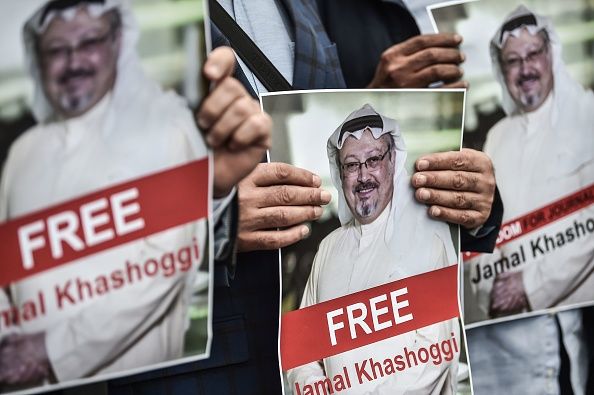 President Donald Trump said Monday that he had spoken with Saudi Arabia's King Salman and that the ruler claimed to have no idea what happened to dissident Saudi journalist Jamal Khashoggi. Trump later told reporters "rogue killers" could have been responsible for Khashoggi's disappearance.
Khashoggi, a U.S. resident and columnist for The Washington Post, has been a critic of the Saudi regime and Crown Prince Mohammad bin Salman. He vanished on October 2, after entering the Saudi Consulate in Istanbul, where a cleaning crew was seen Monday ahead of a joint inspection of the building by Turkish and Saudi officials.
"Just spoke to the King of Saudi Arabia who denies any knowledge of whatever may have happened 'to our Saudi Arabian citizen.' He said that they are working closely with Turkey to find answer. I am immediately sending our Secretary of State to meet with King!" Trump tweeted Monday morning.
Turkish officials have said they suspect that Khashoggi was killed when he entered the Saudi consulate to obtain the documents needed to marry his Turkish fiancée. Reports have revealed that a team of 15 Saudi intelligence officials arrived in Turkey the day the journalist vanished.
Turkish President Recep Tayyip Erdogan has demanded that Saudi Arabia provide an explanation for Khashoggi's disappearance. Officials in Riyadh claim that the journalist left the consulate shortly after entering, but they have provided no proof. His fiancée, Hatice Cengiz, waited outside the consulate for around 10 hours before she reported his disappearance.
Saudi Arabia agreed to allow Turkish investigators to inspect the consulate, and the search of the building could take place as early as Monday afternoon. Cameras caught a cleaning crew, with mops and trash bags, entering the building before the inspection, raising questions about whether the Saudi government could be removing or destroying evidence of the journalist's murder.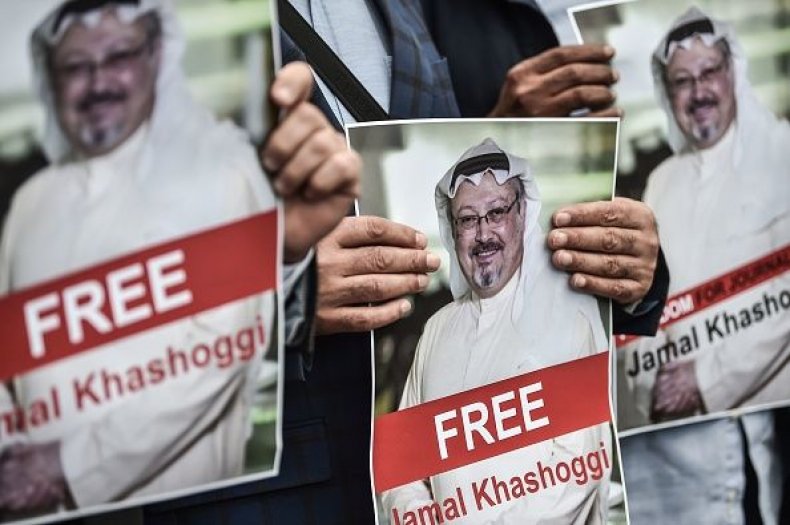 Trump announced Monday that Secretary of State Mike Pompeo was traveling to Saudi Arabia to meet with King Salman, but the president appeared open to the Saudi government's claim that it was not involved in the disappearance. "It sounded to me like maybe these could have been rogue killers—who knows?" Trump told reporters in brief remarks on the White House lawn.
At first, Trump had appeared ambivalent over how to respond to the allegation, signaling that the U.S. would not stop arms sales to Saudi Arabia or sanction the country over the journalist's disappearance. Still, in an interview on 60 minutes that aired Sunday, Trump warned there would be a "severe punishment" for whoever was responsible.
Khashoggi's family and friends, meanwhile, assume that the journalist was killed in the consulate. In an op-ed for The New York Times published Saturday, Khashoggi's fiancée eulogized her partner as a "lonely patriot."
"He traveled widely across the world, but loved Saudi Arabia more than anywhere else. Yet there was no room left in his native country for him. He fled Saudi Arabia with two suitcases amid a crackdown on intellectuals and activists who criticized Crown Prince Mohammed bin Salman," Cengiz wrote. "He left Saudi Arabia because it was the only way he could write and speak about issues and ideas that he cared about, and to work without compromising his dignity."