President Donald Trump's love of fast food is well known, and he's even been known to serve up his favorite main course (burgers) to visiting world leaders.
But despite North Korean leader Kim Jong Un reportedly having a similar appetite for fast food, there was no such junk on the menu at the working lunch for the pair in Singapore at the long-awaited summit this week.
Instead, the leaders, who were joined by a string of advisers including Secretary of State Mike Pompeo and Vice Chair of the Workers party of Korea Kim Yong Chol, tucked into far more delicate fare.
According to a release from the White House, starters at the lunch included a traditional prawn cocktail served with avocado, mango kerabu with fresh octopus and a honey and lime dressing, and oiseon, a Korean stuffed cucumber.
For mains, the leaders were offered a choice of beef short rib confit with dauphinoise potatoes and steamed broccoli with a red wine sauce, sweet and sour crispy pork with fried rice and chilli sauce, or soy-braised cod with vegetables.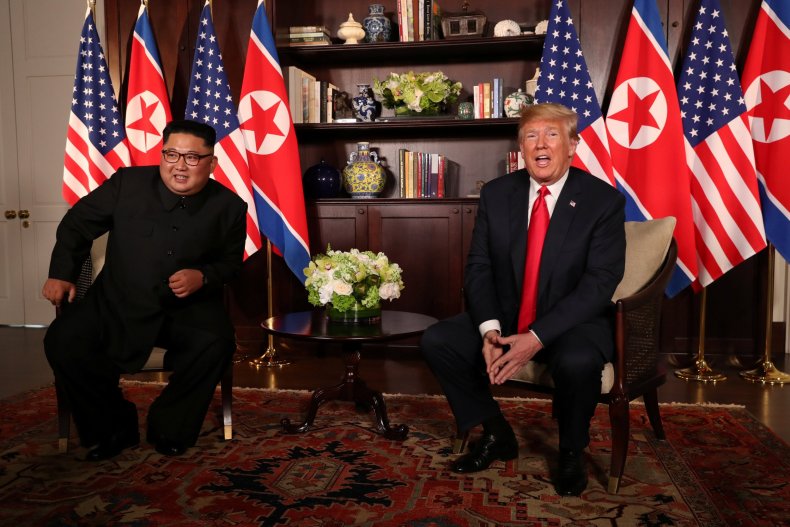 And for dessert, attendees tucked into a choice of dark chocolate tartlet, vanilla ice-cream with cherry coulis, and tropezienne, a dessert pastry.
Although President Trump in particular was often pictured with fast food while on the campaign trail, he has reportedly cut down on such indulgences in the past year in a bid to get healthier, but he has previously enjoyed burgers with other leaders.
In Pictures: Key Moments in North Korea-U.S. Relations
In April, Trump and visiting Japanese Prime Minister Shinzo Abe enjoyed cheeseburgers together while playing a round of golf. The president was notably served "stewed beef steak in tomato sauce" during his trip to China at the end of last year, possibly an homage to Trump's love of steak with ketchup, as the South China Morning Post reported.