North Korea would not be obligated to release a full list of its nuclear weapon stockpiles before President Donald Trump held a second meeting with North Korean leader Kim Jong Un, Vice President Mike Pence told reporters on Thursday.
Trump held a high-level meeting with the North Korean leadership in Singapore in June, and the summit was widely criticized for a lack of substance and clear goals. The rogue regime's leaders had been seeking a meeting with a U.S. president for years because such an event would lend them much-coveted legitimacy at home. But previous U.S. administrations had refused to engage in such an event until North Korea demonstrated a clear willingness to reduce its number of nuclear weapons.
Over the past year, the North Korean leader has paid lip service to the concept of denuclearization and made moves to normalize its relationship with South Korea. But many experts cast doubt on whether the secretive regime was really willing to give up its nuclear weapons, which it saw as deterrence against a U.S. invasion and any effort to enforce regime change. A top South Korean minister said last month that the North was estimated to have as many as 60 nuclear warheads in its possession, but the precise number was unknown. The U.S., by comparison, has around 6,800.
North Korea also recently postponed meetings it had scheduled with Secretary of State Mike Pompeo in New York. Some experts said the decision to hold a high-level meeting without a full inventory of weapons was a wise, if last-ditch, attempt to salvage the negotiations that could lead to denuclearization.
"The Trump administration is wise to try and hold a second summit with North Korea. And not demanding a list of the North's nuclear weapons inventory or production facilities likely guarantees such a meeting will go forward in early 2019. And that is major progress indeed," the director of defense studies at the Center for the National Interest in Washington, D.C., told Newsweek.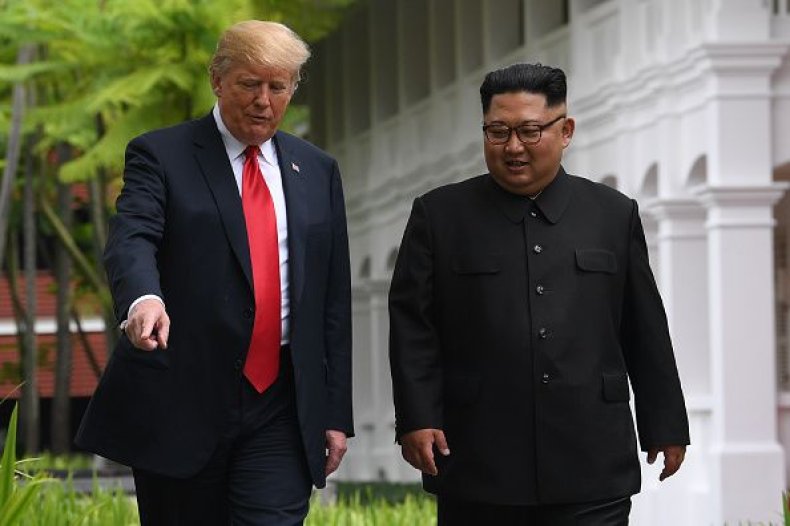 "North Korea views the demand of what can only amount to a nuclear dossier as what could be a future target list if negotiations were to go bad. Lifting that demand shows the administration is willing to bend somewhat to further talks—a very smart move."
The next meeting between the two leaders was set to take place around the New Year. Pence told NBC that it would be "absolutely imperative in this next summit that we come away with a plan for identifying all of the weapons in question."
Analysts said it would be important to set clear and measurable goals for the meeting.
"Another summit meeting might help to kickstart a stalled process, but this time it will be crucial that the Trump administration makes sure that most of the summit's deliverables and outcomes will be choreographed well in advance. Washington and Pyongyang need to get a serious working-level dialogue process in place to work out the details of how things move forward; otherwise, we'll just keep playing footsie with each other," Daniel Wertz, associate director of the National Committee on North Korea, told Newsweek.
"A short-term objective for the U.S. should be to find a way to freeze North Korea's production of long-range missiles and fissile material for its nuclear weapons. That will at least keep the problem from getting worse, and give the U.S. some breathing space for what could be a prolonged negotiating process," Wertz continued.
Kazianis, meanwhile, said that the building blocks existed to make a peace agreement a reality.
"Team Trump offers a peace declaration ending the Korean War once and for all. Kim Jung Un in exchange agrees to close the Yongbyon nuclear facility under international inspection as a down payment toward denuclearization—something he offered in September during the third Inter-Korean summit. That is a path to peace and a long-term détente the entire world can live with," Kazianis said.