Donald Trump and Kim Jong Un Shake Hands on Commemorative Singapore Summit Coin
The Singapore Mint has released a limited-edition set of medallions to commemorate the historic first summit between a sitting U.S. president, Donald Trump, and a North Korean leader, Kim Jong Un, scheduled in the island state for June 12.
The coin design unveiled on Tuesday is available in three materials, covering a flexible price range from $1,034 for the gold medallion, to the mid-range $88 silver coin and the most affordable nickel-plated zinc model priced at $27. But these are all more expensive than the $24.95 commemorative Korea Peace Talks coin unveiled last month by the White House Communications Agency, which have been reduced to a $19.95 "deal of the day price" since Trump abruptly canceled the talks on May 24.
With the talks back on after Trump met Kim's right hand man, Kim Yong Chol, in the White House last week, the Singapore Mint's medallion design includes more details about the event, such as its date and location—both elements that the White House coins were missing. White House Press Secretary Sarah Huckabee Sanders said Monday their first meeting is scheduled for 9:00 a.m. Singapore time, 12 hours ahead of New York, meaning the meeting will technically take place on June 11, 9:00 p.m EST.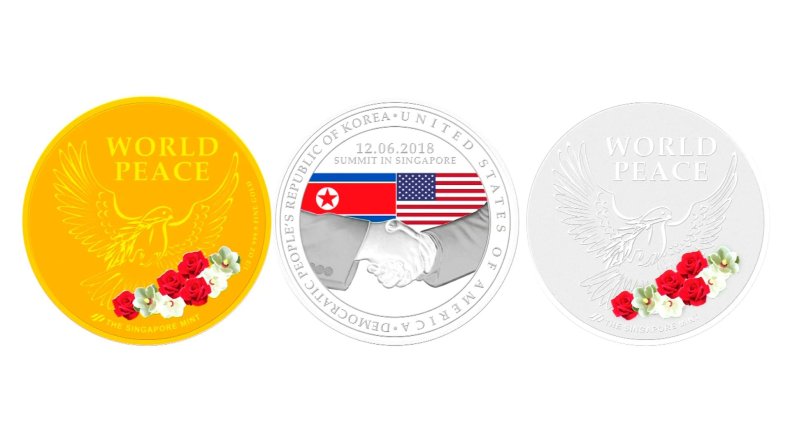 Newsweek subscription offers >
The Singapore coin features a handshake between Kim and Trump beneath their respective flags on one side of the coin, imagining the North Korean leader wearing his trademark Mao suit, worn without a shirt underneath, rather than a Western-style one like the one he wore during his New Year's speech. On the other side of the coin, a dove with an olive branch hopes for "World Peace" as a composition of red roses and white magnolia, the two country's national flowers, also represent the colors of the flag of Singapore.
Those wishing to get their hands on the commemorative item, however, will have to travel to Singapore to collect it as the Singapore Mint does not fulfil international orders—although local residents may still be able to buy the coins and then re-sell it online to the highest bidders.
The island state locals are preparing to host the high-stake summit. The island of Sentosa, which includes the Capella hotel, where the summit may take place, and the streets on Singapore's main island surrounding the Shangri-La hotel, which may be the accommodation of choice for Trump and the U.S. delegation, have been designated as a "special event area" between June 10 to 14, as Singaporean journalist Kirsten Han noted on Twitter on Tuesday, citing official government orders.
Smaller "special zones" have also been set up within those areas, where police will be entrusted with special powers, and there will be restrictions on vehicles and pedestrians entering. Items such as flags, banners and flammable materials are also banned from these areas.
Newsweek subscription offers >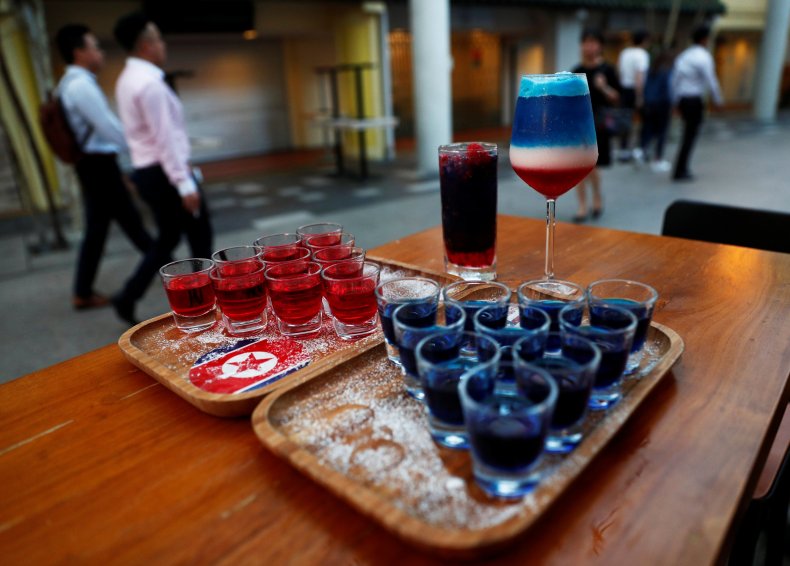 Elsewhere on the island, businesses are trying to commemorate the event in other creative ways. One bar has created special cocktails in honor of the two leaders—a bourbon-based blue drink for Trump, and a red cocktail mixed with Korean soju liquor for Kim—priced at 12.60 Singapore dollars ($9.5), as a nod to the summit date, Reuters reported, while another decided to combine the two leaders' drinking preferences in one drink called "bromance" that mixes beer, diet Coke, tequila and white grape soju.
Donald Trump and Kim Jong Un Shake Hands on Commemorative Singapore Summit Coin | World