Donald Trump Says North Korea's Kim Jong Un 'Doesn't Smile A Lot' But He Did 'When He Saw Me'
President Donald Trump on Friday touted his historic meeting with North Korean supreme leader Kim Jong Un, who he said he was able to charm during their latest encounter at the border separating the two Koreas.
Speaking to reporters outside the White House, Trump said that Kim "was so happy to see me" during his hastily-arranged visit to the demilitarized zone with South Korean President Moon Jae-in. Accompanied by Moon, Trump approached Kim at the border in the first-ever meeting of its kind and then became the first sitting U.S. president to cross into North Korea, with both men expressing warm sentiments months after bilateral talks fell through in February.
"That's a good thing, not a bad thing," Trump said of Kim's positive reception. "You have a man that doesn't smile a lot, but when he saw me, he smiled. He was happy."
"You have a man that when I came into office all he was doing before under [former President Barack] Obama was testing nuclear weapons and blowing up mountains and now he's not doing it," the president said.
Get your unlimited Newsweek trial >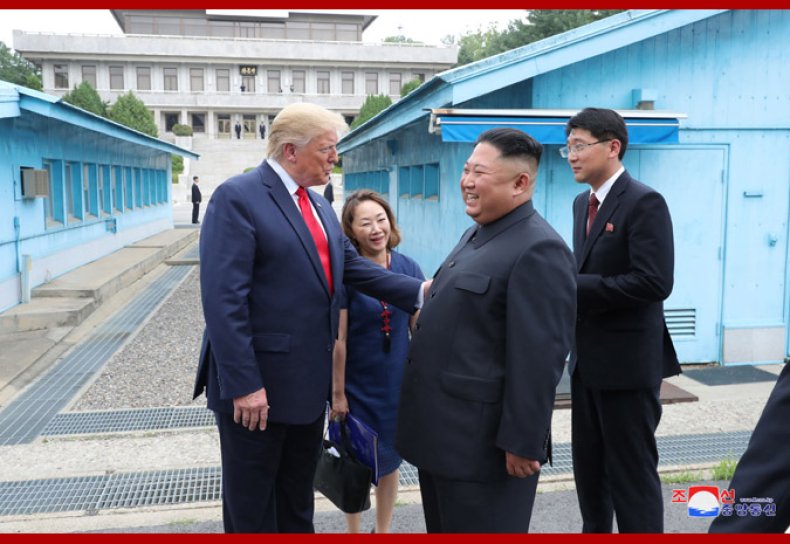 North Korea tested its first nuclear weapon in 2006 as former President George W. Bush advanced his own effort to disarm the country, which at the time was led by Kim's father, late supreme leader Kim Jong Il. North Korea would go on to test four more after Obama took office, two under the elder Kim and two more—both in Obama's final year in 2016—under the younger Kim.
Kim Jong Un took things even further when Trump entered the White House, testing intercontinental ballistic missiles and another nuclear bomb estimated to be more powerful than all previous ones combined. This set the stage for critical tensions between the two men that have largely abated since Kim decided to launch peace talks early last year and succeeded in pushing for the debut U.S.-North Korea summit last July.
The two leaders promised to seek denuclearization in exchange for security and sanctions relief and made some good faith measures, but both sides expressed frustration with the slow pace of progress in the following months. Hopes for a breakthrough surrounded their second meeting in the Vietnamese capital of Hanoi in February, but Trump walked out early, with both sides blaming one another.
Get your unlimited Newsweek trial >
Though their administrations maintained a hard line, both Trump and Kim continued to exchange flowery letters and expressed interest in organizing a third summit. Their latest rendezvous at the border, however, had all the markings of a last-minute event and even Kim himself appeared surprised, telling Trump immediately upon shaking his hand, "It's good to see you, I've never expected to meet you at this place."
"It's my honor," Trump responded before asking if he could cross the border, to which Kim readily accepted.
North Korea's elections and subsequent parliamentary session following the February summit saw major government shuffles that, among other things, included a constitutional revision that meant Kim was not only "supreme leader" but, for the first time, "represents the nation." The young ruler has had absolute control over political affairs since succeeding his father in late 2011, but now has the title of head of state at a time when North Korea's diplomacy is continuing to accelerate.
In the months since the second U.S.-Korea summit, Kim has also traveled to Moscow to meet with Russian President Vladimir Putin and received Chinese President Xi Jinping at home in Pyongyang. Russia and China have supported Trump's efforts, though they have appealed for him to adopt a "double-freeze" approach through which the U.S. would suspend all joint exercises with South Korea in exchange for North Korea suspending nuclear tests.
Citing unnamed officials, The New York Times reported that—following Trump's G20 appearance, where he spoke with both Putin and Xi—the administration was considering a similar approach that would see some sanctions relief in exchange for North Korea freezing nuclear weapons production. Questioned on the veracity of the report, State Department spokesperson Morgan Ortagus said Tuesday that such a move "would never be the end of a process," but "would be at the beginning."
A similar report emerged Thursday in South Korea's Yonhap News Agency, citing a source close to the White House's talks with Pyongyang. The source said the move would suspend U.N. Security Council restrictions on North Korea's coal and textile exports for 12 to 18 months as the country gradually dismantled nuclear facilities.
Ortagus denied the report, quoting top U.S. negotiator on North Korea Stephen Biegun as calling it "completely false." Chinese Foreign Ministry spokesperson Geng Shuang also took spoke of the report during a press conference Friday, noting that, during his G20 talks with Trump, Xi "encouraged the U.S. to be flexible, meet [North Korea] halfway by lifting some sanctions in due course and doing other things, and find ways to resolve each other's concerns through dialogue."
Donald Trump Says North Korea's Kim Jong Un 'Doesn't Smile A Lot' But He Did 'When He Saw Me' | World