Trump: "I'll Find Some Kind of an Excuse" if Wrong About Kim Jong Un
President Donald Trump truly believes that North Korean leader Kim Jong Un is ready to denuclearize after this week's historic summit, but if he's wrong he'll "find some kind of an excuse."
In a press conference on day two in Singapore, Trump told the media that he trusts Kim will begin to dismantle his nuclear weapons program as well as its testing site.
But if the president is wrong, he may never admit it.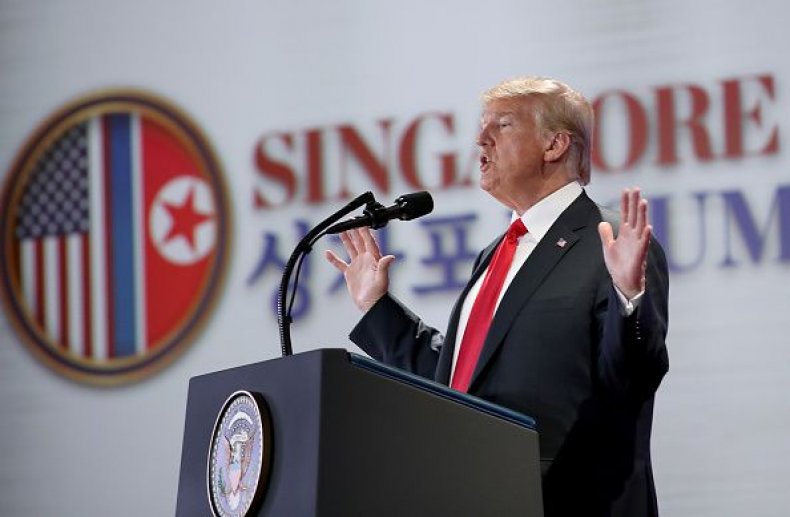 "I may be wrong. I may stand before you in six months and say, 'Hey, I was wrong,'" Trump told reporters. "I don't know if I'll ever admit that, but I'll find some kind of an excuse."
In addition to their talks, the two leaders also signed an agreement on Tuesday that will commit the United States to providing certain security measures if the Korean peninsula is stripped of all nuclear weapons. Those security provisions, though, have not yet been specified.
Just a year ago Trump and Kim were hurling insults at one another and battling over the size of their respective "red buttons" that had the potential to launch a nuclear war. But Trump told Sean Hannity that the nasty rhetoric was absolutely necessary for getting to these negotiations.
In an interview with the Fox News host, the president said that at time his aggressive tone against Kim felt "foolish."
"I hated to do it, sometimes I felt foolish doing it, but we had no choice," Trump said. The president also condemned previous administrations for adopting what he called a "policy of silence" when it came to dealing with Kim's threats.
Trump trusts that Kim is willing to give up nuclear weapons in order to reintegrate his country and his people with the rest of the world and to kickstart North Korea's economy, which has long been plagued with sanctions and trade penalties.
Prior to the summit, Kim suspended nuclear and missile testing in April, and he agreed to close a major weapons testing site. There was no proof, though, that this suspension were permanent rather than a simple freezing of activity while Kim negotiated with other countries like South Korea and the U.S.
After the summit, Trump also told the media that North Korea will start the process of denuclearization "immediately," but no specific time frame has been given.