Why Did Donald Trump's North Korea Summit End Early?
The second U.S.-North Korea summit held in Vietnam broke up early, with President Donald Trump and Kim Jong Un failing to reach a deal on denuclearization and the lifting of U.S. economic sanctions.
In a statement released early Thursday morning, the White House said the two leaders enjoyed "very good and constructive meetings in Hanoi." Press secretary Sarah Sanders added that Trump and Kim "discussed various ways to advance denuclearization and economic driven concepts," but noted, "No agreement was reached at this time."
The early end to talks meant the cancellation of a working lunch between the two leaders and the planned signing of a joint agreement, while Trump's scheduled news briefing on the discussions had to be moved up by several hours, The Guardian noted.
Trump and Secretary of State Mike Pompeo said in a press conference that while the two nations could not come to a final agreement on denuclearization of the Korean Peninsula and the lifting of economic sanctions on the North, they remained optimistic for future negotiations.
"We had a really productive time," the president said, but that all sides agreed "it wasn't a good thing to sign anything."
The infographic below, provided by Statista, illustrates the number of nuclear warhead inventories around the globe.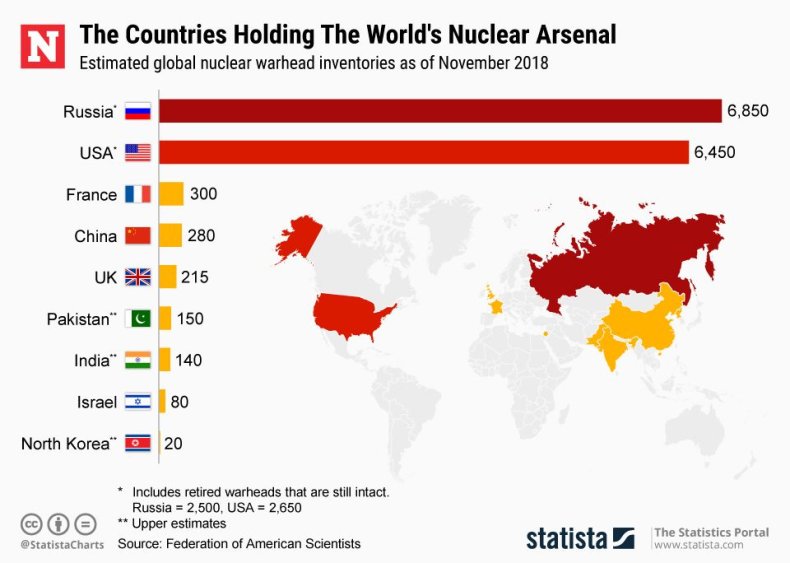 As the Hanoi summit drew to a close, the president described the authoritarian North Korean leader as "quite a guy and quite a character," and said their relationship remained "very strong." Trump said the atmosphere was "friendly" despite the early end to talks. "We just like each other, we have a good relationship," he reiterated.
But, he added, "sometimes you have to walk." Asked whether he thought it was premature to hold a second summit given the lack of progress on denuclearization, he said, "I could've signed something today… But it's better to do it right than do it fast."
The president repeated his criticism of past administrations for their inaction on North Korea, allowing the country to continue its nuclear research and acquire atomic weapons. "This was something that should have been handled by many presidents long before me," Trump said. While former President Barack Obama has been one of his favored targets, Trump said, "I'm not just blaming the Obama administration which did nothing, absolutely nothing."
Trump clarified that the main dispute was over the economic sanctions imposed on North Korea. "It was about the sanctions," he said. "Basically they wanted sanctions lifted in their entirety and we weren't willing to do that… We had to walk away from that particular issue."
Both Trump and Pompeo noted that Kim was willing to give up the Yongbyon nuclear facility—the country's most prominent nuclear research center—if sanctions were first lifted. But this deal would not have covered nuclear weapons or other covert infrastructure such as a uranium enrichment plant, Pompeo explained.
Asked if it was his decision to end the summit early, Trump replied, "I don't want to say it was my decision, because what purpose is that. But we'll keep the relationship." The president emphasized Kim's continued commitment to a freeze on nuclear or ballistic missile testing. "He's not going to do testing of rockets and nuclear… I trust him and I take him at his word. I hope that's true," CNN reported.
The Hanoi summit was the second between the two leaders. At the first—held in Singapore last June—Trump and Kim expressed their desire for denuclearization of the Korean Peninsula. But observers warned the joint declaration was vague and—despite Trump's claims to the contrary—guaranteed no change in Pyongyang's strategy.
In the months since, the North Korean regime has failed to comply with U.S. requests for a comprehensive breakdown of nuclear assets, and negotiations have stalled.
At Thursday's press conference, Trump admitted that the two administrations were still apart on denuclearization. "[Kim] has a certain vision," he told reporters. "It's not exactly our vision, but it's a lot closer than it was a year ago."
Asked by Fox News's John Roberts how this gap could be bridged, the president said it would take some time, but "we know every inch of that country."
The president said he hopedl that sanctions could be lifted, as he believes in the potential of North Korea, that Kim could lead the authoritarian nation down the path of prosperity, and that the country could one day become an "economic power."
As for a third meeting between the leaders, Trump said nothing has yet been agreed. "It might be soon, it might not be for a long time," he said. "I hope it will be soon, but it might not be for a long time."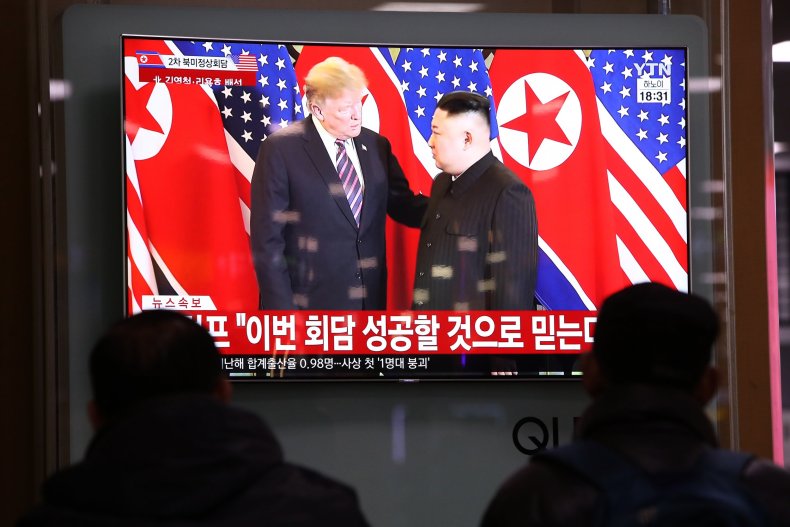 Correction (02/28/19, 12.28 p.m. ET): This article was corrected to reflect that Fox News's John Roberts, not Sean Hannity, posed a question to the president.
Updated | This article was updated to include an infographic.