The United States produced a film depicting a powerful, statesman-like Kim Jong Un together with cheering crowds of North Koreans and the tagline "two leaders, one destiny." The film played immediately before Trump appeared for a press conference following a historic summit between the U.S. president and North Korean leader Kim.= in Singapore Tuesday.
"Out of the darkness can come the light and the light of hope can burn bright," said a voice on the film in the tone of a Hollywood movie trailer.
The narrator continued: "Their story is well known but what will be their sequel? Destiny Pictures presents a story of opportunity—two men, two leaders, one destiny. a story about a special moment in time when a man is presented with one chance that may never be repeated. What will he choose: to show vision and leadership or not?"
The film, which also showed exploding bombs in a sign of what could happen if Kim chooses another path, concluded with pictures of lights turning on and booming North Korean industry, an apparent attempt to send a not-so-subtle message to the reclusive leader.
"Will this leader choose to advance his country and be part of a new world, be the hero of his people? Will he shake the hand of peace and enjoy prosperity like he has never seen?" the script continued.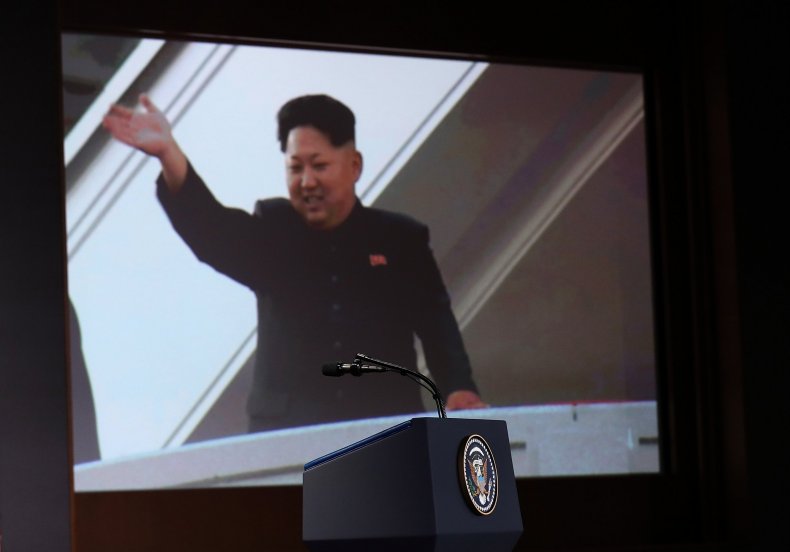 Trump later explained that he and the United States delegation in Singapore had given the tape to the North Koreans.
"That was a tape that we gave to Chairman Kim and his people, his representatives," Trump said at the beginning of his press conference. "And it captures a lot. It captures what could be done. And that's a great—a great place. It has the potential to be an incredible place. Between South Korea—if you think about it—and China, it's got tremendous potential. And I think he understands that and he wants to do what's right."
There was bemusement, though, among several of the reporters in the room, some of whom described the film as "propaganda."
While receiving praise from some for becoming the first U.S. president to meet with a leader of North Korea, many criticized Trump for appearing put the leader of what has been described by Human Rights Watch as "one of the most repressive authoritarian states in the world" on a level footing with the United States.
Trump, though, has repeatedly talked up the potential for North Korea of coming out of isolation. In his press conference, he said that North Korea "could have the best hotels in the world."
He added: "They have great beaches. You see that whenever they're exploding their cannons into the ocean. I said, boy look at that, wouldn't that make a great condo…And I explain, you know, instead of doing that you could have the best hotels in the world right there."