Trump Lashes Out At Al Franken But Doesn't Mention Accusations Against Roy Moore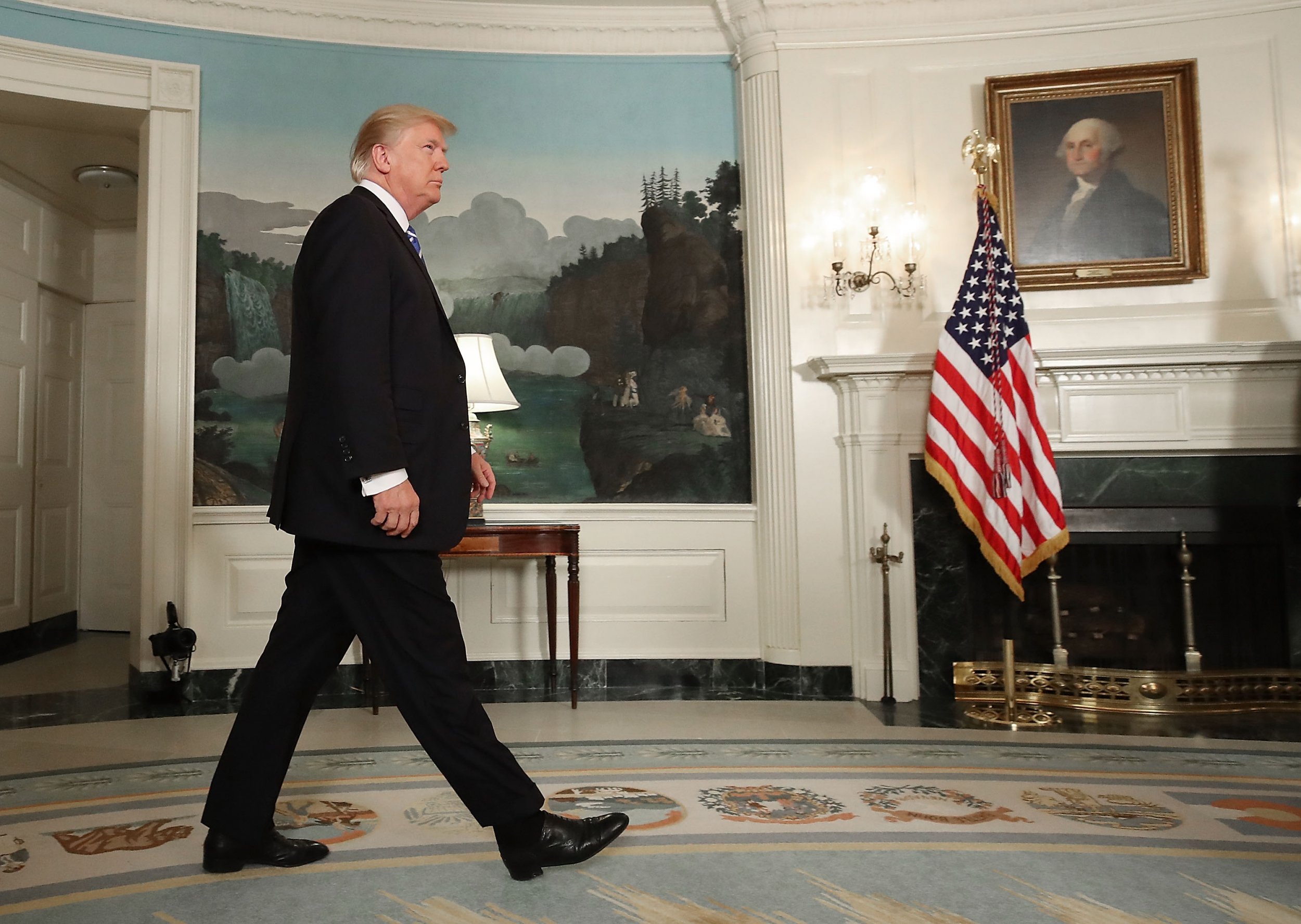 On Thursday evening, President Donald Trump used his Twitter account to attack Al Franken after sexual harassment accusations against the Democratic Senator of Minnesota emerged earlier that day.
But Twitter users fired back at his comments by reminding Trump of his own sexual misconduct. Trump has also remained silent on the accusations against Alabama Senate GOP candidate Roy Moore.
He first tweeted, "The Al Frankenstien [sic] picture is really bad, speaks a thousand words. Where do his hands go in pictures 2, 3, 4, 5 & 6 while she sleeps?"
He later added, "And to think that just last week he was lecturing anyone who would listen about sexual harassment and respect for women. Lesley Stahl tape?"
But for someone who claims to have one of the "greatest memories of all time," he forgot about his own case of sexual harassment. West Wing Reports, however, responded to one of his tweets with his lewd comments about groping women during a 2005 conversation with Access Hollywood's Billy Bush.
Other Twitter users have used the hashtag #AccessHollywoodTape as a rebuttal to Trump's tweets.
In fact, some still wonder whether Trump will ever face the same fate of many powerful men who have been accused of sexual misbehavior. Jessica Leeds, one of the accusers who said Trump tried to kiss her and fondle her breasts on a flight to New York in the early 1980s, told People magazine, "Things just seem to fall off of Trump, I'm extremely disappointed." During Trump's presidential campaign in 2016, at least 10 women came forward to accuse him of inappropriate sexual conduct, according to the publication.
Moreover, Trump hasn't made an official statement regarding Moore's own predicament, nearly a week after several women have accused the Alabama judge of sexual misconduct when they were just teenagers and he was in his 30s. White House press secretary Sarah Huckabee Sanders said that the "people of Alabama should make that decision" to support the GOP hopeful and did not say whether Trump believes the women's accusations.
Unlike Trump, his daughter Ivanka did speak out against Moore. "There's a special place in hell for those who prey on children," she told the Associated Press on Wednesday. "I've yet to see a valid explanation and I have no reason to doubt the victims' accounts."
Regarding the victims' allegations against Trump, the then-GOP candidate issued a "defiant apology" for his sexually aggressive remarks, CNN reported. Franken, on the other hand, released a statement apologizing to newscaster Leeann Tweeden, who said the senator "kissed and groped" her without her consent during a USO visit in December 2006.
"The first thing I want to do is apologize: to Leeann, to everyone else who was part of that tour, to everyone who has worked for me, to everyone I represent, and to everyone who counts on me to be an ally and supporter and champion of women," Franken wrote. "I respect women. I don't respect men who don't and the fact that my own actions have given people a good reason to doubt that makes me feel ashamed."