Donald Trump Lashes Out at Kneeling Protests as NFL Concedes Tide Has Turned in Colin Kaepernick's Favor
President Donald Trump leveled criticism on Friday against NFL players kneeling in protest during football games during the national anthem.
Players have protested racism and police brutality before the beginning of football games by taking a knee. However, some observers have perceived the kneeling to be a protest against the American flag. In his tweets, Trump referenced New Orleans Saints Quarterback Drew Brees, who retracted comments he made against kneeling in protest on Friday.
"I am a big fan of Drew Brees," Trump said. "I think he's truly one of the greatest quarterbacks, but he should not have taken back his original stance on honoring our magnificent American flag. OLD GLORY is to be revered, cherished and flown high."
"We should be standing up straight and tall, ideally with a salute, or a hand on heart," Trump added. "There are other things you can protest, but not our Great American Flag - NO KNEELING!"
Newsweek reached out to the White House for further comment. This story will be updated with any response.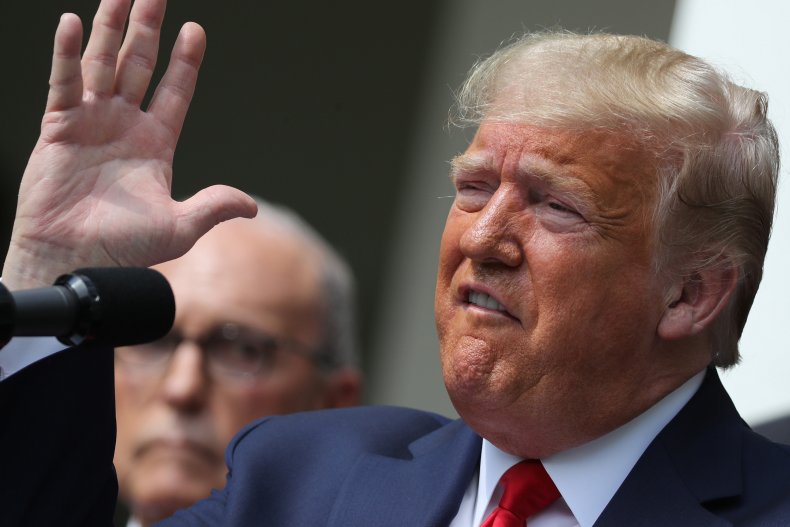 During a Wednesday interview, Brees said standing instead of kneeling showed "respect to the flag."
"I think what you do by standing there and showing respect to the flag with your hand over your heart is it shows unity," Brees said. "It shows that we are all in this together, we can all do better, and that we are all part of the solution."
Brees' comments were met with pushback by other athletes, including Green Bay Packers quarterback Aaron Rodgers who said, "It has NEVER been about an anthem or a flag."
Brees retracted his comments on Friday, saying they were "insensitive and completely missed the mark on the issues we are facing right now as a country."
Trump's response came after National Football League Commissioner Roger Goodell tweeted Friday that the NFL "condemned racism and the systematic oppression of Black People."
"We, the National Football League, admit we were wrong for not listening to NFL players earlier and encourage all to speak out and peacefully protest," Goodell continued. He also said he would be reaching out to NFL players and others for advice on how to create a "better and more united NFL family."
Former San Francisco 49ers quarterback Colin Kaepernick raised eyebrows in 2016 when he refused to stand during the national anthem. At the time Kaepernick told NFL Media he refused to "show pride in a flag for a country that oppresses black people and people of color. There are bodies in the street and people getting paid leave and getting away with murder."
Kaepernick became a free agent in 2017 but has not been hired by an NFL team since that time. After Kaepernick filed a grievance against the NFL alleging that owners were conspiring to keep him out of the league, he was paid a settlement for an undisclosed amount.
Since then, Kaepernick has become known for his activism and advocacy. He started a youth initiative called the Know Your Rights Camp, designed to empower minority communities and create new leaders. In June, the camp received a $3 million donation from Twitter founder Jack Dorsey.