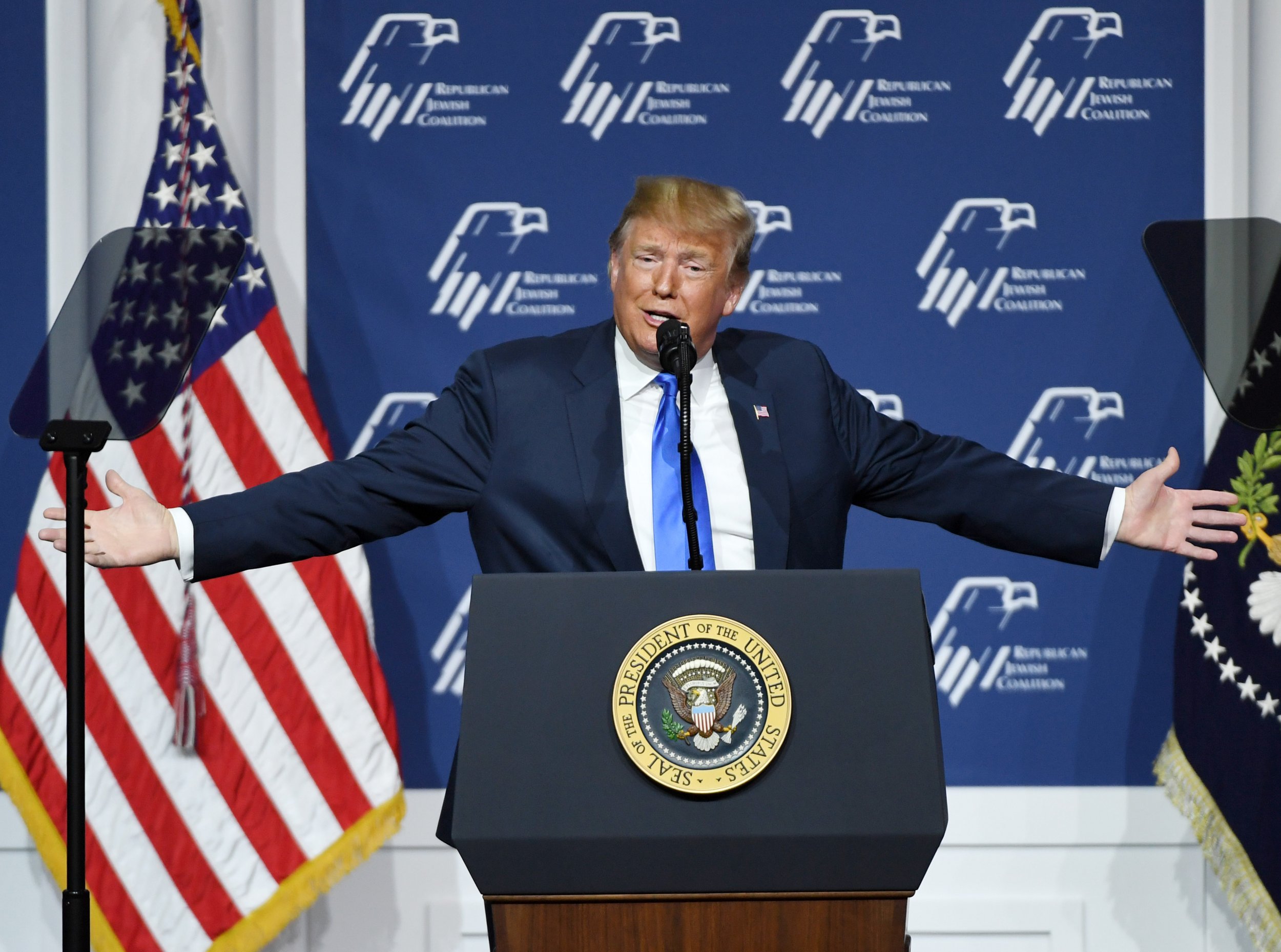 President Donald Trump blasted a federal judge's Monday ruling that blocked his administration's "Remain in Mexico" policy, which forced certain asylum seekers to wait in Mexico for their cases to be heard in immigration court.
"A 9th Circuit Judge just ruled that Mexico is too dangerous for migrants," Trump tweeted on Monday night. "So unfair to the U.S. OUT OF CONTROL!"
Monday's ruling, a temporary injunction issued by San Francisco U.S. District Judge Richard Seeborg, was a win in the legal battle launched on behalf of 11 Central American asylum seekers and a number of organizations.
In his ruling, Seeborg said the Trump administration's "Remain in Mexico" policy failed to ensure that asylum seekers forced to wait in Mexico would be protected from "undue risk to their lives and freedom."
Seeborg said rights organizations had also shown "a likelihood of harm" from the policy in terms of it impairing their "ability to carry out their core mission of providing representation" to asylum seekers seeking admission into the U.S.
Previously, it had been U.S. policy for asylum seekers to stay in the U.S. while they awaited notices to appear in court after making their asylum claims. However, in January, the Trump administration launched its "Remain in Mexico" policy, initially rolling it out in San Diego, the busiest border crossing between the U.S. and Mexico.
The American Civil Liberties Union and Southern Poverty Law Center, which launched the legal battle, along with the Center for Gender & Refugee Studies, celebrated Seeborg's ruling on Monday, with Judy Rabinovitz, the deputy director of the ACLU's Immigrants' Rights Project, who argued the case, saying: "Try as it may, the Trump administration cannot simply ignore our laws in order to accomplish its goal of preventing people from seeking asylum in the United States.
"The court strongly rejected the Trump administration's unprecedented and illegal policy of forcing asylum seekers to return to Mexico without hearing their claims," Rabinovitz said.
Southern Poverty Law Center senior supervising attorney Melissa Crow also praised the decision: "Today's victory is especially important amidst reports that the Trump administration is planning to move toward even more extreme immigration policies," Crow said, noting the government's recent shake-up in the Department of Homeland Security following former Secretary Kirstjen Nielsen's forced resignation.
"The decision will prevent incredibly vulnerable individuals from being trapped in dangerous conditions in Mexico, but it's only a step in a much larger fight," Crow said. "We are a nation of laws, and we cannot and will not allow elected officials to undermine those laws in an effort to implement an anti-immigrant agenda. We will keep fighting."