Donald Trump's Latest Approval Rating Plunges As Support Among Republicans, Whites Drops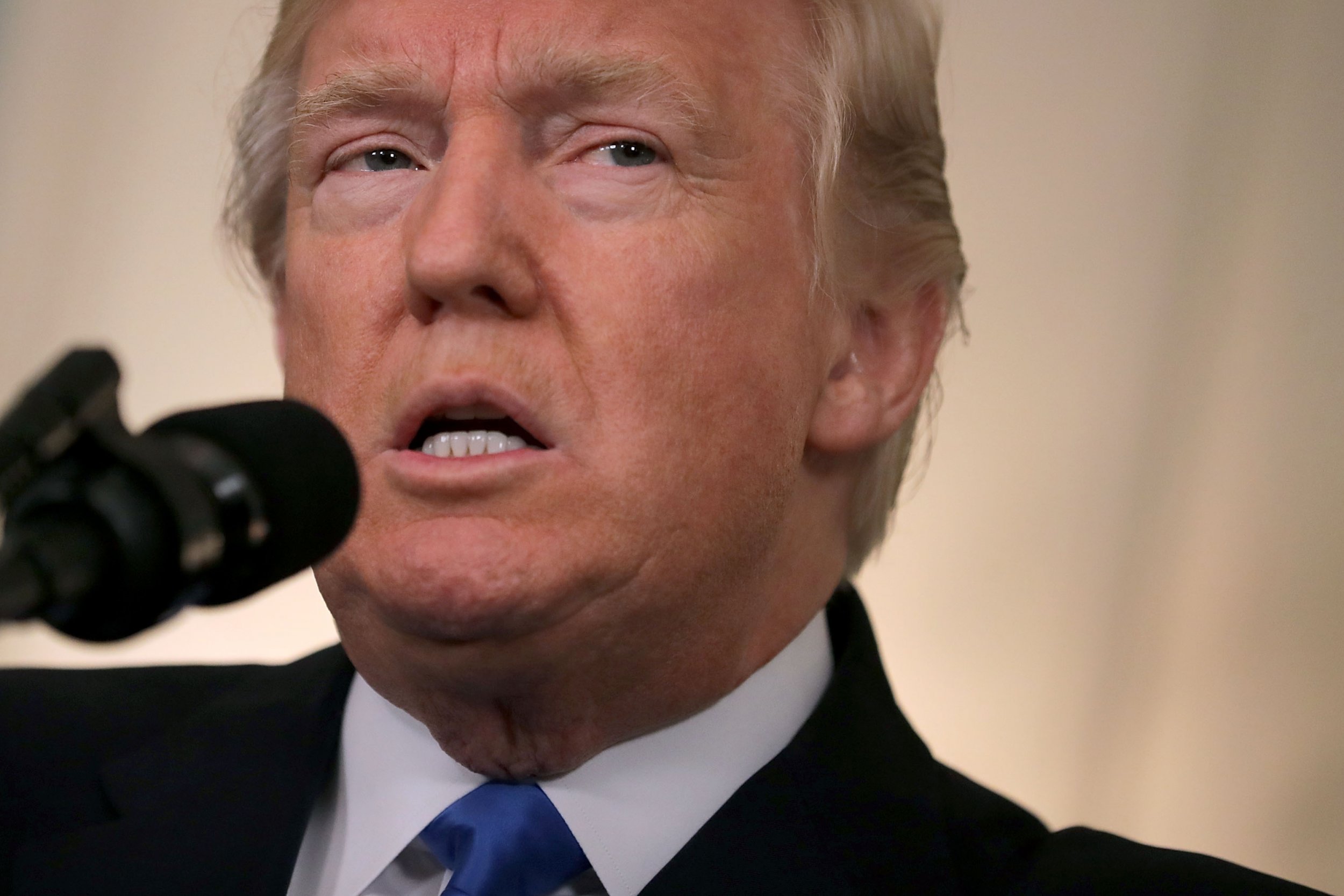 In the early hours of Thursday morning, President Donald Trump fired off a tweetstorm complaining that "they made up a phony collusion with the Russians story" and that he was the subject of the "single greatest WITCH HUNT in American political history."
But while Trump might think issues facing the White House have been created by a mysterious "they," Americans don't seem to trust the president's commitment to running the government properly—in fact, many think he is downright undemocratic. Sixty-five percent of respondents in an Associated Press-NORC Center for Public Affairs Research​ poll released Thursday said the president either doesn't have much or any respect for the "country's democratic institutions and traditions." Nearly a third of Republicans or Republican-leaning independents said the same.
The Associated Press-NORC survey also found Trump wasn't a particularly popular president. Just 35 percent of Americans approved of the job he's doing as president, the poll found. Sixty-four percent—and one-quarter of Republicans—disapproved of Trump's job performance. In March, the the Associated Press-NORC poll found 42 percent of Americans approved of the job Trump was doing. Just one-in-five Republicans disapproved of the president in March.
In the latest poll, roughly 50 percent of whites without a college degree—one of Trump's strongest demographics in the 2016 presidential election—approved of the job the president was doing. That's down 8 percentage points from Associated Press-NORC poll in March.
The Associated Press-NORC survey interviewed 1,068 adults both online and over the phone from June 8 through June 11. It had a margin of error of plus or minus 4.1 percentage points.
Trump's approval rating has trended downward since he took office in January. The weighted average from data-focused website FiveThirtyEight pegged his approval rating at just 38.4 percent Thursday and his disapproval at 55.7 percent. The RealClearPolitics average of polls, meanwhile, had Trump's approval at 39.6 percent Thursday morning, while it had his disapproval rating at 54.7 percent.
In the Gallup daily tracking poll, Trump this week tied his disapproval rating record-high of 59 percent, while his approval rating sunk to just 36 percent, one percentage point above his lowest figure ever.
Historically speaking, Trump is uniquely unpopular for a president this early in their term, defying the usual grace period of sorts in which leaders are typically gifted a decent approval rating. At this point in his first term, for instance, former President Barack Obama had a 59 percent approval rating. For a brief period this month Trump's approval rating did rise above where former President Bill Clinton's stood at the same point in his first term, but that small victory was short lived.