As Donald Trump Launches a Trade War, Here Are All the U.S. Products Europe Hit With Tariffs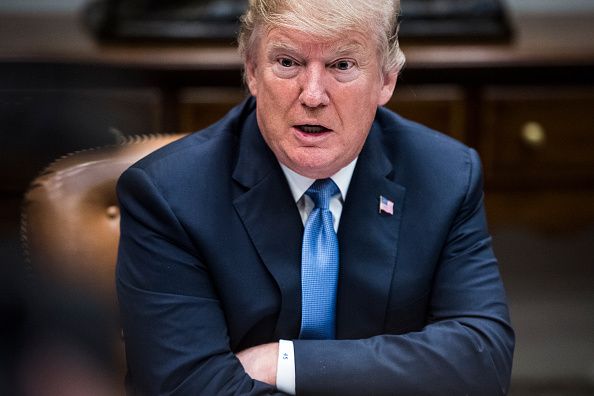 President Donald Trump is starting a trade war with the world. While many economists have been focusing on the escalating threats between the U.S. and China, as both countries threaten to impose tariffs on more and more products, the European Union has been quietly retaliating against U.S. tariffs.
In late May, the U.S. announced new tariffs of up to 25 percent on steel and aluminum imports from U.S. allies like Mexico, Canada, and the EU. All of these countries, including the 28 EU members, began planning ways to retaliate. The EU's new tariffs went into effect on Friday.
Now, around 340 U.S. products are being slapped with tariffs when they enter the EU. Many are agricultural products and foodstuffs like corn, kidney beans, rice, peanut butter, and cranberries. Whiskey and tobacco from the U.S. will also be hit by tariffs of around 25 percent. Makeup, t-shirts, and cooking utensils are also on the list, as are a variety of U.S. products made from iron, steel, and other metals. Some clothing and paper products will also be subject to tariffs of 35 percent and some blankets will have tariffs of 50 percent. Overall, the retaliatory tariffs are worth around $3.26 billion.
Trump responded to the news about the new tariffs the way he usually responds to world events, with a Tweet.
"Based on the Tariffs and Trade Barriers long placed on the U.S. and it [sic] great companies and workers by the European Union, if these Tariffs and Barriers are not soon broken down and removed, we will be placing a 20% Tariff on all of their cars coming into the U.S. Build them here!" Trump tweeted Friday.
It's unclear whether Trump was actually referring to the new set of tariffs or to the pre-existing 10 percent tariffs the EU imposes on U.S. auto products. Nevertheless, the Tweet spooked European automakers, particularly those in Germany.
Under Trump, trade has become more of a hot button issue than it was in previous years. Earlier this month, the President lashed out at U.S. ally Canada for the Prime Minister's comments criticizing U.S. trade policy. In May, the Trump administration also said that it would begin investigating whether the import of auto parts into the U.S. constitutes a national security threat.
Even some Republican lawmakers have said they oppose framing steel and aluminum imports as a national security threat.
"I wish we would stop invoking national security because that's not what this is about. This is about economic nationalism and an economic policy of managing trade," Republican Senator Pat Toomey said during a Senate hearing on Wednesday.