Who's Suing Donald Trump and How Are They Doing It?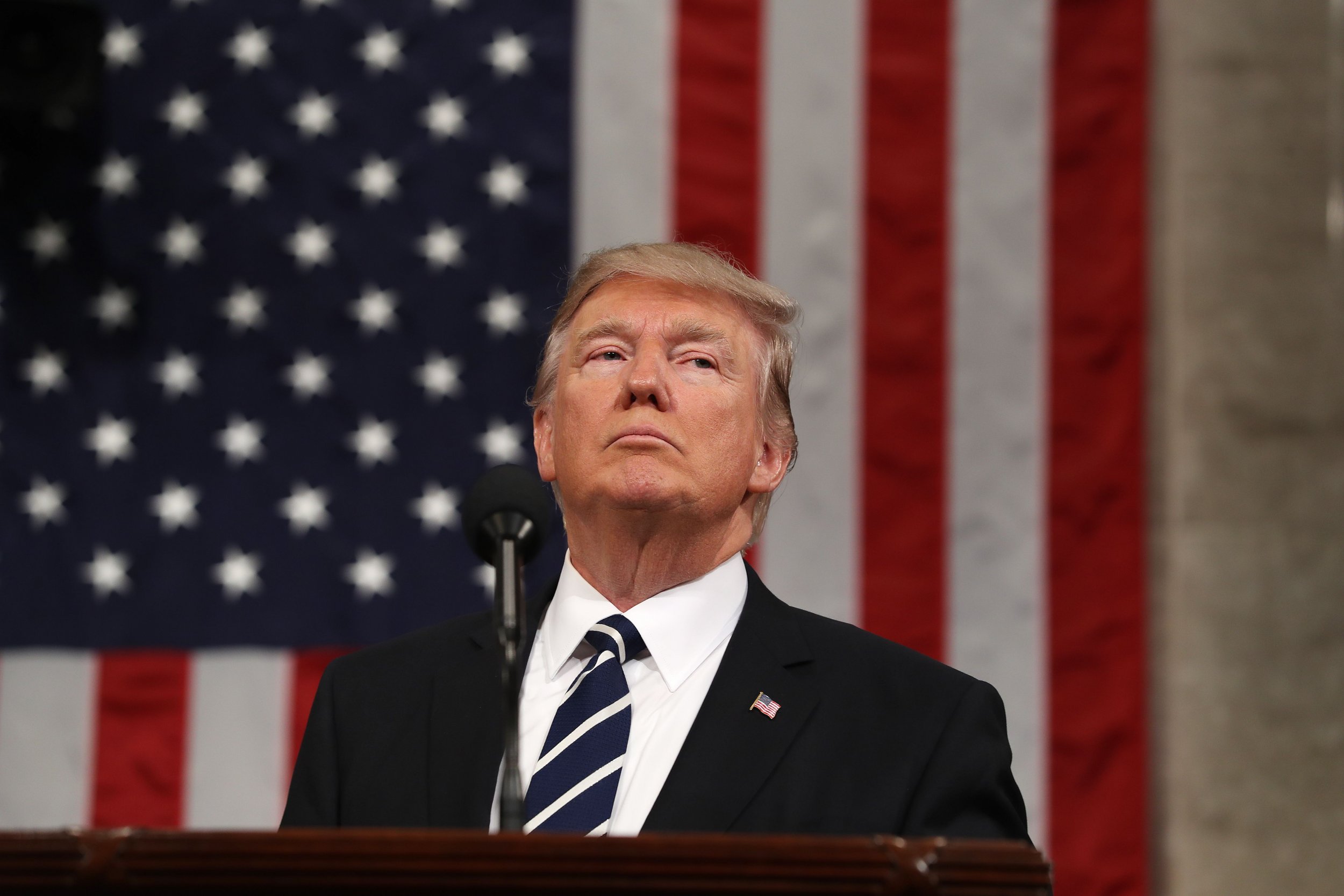 Suing the U.S. president was never going to be easy. But that hasn't stopped more than 60 litigants filing suit against Donald Trump since he took office. They join dozens of other aggrieved parties who implemented legal action against Trump long before he installed those gold curtains in the Oval Office.
The 45th president is no stranger to lawsuits; during his long career as a businessman, people sued him literally thousands of times. So, it might be a relief for Trump to know that as president he enjoys absolute immunity for anything he does in a personal capacity while in office.
But, this privilege does not cover his actions before taking the oath—something that former President Bill Clinton knows all too well. In 1994, Paula Jones, an Arkansas state employee, sued him for sexual harassment allegedly committed while he was governor of Arkansas. (Clinton eventually settled the case).
This doesn't mean that all of Trump's actions while in office are immune from prosecution. People can still bring suits against him for his policies, as some of the below cases show.
So, with the legal stuff out of the way, here are some of the big suits pending against President Trump. And, in the interests of not facing suit myself, I should add that this list is completely subjective and by no means exhaustive.
Cork Wine Bar v. Donald J. Trump (and his hotel)
Khalid Pitts and Diane Gross say they're in an unfortunate position. The owners of the D.C.-based Cork Wine Bar and Cork Market & Tasting Room, they claim they're losing business to Trump's D.C.-based hotel. They've filed suit against Trump and his Trump International Hotel, alleging unfair competition. The pair say they don't want damages, but would like the president to resign or divest from the hotel, or close it entirely.
Citizens For Responsibility and Ethics in Washington (CREW) v. Donald J. Trump
CREW's suit revolves around a constitutional clause forbidding government officials from accepting emoluments or gifts from foreign governments. (You may have heard this described as the emoluments clause.) Trump, CREW argues, has violated the clause through his myriad business connections. One example: that D.C. hotel, in which foreign dignitaries have stayed. Problem is, for this lawsuit to succeed, CREW needs to prove it has been harmed by Trump's actions. It hasn't, but guess who allegedly has? Cork Wine Bar...
The State of Hawaii and Ismail Elshikh v. Donald J. Trump (and a bunch of others)
Trump's immigration ban has opened him to dozens of lawsuits. This one, from Hawaii and Elshikh, imam of the Muslim Association of Hawaii, argues that Trump's latest executive order, which refuses visas to people from Iran, Syria, Somalia, Sudan, Yemen and Libya, is nothing more than a ban on Muslims. If they can prove Trump is discriminating against people based on religion then a court can find Trump in violation of the First Amendment.
For more immigration-related lawsuits, check out Harvard, Yale and Stanford's joint suit as well as the one from the Council on American-Islamic Relations.
Summer Zervos v. Donald J. Trump
Armed with hotshot attorney Gloria Allred, Summer Zervos—a former candidate on Trump's reality TV show The Apprentice—has filed a defamation suit against the president. Last fall, Zervos, along with several other women, alleged that Trump had sexually assaulted her. Trump denied the allegations, prompting Zervos to file suit seeking damages for "emotional and economic harm." Allred has said her client will drop the case, however, if Trump takes back what he said, and acknowledges the assault happened.
The City and Council of San Francisco v. Donald J. Trump (and a bunch of others)
Congratulations to San Francisco, which has the dubious honor of becoming the first U.S. city to sue the new president. San Fran's grievance concerns Trump's plan to withhold federal funding from sanctuary cities—places that limit local law enforcement from enacting federal immigration policies.
Jeffrey Stein v. A Whole Bunch of Federal Agencies
Okay, okay, this doesn't directly target Trump but since it involves Newsweek, it warranted a mention. Right? Stein, Newsweek's national security correspondent, has filed suit against various federal agencies to find out how some of Trump's closest advisors got clearance to attend various security briefings, despite some having business connections and other ties that should have raised red flags.