Trump Lawyer's Joke About Mitch McConnell's Hospitalization Sparks Outrage
Donald Trump's former attorney Jenna Ellis has faced a backlash on social media for mocking Mitch McConnell after he was hospitalized.
Senate Minority Leader McConnell, 81, suffered a concussion after he tripped and fell at a reception for the Senate Leadership Fund at a Washington, D.C. hotel on Wednesday evening. He was sent to hospital, where he is expected to remain for a few days, according to reports.
While Trump offered his best wishes to his GOP rival, his former lawyer Ellis appeared to be less gracious.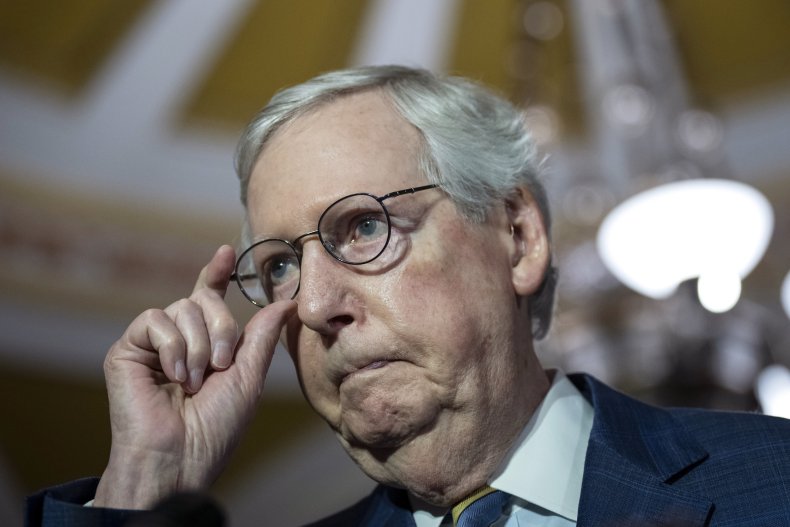 Trump and McConnell have been at odds with one another following the former president's election fraud claims in 2020. Their feud has widely represented the divide within the GOP between "MAGA" Republicans and traditional conservatives.
Still, he wished McConnell a speedy recovery, according to a Washington Examiner report. "I disagree with almost everything he does, but what I certainly would like him to do, I want him to be well. I want him to be well. Then get back and be strong," Trump said.
However Ellis appalled many on social media after she tweeted on Thursday a video of a turtle repeatedly falling down the stairs and captioned the clip: "Breaking: Camera footage from last night's McConnell dinner obtained."
Legal scholar Laurence Tribe was among those criticizing Ellis, tweeting: "I'm no fan of Senator Mitch McConnell, but Jenna Ellis is beneath contempt to mock McConnell for his unfortunate accident and hospitalization."
Journalist Josh Marshall agreed and tweeted: "I'm not a huge fan of Mitch McConnell's impact on public life in America. But you have to be a terrible person to think this is amusing or funny. I believe he's still in the hospital."
Ellis also addressed some of her critics who suggested that this was not Christian behavior.
Twitter user MichaelWitschel wrote:" And She's a 'Christian', folks. You'll know that because she displays a gold crucifix."
Ellis replied: "I'm protestant. We don't do the crucifix thing. We know the facts: Christ is RISEN."
Despite the criticisms, some social media users remarked that Ellis' joke was funny and should not be taken seriously as wishing harm to McConnell.
Some liberal Twitter users have also joked about McConnell's fall with memes and gifs. While many have made a point that despite their frustrations with the Republican, they would not wish ill on him.
Ellis' tweet came on the same day that she was censured by the Colorado State Bar Association after admitting to making false claims about voter fraud, according to a Reuters report.
Ellis acknowledged that she made 10 "misrepresentations" about the 2020 election.
Some of these misrepresentations included saying Trump's legal team could "prove" the election was stolen as well as claims the results were "fraudulent"
Newsweek reached out to Jenna Ellis via Facebook for comment.