As the election quickly approaches, President Donald Trump is trailing Democratic nominee Joe Biden in all but one national poll taken in September.
The Rasmussen Reports poll released September 16, showing Trump with a slim 1 percent lead over Biden, is the only one out of more than 60 surveys conducted during the month to show the president leading. The Rasmussen poll released a week earlier showed Biden with a 2 percent lead. Both results are within the poll's margin of error.
Rasmussen has typically been an outlier, consistently producing results that are more favorable towards Trump than most polls, although some recent state polls have reversed the trend. In polls the firm conducted in September, Biden had leads outside of the margin of error in the key states of Wisconsin, Michigan and Ohio.
National polls released Tuesday from other firms show Biden with a clear lead. Canadian pollster Leger shows Biden with 48 percent to Trump's 41 percent among likely voters, while polls from Morning Consult and USC Dornsife show Biden ahead by 8 and 11 percent, respectively.
An average of all recent polls from polling analysis site FiveThirtyEight shows Biden with a 6.9 percent lead in national polls as of Tuesday. The polls have tightened since July, when Biden's advantage hit a high of over 9 percent, although the former vice president still has a larger lead than he held during the spring.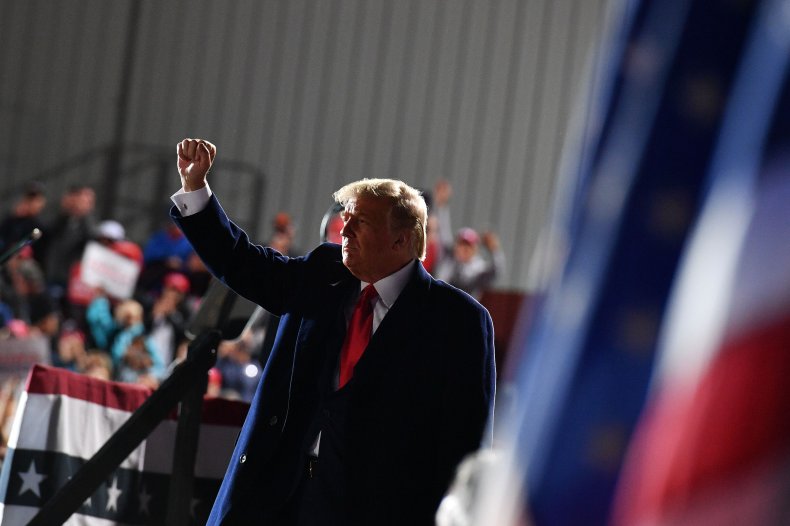 In the 2016 election, although Trump was behind former Secretary of State Hillary Clinton in most national polls, he led in more than a dozen conducted in September. Clinton held a much slimmer lead over Trump than Biden currently enjoys, being an average of 2 percent ahead on September 22, 2016.
While Biden is clearly in a stronger position in national polls when compared to Clinton at the same point, comparing polls in key battleground states is less clear, but also appears to be favorable towards Biden.
The former vice president is leading all 15 of the polls released in September in Michigan, while Trump led one and was tied in two in 2016. Trump led Clinton in five September 2016 polls in Pennsylvania, while he leads none in 2020 and is tied with Biden only in Rasmussen's poll.
In Florida, Trump was leading Clinton in at least eight September 2016 state polls, but he is besting Biden in only two in 2020. Trump was ahead or tied in four September 2016 polls in Wisconsin. Biden in currently ahead in every one of more than two dozen September polls and leads the state by an average of 6.4 percent.
Newsweek reached out to the Trump campaign for comment.