Donald Trump Leans on His Kids' Popularity to Boost His Campaign as Election Approaches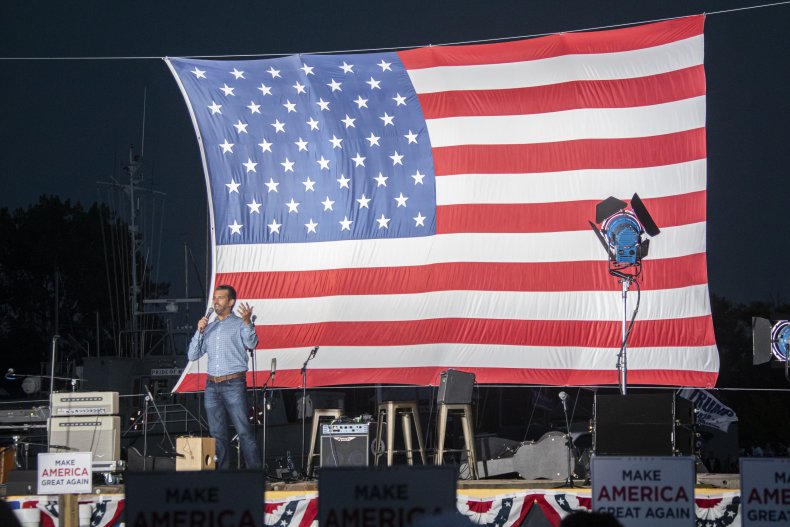 President Donald Trump's three oldest children—Donald Trump Jr., Ivanka Trump and Eric Trump—have spent recent weeks criss-crossing the country, holding dozens of events that have often drawn capacity crowds as they try to generate support for their father, who is trailing Democratic rival Joe Biden in the polls with less than a month until Election Day.
Newsweek spoke to five sources familiar with the First Family members' aggressive campaign schedules to get a clearer picture of their efforts heading into the campaign's final stretch. Most were not authorized to speak publicly about the Trump family.
"It's something that's kind of floated under the radar," one campaign source told Newsweek of the campaign's heavy reliance on the popularity of Trump's children.
Multiple sources described each of the three as having specific roles and bases that the campaign thinks they can appeal to, in particular Donald Trump Jr.'s popularity among the far-right and Ivanka Trump's in more moderate circles and among female voters.
Last week, Donald Trump Jr., Eric Trump and Ivanka Trump all had multiple in-person or virtual campaign events while the president was sidelined as he continued to recover from COVID-19.
But the Trump family members have all been in aggressive campaign mode for several weeks.
Trump is turning to his family—essentially celebrities who have never appeared on a ballot themselves or served in elected office—while candidates traditionally rely on politicians with similar policy positions to serve as their top surrogates on the campaign trail.
Biden's former rivals for the Democratic nomination, including Pete Buttigieg and U.S. senators Elizabeth Warren and Amy Klobuchar in particular, have been stumping for him on the campaign trail. He's also had a steady line-up of left-leaning celebrities who have taken part in mostly virtual events.
Biden's campaign didn't respond to Newsweek's request for comment for this story.
Aside from rallying supporters and raising campaign cash, the Trump family generates significant local media interest, which the president's campaign sees as an underestimated advantage, one campaign source told Newsweek.
"There is no comparable effort on the other side," the source said. "For the president to pull off what he did in 2016, one big advantage is surrogate travel."
According to RealClearPolitics' latest national polling analysis, Biden leads Trump by more than10 points. Biden also holds a lead over Trump in key battlegrounds of Florida, Pennsylvania, Michigan, Wisconsin, North Carolina and Arizona, according to RealClearPolitics' analysis of recent polls in each state.
The campaign has taken to splitting up the family members and sending each to hold multiple rallies, fundraisers and other campaign events in states that could be crucial for Trump to pull off a win on November 3.
"Whether it be crisscrossing the Arizona deserts on our Team Trump bus tours, campaigning with lobstermen on Maine's coast, or visiting manufacturing facilities in Pennsylvania," Ken Farnaso, deputy national press secretary for the campaign, said in an email to Newsweek," it's clear that the First Family is working harder than anyone to speak with voters in every corner of this country,"
It's unclear whether the extensive time on the campaign trail could translate to future Trumps on the ballot.
A source close to Ivanka Trump said unequivocally that she has no interest in running for office.
The president's eldest son, Donald Trump Jr., meanwhile, isn't showing immediate interest in running, but he does want to remain active in GOP political circles, said one source familiar with his thinking.
Eric Trump also hasn't expressed interest in running.
But the snapshots of their schedules resemble those of politicians in the final push to Election Day.
From September 22 to October 1, Donald Trump Jr. took part in 13 fundraisers and rallies across several swing states.
A source familiar with Donald Trump Jr.'s schedule provided a summary for Newsweek of his day following the first presidential debate in Cleveland: Radio and TV interviews at 7 a.m. in Ohio; Host event for Trump supporters in Ohio; Fly to Nevada to host rally; Fly to the West Coast for a day that ended at 10 p.m.
Another campaign source described Eric Trump and his wife, Lara Trump, as "powerhouses" on the campaign trail.
Eric Trump has held campaign events in Florida, Georgia, Maine, Minnesota, Nevada, New Hampshire, North Carolina, Pennsylvania and Wisconsin since September. Lara Trump has been one of the key faces on the "Women for Trump" bus tour as its crossed through Pennsylvania, Florida and North Carolina in recent weeks, and she held events in Iowa and Minnesota.
Ivanka Trump has held more intimate fundraisers, raising millions for the campaign. In one recent 24-hour period, she raised more than $7.5 million through back-to-back events in Texas and Florida. Each of Ivanka's events has drawn a capacity crowd.
"Demand is super high," a source familiar with Ivanka Trump's schedule told Newsweek.
Ivanka Trump was pregnant during the 2016 campaign, so she didn't spend as much time stumping for her father four years ago.
"She loves every second of it," the source said.