Donald Trump Least Trustworthy Source on COVID Vaccine, Poll Finds
President Donald Trump is touting the speed at which a new coronavirus vaccine has been developed as a historic accomplishment for his administration, but when it comes to being a trusted source of information, the president ranks last on people's list.
As America gears up for vaccine distribution, people remain skeptical about the vaccine and fewer than ⅔ of Americans plan on being vaccinated. Those who have read or heard about the development of the vaccine are more likely to plan on being vaccinated, according to an Associated Press-NORC poll released on Wednesday.
The most trustworthy source of information on the vaccine are health professionals, the poll found, and 86 percent of the 1,117 people surveyed said they put at least a "moderate amount" of trust in them. The Centers for Disease Control (CDC) was the second most trusted source for vaccine information, followed by the Food and Drug Administration (FDA) and the Department of Health and Human Services (HHS).
At the bottom of the list of 10 sources for information on the vaccine was Trump. Only 32 percent put a "moderate amount" of trust in the president as a source and 68 percent said they trust him "only a little" or "not at all."
President-elect Joe Biden was lower on the list than government agencies but fared better than Trump. Fifty-four percent of adults considered him at least moderately trustworthy and 45 percent said they trusted him "a little" or "not at all."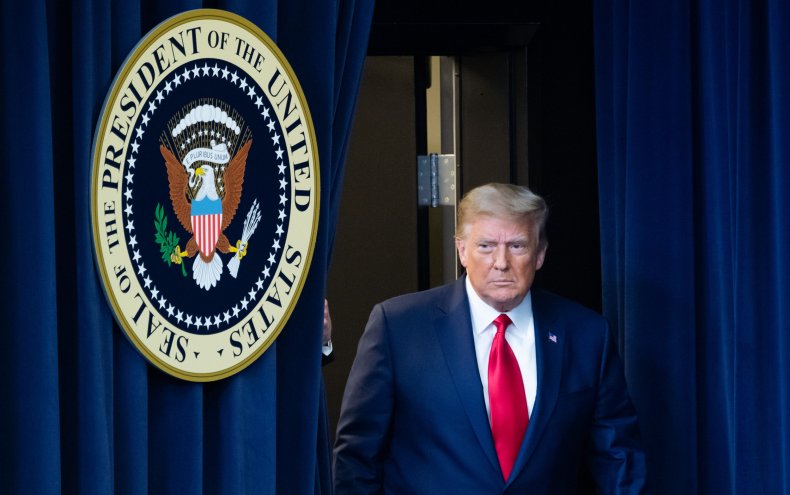 Being a president that's capable of handling the pandemic was a key staple of Biden's presidential campaign and he released details of his plan on Tuesday. He said his administration would prioritize vaccinations for health care workers and residents in long-term care facilities. Educators would also be a priority for vaccinations and the president-elect wants to administer 100 million vaccinations in his first 100 days in office.
At a vaccine summit at the White House that same day, Trump called it a "monumental national achievement" and said "mass distribution" would begin immediately after FDA approval. On Thursday, the FDA will hold a hearing for Pfizer's Emergency Use Authorization and another hearing will be held on December 17 for Moderna's vaccine candidate.
Both candidates reached 90 percent efficacy in clinical trials, a percentage that was significantly higher than the minimum efficacy Dr. Anthony Fauci, director of the National Institute of Allergy and Infectious Diseases, would want to see. Fauci's attempted to counter skepticism over the vaccines' development with reassurances that speed didn't sacrifice safety. Instead, he said technological advancements and a significant financial investment from the Trump administration were why the vaccine was able to be produced in just nine months.
Fauci's the nation's leading infectious disease expert and has advised every president since Ronald Reagan, but the AP-NORC poll found he was the fifth most trusted source for vaccine information. Sixty-nine percent of people trusted him at least a moderate amount and 30 percent trusted him only a little or not at all.
If the FDA grants Pfizer an Emergency Use Authorization, Fauci told CNN's New Day that distribution could begin within a week or two. However, it's likely to be late spring or summer before the vaccine is widely distributed on a community level.