Donald Trump Leaves Joe Biden a Note in Final Surprise of His Presidency
President Donald Trump continued a 32-year-old tradition and left behind a note for President-elect Joe Biden, much to the surprise of experts.
The tradition began with President Ronald Reagan when he welcomed his vice president, George H.W. Bush, to the White House with a succinct letter of good wishes. Trump opting to not attend Biden's inauguration sparked speculation that he would buck the tradition of leaving well wishes for his successor, a sign of the political divide in America weeks after a contentious election.
However, Trump proved the skeptics were wrong. In the final turn of events of his presidency, Trump left a note for Biden, Bloomberg reported Wednesday morning. It's unclear what the note said or the message Trump conveyed to Biden. Deputy press secretary Judd Deere declined to reveal what it said to the Associated Press, citing privacy for communication between the two presidents. The note is likely not to be made public until after the inauguration at noon, as Biden has yet to read it.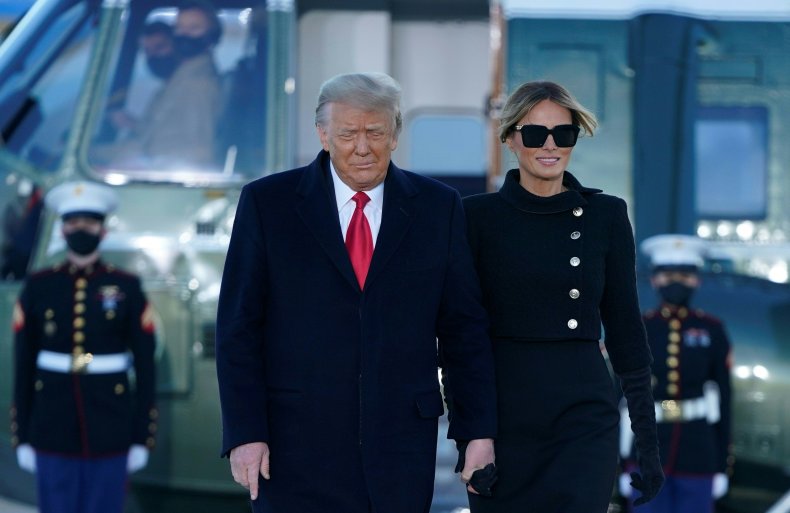 The move was likely a surprise to presidential historians and presidential historian Kate Anderson predicted to Newsweek before the inauguration that Trump, who sees himself as a political outsider, wouldn't participate in one of the "ultimate insider rituals."
"He's so committed to breaking traditions and ignoring what's expected of him," Trump biographer Michael D'Antonio told Newsweek. " The best thing one president could do for another is offer a hand in friendship and cooperation for the good of the country and that's not something Trump's ever done in his life."
After the election turned in favor of Biden, Trump explored countless legal avenues to keep his Democratic challenger from taking office. However, his efforts were in vain and it wasn't until after Congress certified the Electoral College votes on January 6 that Trump acknowledged he would not be in office come Wednesday.
On his last night in office, Trump released a farewell video message on YouTube. Although never mentioning Biden by name, he said he was praying for the next administration's success "in keeping America safe and prosperous."
"We extend our best wishes, and we also want them to have luck—a very important word," Trump said.
Trump departed the White House for the last time as president on Wednesday morning, walking out hand in hand with first lady Melania Trump. After boarding Marine One, the president's personal helicopter, the couple landed at Joint Base Andrews, where Trump delivered his final remarks.
"This has been an incredible four years, we've accomplished so much together," Trump said before boarding Air Force One. "As the athletes would say, 'We've left it all on the field.'"