Donald Trump Left Press Pool Behind at Christmas Event Due to 'Logistical Glitch'
While President Donald Trump likes to keep reporters on their toes, many at the White House's National Christmas Tree lighting were left wondering what had happened to him after he departed without telling them.
Members of the protective press pool who follow the president's activities were at the Ellipse outside the White House for the annual event on Wednesday. The Trumps were in the front row before appearing on stage to light the tree and wishing everyone a merry Christmas.
The president also tweeted an image of the National Tree Lighting in the annual holiday tradition. But then at around 6.30 p.m. Trump returned to the White House without any warning or comment from staffers, The Hill reported.
Steve Herman from Voice of America tweeted: "The @WhiteHouse staff works in concert with @SecretService to ensure the pool is always in the POTUS motorcade.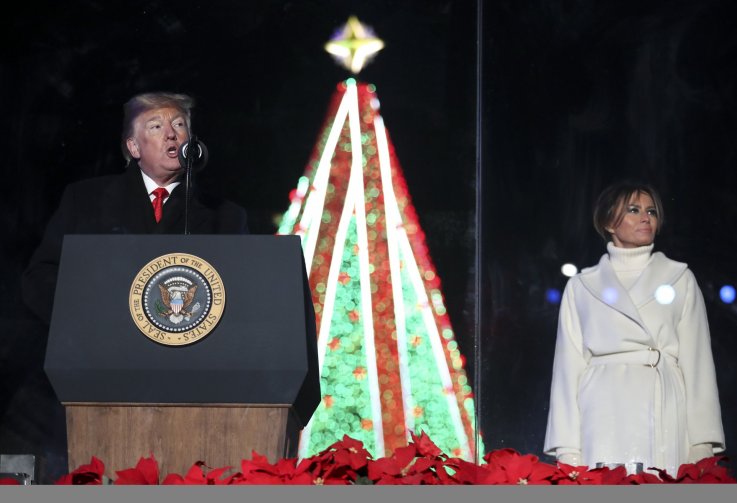 "Poolers serve as the eyes and ears for the rest of the media. Usually it goes without a hitch, but something went amiss this evening and we've had no explanation."
Zeke Miller, White House reporter for the Associated Press tweeted: "The protective press pool exists to be in close proximity to the president in the event of an emergency and to document his movements for history. Can do neither at the moment."
However Olivier Knox, who is president of the White House Correspondents' Association (WHCA) said that the incident was nothing more than a mix-up.
"I have looked into what happened. I've concluded that this was just a logistical glitch. It happens. As you were," he tweeted.
Trump has a sometimes fractious relationship with the media but this was the first time that Trump had broken free of his press pool in office. However when he was president-elect, he managed to escape the press pool in November 2016 to play golf.