Trump's Lawyer Says He's Actually Winning Legal Cases but People Don't Know
A video of Donald Trump's lawyer claiming the former president is actually winning his legal cases has gone viral on Twitter.
Trump's attorney, Alina Habba, spoke on the Take Five show on the His Glory TV channel on Friday when she made the claim.
A snippet of her comments has since gone viral and has been viewed more than 450,000 times since being posted on January 29.
In the clip, she said: "As somebody who is related and intimately involved in his legal cases, I would just like to say that when people bring cases against him, which is a lot of people, when you have those but they are not within merit there are systems in place, even when you have crooked judges etc, we have been winning.
"They are not publicized, they are not going to be, but I'll invite people to ask me questions directly next time I'm on.
"I am happy to because I know that is something that people worry about.
"But I have to tell you, everything is going to be fine because he is incredibly bright, he always has been, and he has always been by the books."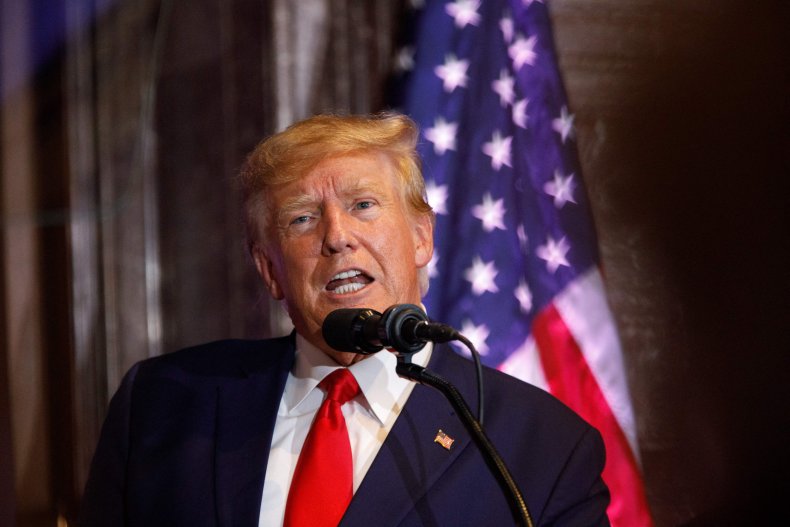 Despite the claims by Habba, the details regarding Trump's legal struggles in recent months have been well-documented.
Trump and Habba were fined almost $1 million in a legal claim against former Presidential candidate Hilary Clinton and her advisers, according to a January 21 Sky News report.
The ruling ordered the pair to pay around $938,000 to the defendants in the case as a Florida judge called the legal claim "bogus."
It alleged that Clinton and her team conspired with Russia to sway the outcome of his winning 2016 presidential election.
U.S. district Judge Donald M. Middlebrooks called the lawsuit "completely frivolous, both factually and legally" and one which "amounts to obstruction of justice."
Earlier in the month, The Trump Organization was also fined $1.6 million by a New York judge.
This penalty, the maximum possible, was for running a decade-long tax fraud scheme, according to a CNN report.
The Trump Corporation and Trump Payroll Corporation were convicted of 17 felonies, including tax fraud and falsifying business records.
Prosecutor Joshua Steinglass admitted that this fine would have "minimal impact" on the multibillion-dollar company, however.
He said: "We all know that these corporations cannot go to jail. The only way to effectively deter such conduct is to make it as expensive as possible."
On January 13, a judge also rejected Trump's efforts to dismiss a woman's lawsuit against him, according to a Reuters report.
U.S. District Judge Lewis Kaplan said there was no merit to Trump's argument that E. Jean Carroll's lawsuit, accusing him of defamation and battery after he denied raping her in the mid-1990s, must be dismissed.
Trump claimed that under New York's Adult Survivors Act it must be dismissed because the law denied him due process under the state's constitution.
The judge also noted that the state law didn't require Carroll to prove she had suffered economic loss from Trump's comments.
Habba said that he and his team would be filing an immediate appeal and said: "We are disappointed with the court's decision."
Newsweek has contacted Donald Trump for comment.