Donald Trump Is Less Popular Than Nancy Pelosi, Republican Internal Poll Shows Ahead of Midterms
Despite President Donald Trump's numerous attacks, and those by his fellow Republicans for many years, House Minority Leader Nancy Pelosi was actually preferred over the president both by voters overall and by independents, according to a poll conducted by the Republican National Committee this month.
Pelosi, the longtime top-ranking House Democrat who has even faced opposition over her leadership within the party, was ahead of Trump by 5 points in the national survey run by Public Opinion Strategies for the RNC, Bloomberg Businessweek reported Friday citing the internal poll.
The results were especially telling about whether voters wanted Trump's powers to be checked, or if they hoped to see increased Republican control of Congress to further bolster the president's agenda in the last two years of his first term.
Those surveyed wanted to check Trump more.
Respondents were specifically asked if they would vote for a Republican candidate "who supports President Trump because he is fighting to take the country in the right direction" or if they would opt for a Democratic candidate "who supports Nancy Pelosi and Democratic policies who would be a check and balance on President Trump."
Pelosi was picked by 50 percent of those polled overall, while Trump earned 45 percent. Among independents, a key part of the electorate for both parties in the fall's midterm elections, Pelosi's advantage only slipped 1 point to 4 percent.
Trump has often blasted Pelosi as the face of a Democratic Party that he claimed is "soft" on crime and wanted an open border policy in contrast to the president's cries for a southern border wall to stop immigration.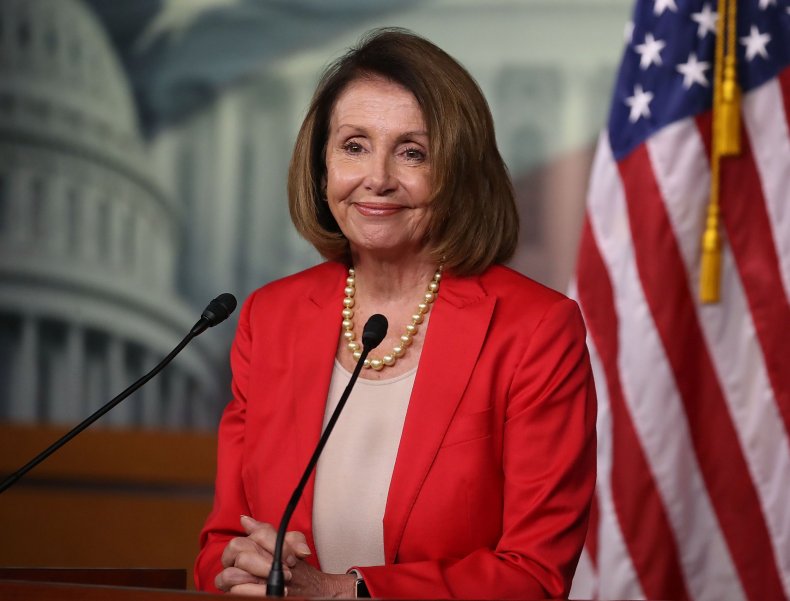 Most generic polls predicted the Democrats would take at least the House back in the fall, but the RNC internal poll showed Pelosi could also fend off fellow party members eager to push her out of the top leadership post.
Earlier this month, 11 Democrats signed a letter that laid out potential rule changes for how the party would vote for leadership. Pelosi, or any other candidate in the caucus, would have to win at least 218 Democratic votes instead of just a simple majority, according to CBS News.
Pelosi had also faced pushback from 51 Democratic candidates—a total that included nine incumbents—who have publicly stated that they were not supporting her to continue as the party's leader in the House.
Pelosi had responded to the lack of support and whispers about dissension within her party over her leadership by insisting, "As long as [Trump's] here, I'm here."