Donald Trump Says He'll Let Joe Biden Talk at Debate, After Interruption Criticism in Last Clash
President Donald Trump has said he will "let Joe Biden talk" when asked about his tactics ahead of their upcoming debate head-to-head, having been criticized for interrupting his Democratic rival in their last clash.
Asked if there would be any twists in strategy during a conversation with OutKick, the president welcomed advice from interviewer Jason Whitlock.
Whitlock suggested: "Let Joe Biden talk, he'll do the work for you."
To this, Trump said: "You cannot be told so many false stories, ideas, lies, I said you gotta correct them. But, I will do that."
Newsweek has contacted the Trump and Biden campaign for comment on tactics for the upcoming head-to-head.
The last debate was widely criticized due to interruptions, and this time out microphones will be muted at points in order to allow candidates chunks of uninterrupted speech.
The Trump campaign previously criticized this change, though the co-chair of the Commission on Presidential Debates has defended the move. This comes with the Trump team having also questioned topics for the debate, while insisting the president will focus on issues such as accusations made about Biden's son, Hunter, in regards to alleged links with China.
A source close to the Biden campaign previously told Newsweek Biden has been preparing to be pressed on this.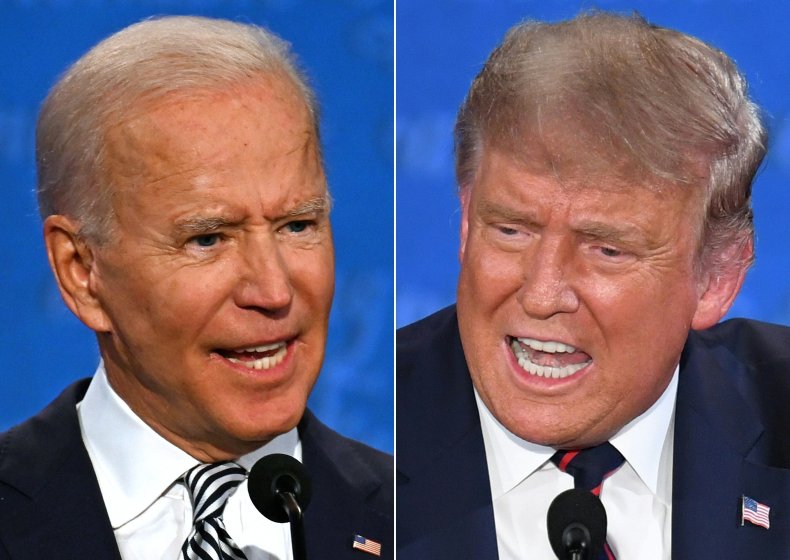 Trump 2020 Campaign Manager Bill Stepien bemoaned the debate rule changes previously, and said in an earlier statement: "President Trump is committed to debating Joe Biden regardless of last-minute rule changes from the biased commission in their latest attempt to provide advantage to their favored candidate."
Following the last debate, Biden was deemed the winner in most polling, despite Trump claiming this not to be the case and insisting he was deemed victorious. Trump was also seen to lose poll support after the event.
Biden told the president to "shut up" at one point during their last clash, branding his behavior unpresidential and telling him to "keep yapping, man," as the pair locked horns throughout.
Thursday's debate is due to be held in Nashville from 9 p.m. EST.
It is only their second debate, with Trump having rejected proposals for a previously planned faceoff to be held virtually after he tested positive for COVID-19.
It comes with Trump trailing Biden in national polling, while also falling behind the Democrat in several key states.
Despite this, Trump has insisted he is on course for victory, recently stating on a call with reporters: "We're going to win."
The graphic below, from Statista, shows survey results of how useful voters have found debates in making up their minds in previous elections.