Donald Trump Should Let Mike Pence Be President If He Won't Stand Up to Russia: 2020 Democrat's Campaign
President Donald Trump "should step aside" and allow Vice President Mike Pence to act as the nation's commander-in-chief if he does not hold Russia accountable for interfering in the 2016 election, a spokesman for a 2020 Democratic candidate said Wednesday.
"If the President isn't concerned with the continued threats posed by Russian hacking he should step aside and let Mike Pence perform the duties expected from the President of the United States," Democrat John Delaney's national press secretary Michael Starr Hopkins said in a tweeted statement.
"The idea that the President can spend all day tweeting racist conspiracies but can't spend five seconds standing up to Vladimir Putin should trouble every single American—regardless of political party," he added.
Hopkins told Newsweek on Wednesday afternoon that he made the statement "on behalf of the campaign."
"The president literally spends more time attacking Americans on Twitter than he does holding Russia accountable for interfering in our election," Hopkins explained. "That is an abdication of his duties. If he can't do the job then he should let someone else do it."
Delaney, a former Maryland congressman, was one of the first Democrats to announce he is running for president.
Trump has been heavily criticized for his reluctance to admonish Russia and Putin.
During a joint press conference in Helsinki with the Russian president in July, Trump appeared to buy into Putin's denials of meddling in the 2016 election.
"I have great confidence in my intelligence people, but I will tell you that President Putin was extremely strong and powerful in his denial today," Trump said at the time. Trump added that the U.S. and Russia were "getting together and we have a chance to do some great things."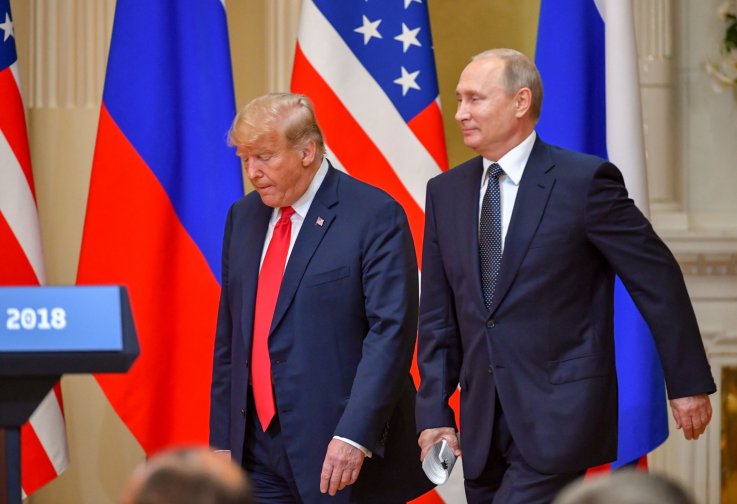 Delaney on Wednesday called on Americans to unfollow Trump on Twitter, after reports that Trump asked for a meeting with the company's CEO, Jack Dorsey, in which he complained about losing followers. Delaney's #UnfollowTrump call came in light of reports that Trump told the secretary of the Department of Homeland Security not to talk about preparing the U.S. to combat Russian interference in future elections.
"The President clearly cares more about his Twitter followers than the American people. His continued dishonesty and weaponization of social media has been divisive," Delaney stated. "I am calling on all Americans to #UnfollowTrump and hit him where it actually hurts him…his ego."
Donald Trump Should Let Mike Pence Be President If He Won't Stand Up to Russia: 2020 Democrat's Campaign | U.S.