Trump Gets Copyright Law Wrong While Defending Release of Jay Leno Letters
Donald Trump misinterpreted a basic element of copyright law while defending the publication of a letter from comedian and talk show host Jay Leno in his new book.
The former president is set to release Letters to Trump in April, which will contain written correspondence between him and political figures, celebrities and other high-profile names over the years.
Questions were raised as to whether Trump had the right to publish these letters from people such as Hillary Clinton, Princess Diana and Oprah Winfrey as the copyright belongs to the senders of the letters, not the receivers.
Winning Team Publishing, the company behind the book, said there had been "actual or implied" permission from private citizens to make the letters public, while no copyright protection is warranted for letters sent to Trump from those who were in public office at the time. But this is not the case.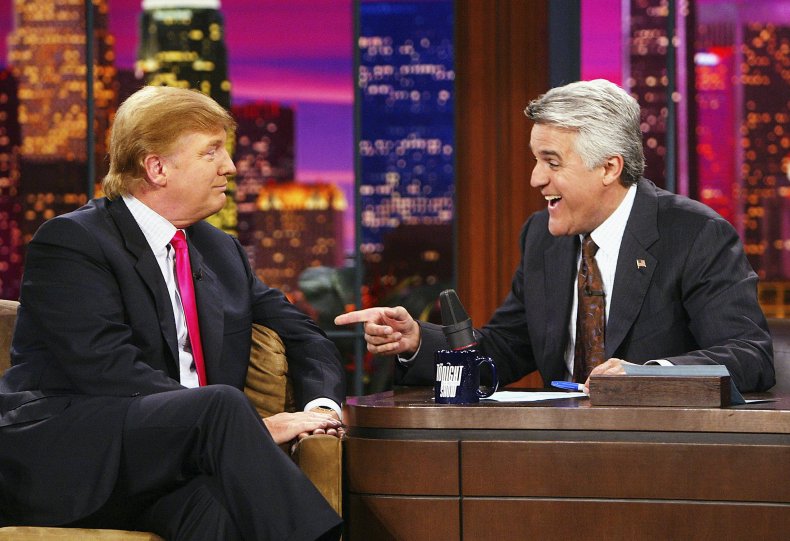 In a statement to Newsweek, Leno's production company, Big Dog Productions, confirmed he had not given Trump permission to publish any correspondence between the pair.
While sharing a Newsweek article on the subject on Truth Social, Trump falsely suggested Leno gave the former president permission to publish a letter just by sending it in the first place.
"Jay, you did when you sent it!" Trump wrote.
Jane C. Ginsburg, professor of literary and artistic property Law at Columbia University School of Law in New York, previously told Newsweek that the principle that the writers of letters, not the recipients, retain the copyright in the text has been "well-established in copyright law" for hundreds of years.
"Going back to a famous case from 1741, in which poet Alexander Pope sued Edmond Curll for publishing Pope's letters," Ginsburg said. "Pope prevailed. Lord Justice Hardwick announced a distinction between the 'property of the paper' which belonged to the recipient of the letters, and the property in the words, which remained with the writer."
Section 202 of the U.S. Copyright Act states that, in the absence of an agreement, the transfer of ownership of any material object, including letters, does not transfer ownership of a copyright or any exclusive rights.
Elsewhere, Clinton's spokesperson also said that "of course" Trump did not seek permission from the 2016 Democratic presidential candidate to publish the letters she sent to him.
"Nothing says deeply-insecure-has-been quite like publishing private correspondence with the hope that people will believe you once garnered respect," Clinton's spokesperson Nick Merrill told Newsweek.
"Feels like the adult equivalent of when a toddler proudly presents you with what they've done on the potty."
Newsweek reached out to Trump's office and Winning Team Publishing via email for comment.