Donald Trump and Lev Parnas Spoke About Sen. Rick Scott's Midterm Campaign at April 2018 Dinner
President Donald Trump talked about Florida Sen. Rick Scott's chances of winning in the 2018 midterms with the indicted businessman Lev Parnas at the dinner where he also called for the U.S. ambassador to Ukraine to be ousted, according to a newly released video of the event.
In a recording of the April 2018 dinner released by Parnas' lawyer Joseph Bondy on Saturday, the Tampa Bay Times reported that the president is heard asking Parnas how then-GOP senate candidate Scott was doing ahead of the November midterms.
The businessman indicted on campaign finance charges last year told Trump that he believed Scott had a good chance of winning, and claimed to be holding a fundraiser for the ex-Florida governor.
In the video of the dinner shared with CBS News and published in full, Trump asked Parnas: "How's Florida doing now with Rick Scott?"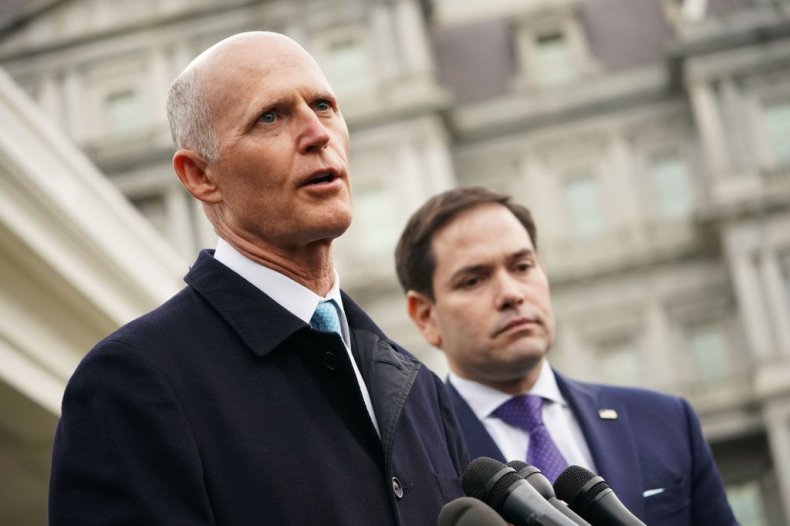 "Rick Scott's good," Parnas replied. "We're actually holding a fundraiser for him-"
Asked by President Trump if he expected Scott to win the midterm Senate race in Florida, Parnas replied: "It's going to be close... I think if we're ever going to win, it's this time.
"We've been going hard for a while, but I think we got a good shot this time. If anybody's going to do it, Rick's going to do it."
Parnas also claimed to have had lunch with former Florida Attorney General Pam Bondi the week before.
The Miami Herald reportrd in October last year that Sen. Scott donated $20,400 of donations from Parnas' indicted partner Igor Fruman to the Shriner's Hospital after the pair were arrested.
Fruman donated $5,400 to Sen. Scott's campaign and a further $15,000 to the Rick Scott Victory Fund.
Newsweek has contacted Bondi and the office of Sen. Scott for comment and will update this article with any response.
A spokesman for Sen. Scott told the Tampa Bay Times that the Florida congressman did not know what fundraiser was being referenced by Parnas in the video.
He also said that the businessman had any involvement in the midterm campaign.
"Sen. Scott meets a lot of people and has no recollection of meeting Parnas and he had no involvement in the Senator's campaign," the spokesman said.
Defense attorney Bondy tweeted a picture of his client Parnas with Sen. Scott last Tuesday, before the release of the dinner recording.
"Another @GOP senator/juror, Rick Scott of Florida, with Lev Parnas," Bondy tweeted. "Call the witnesses, cross-examine them, have a fair trial."
Sen. Scott told CNN last week that it was "very important to have a fair trial" and said he would "absolutely" be open to hearing from witnesses.
But the Florida congressman has also dubbed the impeachment of President Trump a "circus" and a "sham."