Donald Trump Claimed That King Salman Kissed Melania Despite Video Footage Showing Otherwise: Book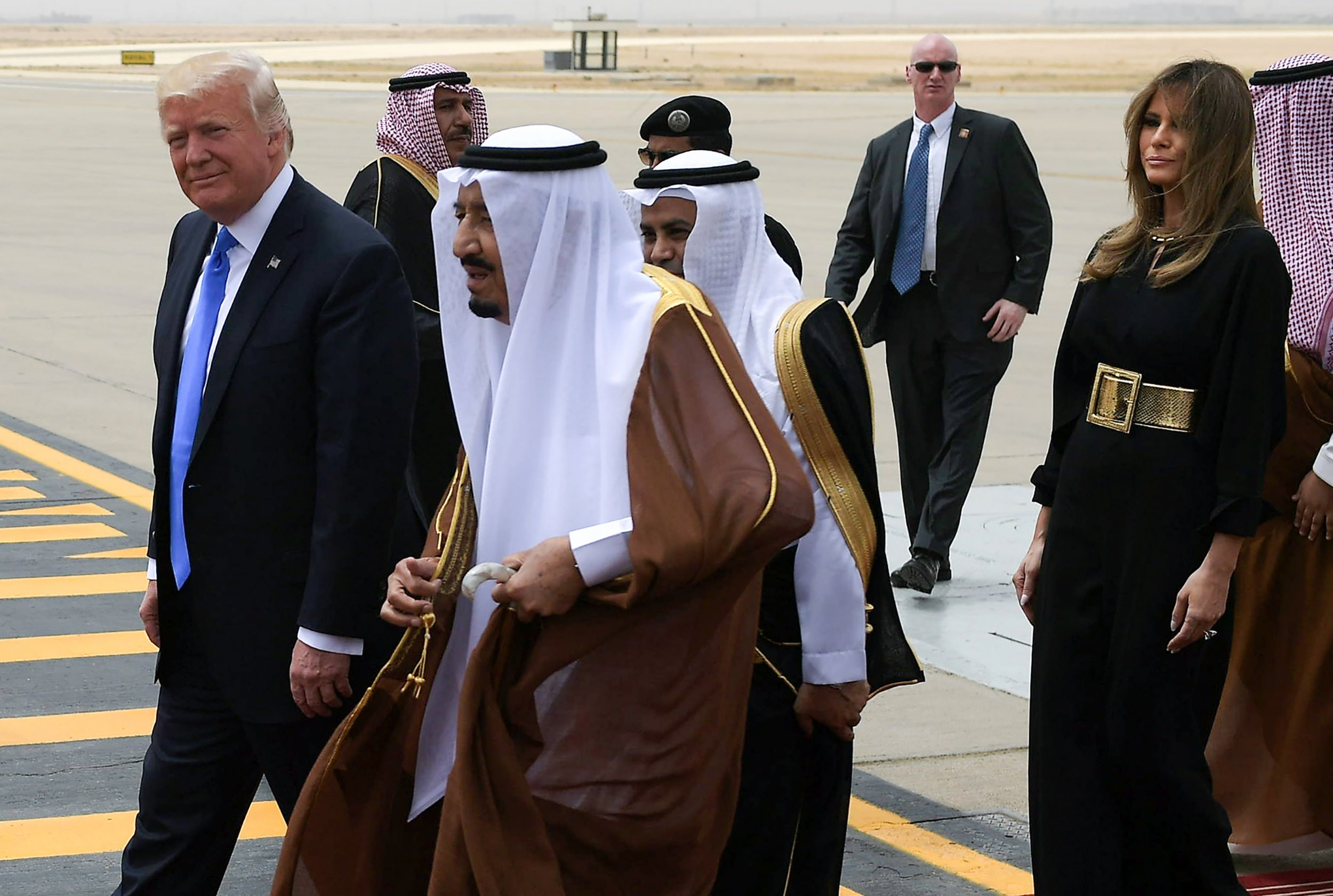 President Donald Trump reportedly claimed that Saudi Arabia's King Salman bin Abdulaziz al-Saud grabbed first lady Melania Trump's hand and kissed her several times—despite video footage that showed that the two only shook hands.
The president made the comment during a more than hour-long riff at a fundraiser that Republican Representative Kevin McCarthy held at Trump Hotel late last year, according to the book released Tuesday, The Hill to Die On: The Battle for Congress and the Future of Trump's America, by Politico Playbook writers Jake Sherman and Anna Palmer.
Donald Trump recounted his May 2017 Saudi Arabia trip to lawmakers, elected officials and donors who contributed in the five- to six-figures. He spoke about how his predecessor Barack Obama had bowed to King Salman but that he himself refused—a move that made headlines at the time. Donald Trump then shared an account of his wife that does not appear to have been previously reported.
The president apparently said that an aide had told Melania Trump that if she extended her hand, King Salman would refuse to shake or receive it. Donald Trump then said he heard King Salman was waiting for him on the tarmac, whereas he waited for Obama inside an air-conditioned palace.
"So, I get off the plane, I shake his hand, I don't bow, and Melania offers her hand. Remember, they told us 'He will not receive your hand,'" the book states, paraphrasing Donald Trump's alleged words.
"He grabs her hand, and kisses her, mwah, mwah, mwah. And I go, hey, King, lay off, that's enough—three kisses!" Donald Trump said, according to the book.
The book states "the room was uproarious," and that "video footage, in fact, showed that the king did not kiss Melania, but the two did shake hands."
White House officials did not immediately respond to a request for comment from Newsweek on Tuesday.
It is unclear whether Donald Trump offered the account of his wife and the king jokingly or in all seriousness. The president often exaggerates in order to entertain. But he has also displayed a carelessness for getting facts right, and even insisted against the facts when he feels he may be embarrassed.
According to Axios, Donald Trump told Republican donors at his Mar-a-Lago resort last month that he said "Tim Apple Cook" quickly and "Cook" softly, instead of addressing Apple CEO Tim Cook as "Tim Apple" as was recorded on video from an American Workforce Policy Advisory Board meeting.
Lawyer George Conway, whose wife is Counselor to the President Kellyanne Conway, said that showed that Donald Trump is a pathological liar.
"Lying about it even though he was on video," George Conway tweeted. "So not just immature, but pathological."