Joe Scarborough Details Hitler's History of Lying Before Slamming Donald Trump's 'Unbelievable' Lies
MSNBC's Morning Joe co-host Joe Scarborough appeared Tuesday to liken Donald Trump's "unbelievable" lies to Nazi leader Adolf Hitler's psychological profile.
Scarborough on Tuesday morning read Hitler's psychological profile in a report prepared by the U.S. Office of Strategic Services during World War II, that he had tweeted out the previous night.
"His primary rules were: never allow the public to cool off; never admit a fault or wrong; never concede that there may be some good in your enemy; never accept blame; people will believe a big lie sooner than a little one; repeat it frequently enough people will believe it," he quoted from the report.
"This only pertains to Adolf Hitler and pertains to nobody else, I just can't overstate that," Scarborough stressed.
However, co-host Mika Brzezinski then read Trump's tweet from Monday morning in which he said the caravan of Hondurans heading to the southern border of the U.S. had "criminals and unknown Middle Easterners" mixed in—a claim that lacks evidence. Trump tweeted he had alerted Border Patrol that it was a national emergency, and "Must change laws!"
Scarborough jumped on Trump's lie and referenced the recent disappearance and killing of Saudi journalist Jamal Khashoggi that has been linked to a Saudi top official.
"Wait, wait, wait, hold on, is there a Saudi crown prince in there, is he coming to kill American journalists too?" Scarborough said. "'Must change laws,' as if Republicans don't control the House and the Senate, and the White House, and the bureaucracy, and the Supreme Court? They control absolutely everything. And he's saying Middle Easterners, like is he telling us Saudi Arabian crown princes that saw people to shreds are coming across the border?"
"The lies are unbelievable, aren't they?" Scarborough concluded.
Morning Joe also aired a clip in which Shep Smith, an anchor on typically Trump-favoring Fox News, fact-checked the president's claim about the Middle Easterners in the caravan.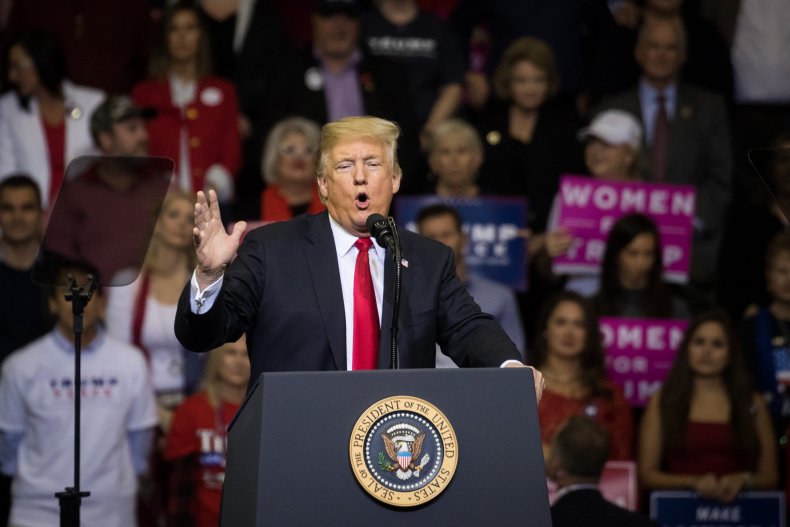 Scarborough is not the first to draw a comparison between Trump and Hitler.
Last year, New York Times columnist Charles Blow penned an opinion piece titled, "Trump Isn't Hitler. But the Lying…"
"The forthcoming comparison isn't to Hitler the murderer, but to Hitler the liar," Blow wrote. "Trump is no Hitler, but the way he has manipulated the American people with outrageous lies, stacked one on top of the other, has an eerie historical resonance."
Blow added that "Trump has found a way to couch the lies so that people believe they don't emanate from him but pass through him."