Donald Trump Accidentally Introduces Lil Pump As 'Little Pimp' At Rally
"One of the big superstars of the world; Little Pimp!" is how Donald Trump introduced rapper Lil Pump on stage at a final pre-election rally Tuesday morning.
The president accidentally got the name of one of his newer high-profile endorsements wrong at an event in Grand Rapids, Michigan.
Introducing Lil Pump, whose real name is Gazzy Garcia, at the event, Trump said to the crowd: "I love your sound, I love your music. And speaking of sound and music and other things—one of the biggest superstars in the world; Lil Pimp!"
The president then appears to have recognized his mistake and adds: "There he is. You wanna come up here and say something? Lil Pump? Does everyone know who he is? You know how big he is? Come up here, that's a nice hat."
The "Gucci Gang" rapper, 20, took to the stage in a MAGA hat and addressed the crowd.
"Hello everybody how you guys feeling?" he said. "I've come here to say Mr President I appreciate everything you have done for our country. You brought the troops home and are doing the right thing. MAGA 202020 don't forget that!"
Speaking about to Joe Biden, he added: "And do not vote for sleepy Joe—at all!"
A video of Trump's lil slip of the tongue has been doing the rounds on Twitter where people are unsurprisingly amused by the mistake.
This week, Lil Pump threatened to leave the U.S. if Trump is not reelected.
"Yo, no cap... If Trump does not get elected, I'm moving the f*** out of here n****," he said in a recent post on his Instagram Story, per Complex. "I'm going to Colombia, f*** it."
The rapper took to social media last Sunday to declare his support for the republican while also extending insults to Democrat nominee Biden.
"THE DAY I MET TRUMP #trump202022020," he wrote alongside a doctored photo of him and the president.
"All I gotta say is Trump 2020 b****" he said. "F*** I look like paying a extra 33 is tax for Biden, b***** ass n—. F**** sleepy Joe n— Trump 2020 b****."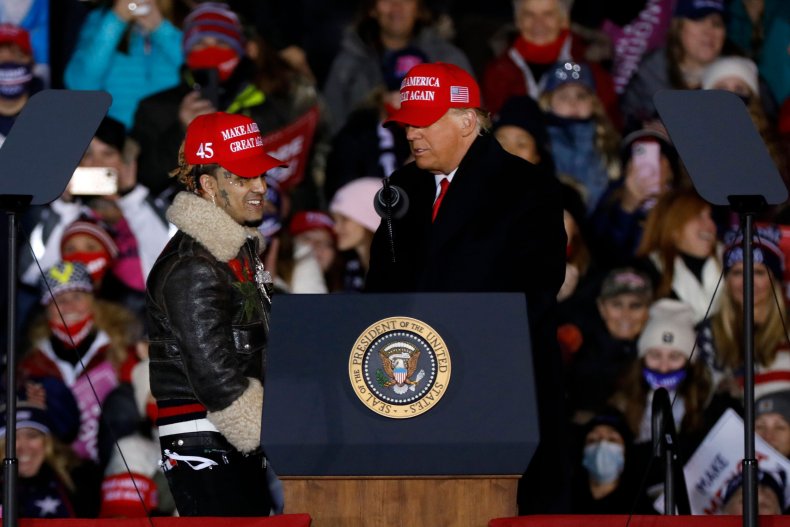 The Miami based rapper was following an example set by 50 Cent's since the rapper himself previously expressed concerns over Biden's proposed taxed rate for top earners.
Pump's endorsement of Trump comes just after Lil Wayne received backlash for meeting with the president and supporting his reelection.