Watch: Donald Trump's Latest Problem? Finding His Ride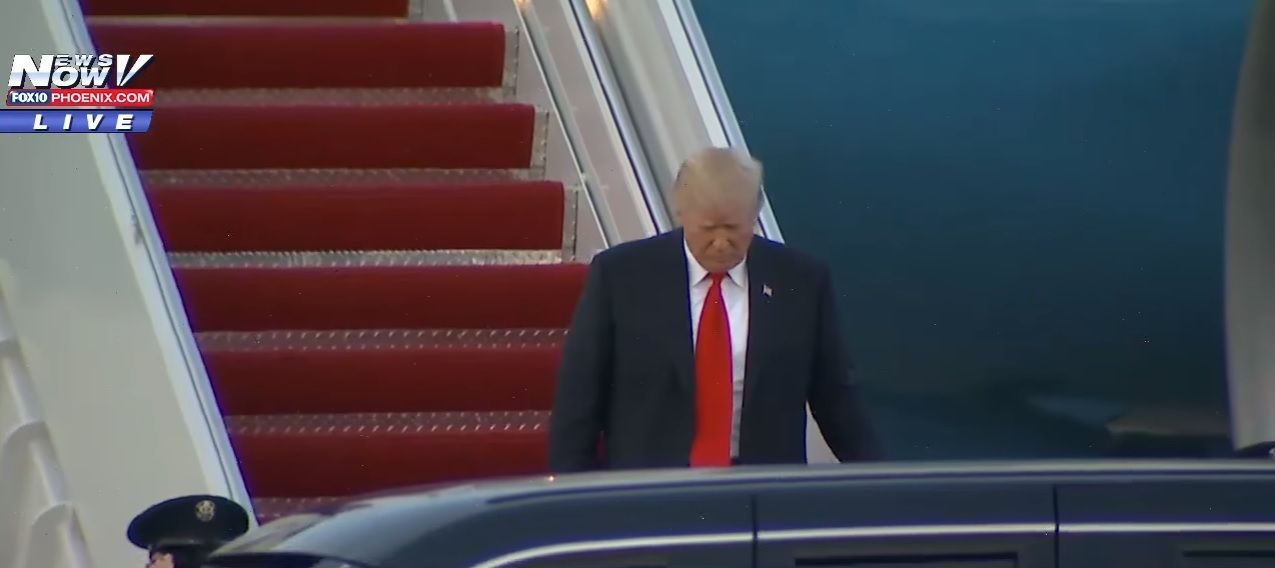 Donald Trump really is the meme-machine that keeps on giving.
The bullish president caused another stir on Twitter Tuesday, though this time it wasn't because of his continued feud with CNN. In light relief from the ensuing fake news war, footage of Trump exiting Air Force One and obliviously walking past the limousine designated to take him back to the White House went viral.
The scenes aired Monday on Fox News as President Trump landed at Joint Base Andrews airfield. He is seen stepping off the plane and waving to a gathered crowd. However, when he reaches the bottom of the steps, he seems to miss his ride—parked directly in front of the jet—and walks off in a different direction. Maybe, like his alternative facts, he just prefers alternative routes? Trump is then redirected to his awaiting car by an aide.
The awkward moment went down sweeter than 4th of July apple pie on Twitter.
One person wrote: "The limo was RIGHT in front of him. All he had to do was walk in a straight line for 30 feet from the plane."
One Twitter user pointed out Trump's scrutiny of presidential rival Hillary Clinton last year when, while battling pneumonia, she had to be helped into a car by aides following a 9/11 memorial event in September.
On the campaign trail, Trump seized on Clinton's vulnerability and suggested she didn't have the "stamina" to be president. "She can't even make it 15 feet to her car," he said at a rally last October and then impersonated a stumbling Clinton onstage.
Trump's limousine mishap follows similar blunders during his five months in office.
In May, he forgot to shake hands with Israeli Prime Minister Benjamin Netanyahu during his state visit:
Then there's the time he appeared to shove past Montenegro Prime Minister Dusko Markovic to position himself at the front of a photo opportunity after a NATO summit in Brussels in May...