Donald Trump Links Democrats to Socialist, Communist Regimes In Bay of Pigs Address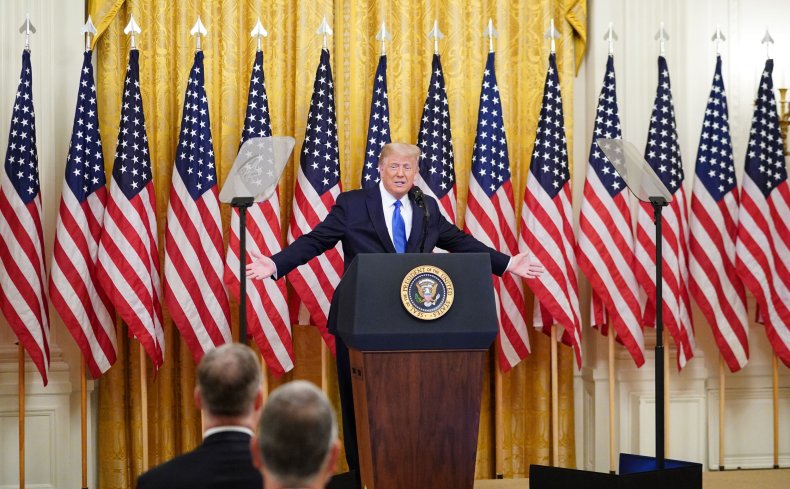 President Donald Trump, during an event to honor veterans of the Bay of Pigs invasion in Cuba, linked the Democratic Party to socialist regimes abroad and to nationwide protests over police brutality and racial injustice.
"The courageous veterans here today bear witness to how socialism, radical mobs and violent communists ruin a nation," the president said. "Now the Democrat Party is unleashing socialism right within our own beautiful country."
Trump even went a step further, asserting that the actions of those on the left may start to rise to the level of communism, and blamed the press for supporting it.
"Today we proclaim that America will never be a socialist or communist country. I'm going to add that word, communist," the president said. "I've never added that word but I think it's appropriate when you look at the kind of ideology we're also facing. When you see the rioters, looters, anarchists and then you see the press, the media play right into their hands."
The remarks were made on Wednesday during a White House ceremony to celebrate veterans of the Bay of Pigs invasion, which was the failed U.S. attempt in 1961 to oust the government of Fidel Castro. Members of the brigade endorsed Trump for re-election, following up on their endorsement from four years ago.
The president also made mention of Hispanic Heritage Month, as he gave thanks to the countless ways Hispanic Americans uplift and inspire the nation. He added that the "big story" of the election is the poll data among the key 2020 voting bloc.
"Trump has gone through the roof with the poll numbers from Hispanics," the president claimed, referring to himself in the third person. "They're all talking about it."
The Hispanic vote could be crucial to Trump's chances of winning a second term— especially in Florida, where polling shows Trump and Democratic nominee Joe Biden neck and neck. The president has repeatedly tried to court Hispanic voters by attacking Cuba and Nicolas Maduro's regime in Venezuela.
On Wednesday, Trump announced new sanctions against Cuba. Americans traveling to the nation will no longer be able to buy rum or tobacco as souvenirs, and they will not be able to stay at government-owned properties. Trump said the restrictions will ensure that U.S. dollars are not used to fund the regime and instead go to the people of Cuba.
Trump also used the opportunity to attack the Barack Obama-Joe Biden administration on foreign policy, calling their push to re-establish diplomatic relations between the U.S. and Cuba a "weak, pathetic one-sided deal with the Castro dictatorship."
"I canceled the Obama-Biden sellout to the Castro regime," he said.
Trump reaffirmed the U.S. commitment to a free Cuba, telling veterans in the room, "You will have that very soon."