Trump Transition Team Members Turn to Lobbying, Despite Six-Month Ban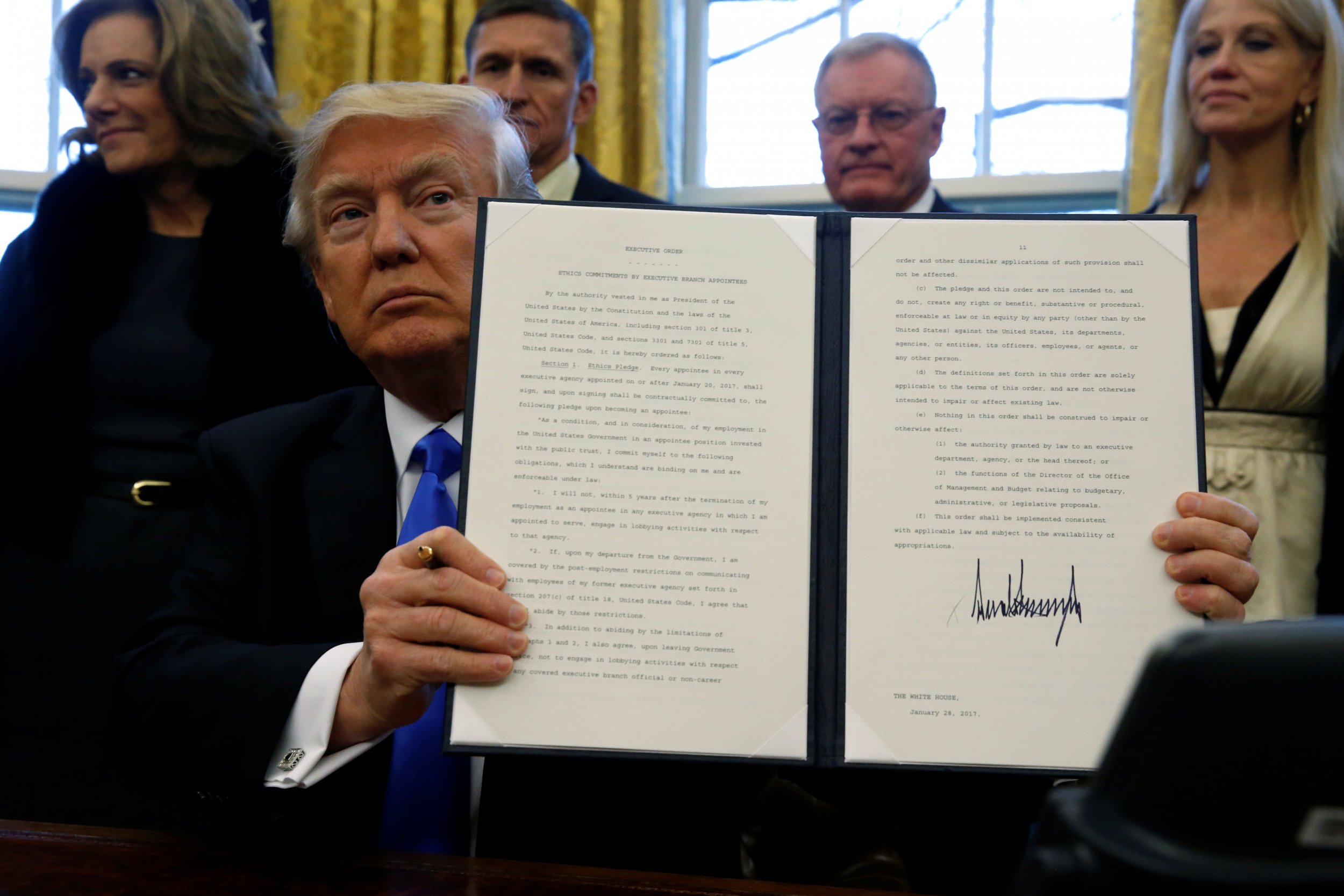 At least nine members of President Donald Trump's transition team have registered as lobbyists, despite Trump banning his team from doing so for six months after their departure, Politico reports.
On November 16, a week after his election, Trump announced his ban, the first clear move toward fulfilling his much exhorted campaign promise to " drain the swamp " of Washington's special interests. According to a code of ethics, members of Trump's transition team would have to wait six months after leaving the team to lobby on matters for which they "had direct and substantial responsibility during service with the Transition."
The president-elect further announced that members of his administration would not be able to move into lobbying for five years after leaving government service. Under former President Barack Obama, officials couldn't move into lobbying until the end of the administration.
Read more: Trump promised to "drain the swamp" of special interests. It's actually growing—fast
Good-governance advocates welcomed Trump's plan to clean up Washington, but they were soon disappointed. In January, Trump issued an executive order on lobbying that was softer than his November announcement.
His five-year ban only prevented officials from lobbying the agencies they had worked for; they could, if they wanted, immediately move into lobbying other government departments. Trump also repealed an Obama-era law banning people who registered as lobbyists in 2008 or after from taking administration posts. (Under Trump, lobbyists can join government, providing that for two years, they don't work on anything they specifically lobbied on.)
Trump also weakened Obama's decree that administration employees couldn't contact their former departments for two years after leaving. According to his executive order, former officials need to only maintain their silence for a year. (This does not apply to cabinet members.)
Four months on from Trump's executive order, it is becoming increasingly clear that the swamp in Washington remains stagnant.
According to Politico, several people are now lobbying departments with which they previously worked. It found that an official who had helped guide Education Secretary Betsy DeVos through her confirmation process was now lobbying that very department. A former employee of the Office of the U.S. Trade Representative is now lobbying that department on behalf of a steel company.
Politico also spoke to three former transition team members who said they never had to sign a document agreeing to the six-month lobbying ban. Significantly, two of Trump's administration officials—former National Security Adviser Michael Flynn and former State Department employee Robert Wasinger—said they never signed pledges agreeing not to lobby for five years.
The report comes just weeks after the Trump administration granted a waiver allowing a senior adviser to the Office of Management and Budget (OMB), Marcus Peacock to join the lobbying group Business Roundtable as executive vice president. Instead of having to wait five years, Peacock has recused himself from lobbying the OMB for six months.
The president may have promised to drain the swamp, but the reality still looks a little murky.