Donald Trump Loses Top Ally to Nikki Haley
In the day since former South Carolina Governor Nikki Haley announced she'd take on former President Donald Trump for the 2024 GOP presidential nomination, Trump has already lost one of his top allies.
On Wednesday, Republican Representative Ralph Norman of South Carolina endorsed Haley, praising her as the candidate best equipped to "reset" the national party.
"We are at a pivotal point in our nation. While the Republican candidates, values, and messages have done very well here in South Carolina, that hasn't been the case everywhere across our great nation," Norman said in a statement shared on Twitter. "It's time for a reset and a new chapter in national Republican politics, and there's no better person to help write that new chapter than our former governor and my good friend, Nikki Haley!"
Haley shook up the party on Tuesday, becoming the first top Republican to launch a 2024 bid against Trump. While polls show that Trump is still the leading contender among GOP voters, Haley does have some support, with 5 to 8 percent of voters saying they'd vote for her in a primary against Trump and other possible contenders like Florida Governor Ron DeSantis and former Vice President Mike Pence.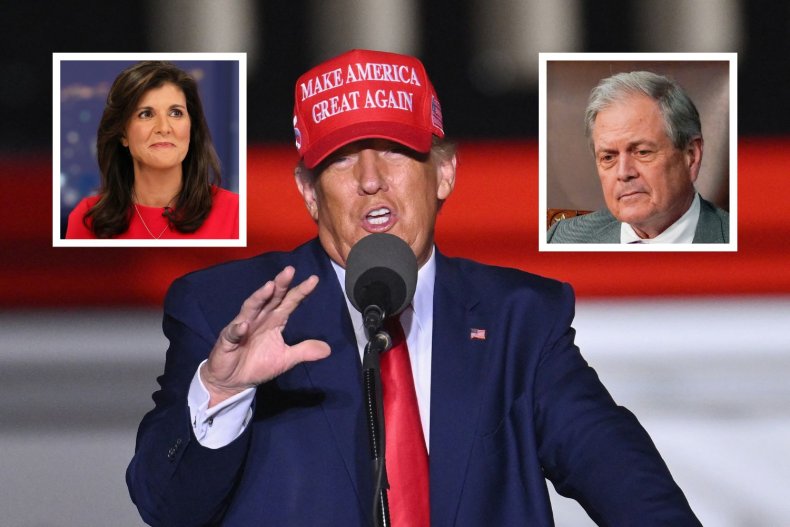 Norman has been among Trump's staunchest allies and was among the lawmakers who promoted the former president's claims of election fraud during the 2020 election. Text messages between the congressman and former White House Chief of Staff Mark Meadows showed Norman urging Trump to invoke martial law to block then-President-elect Joe Biden's inauguration.
Norman is also one of the most far-right members of the House GOP. In 2019, he joined a small group of colleagues who sought to reinstate former Representative Steve King on House committees after King lost those positions due to a series of white nationalist remarks. Last month, Norman was among the 20 Freedom Caucus holdouts who repeatedly blocked Representative Kevin McCarthy's speakership bid.
Norman, whose re-election was endorsed by Trump just last year, is the first South Carolina lawmaker to publicly back Haley for president and comes as another high-profile Republican from the Palmetto State, Senator Tim Scott, is expected to jump into the presidential race.
Speaking about his Wednesday endorsement, Norman told Fox News Digital that while Trump was "exactly who the Republican Party needed" in 2016, the GOP has "entered a season of change.
"For too long, Republicans had been marginalized. Then Trump came along and reminded us how to fight what we believe. We are better off now for what President Trump accomplished while he was president," Norman said.
"However, the Republican Party has entered a season of change. We're at a pivotal juncture, and most of the Republicans I know are now looking for new leadership with a new vision at the top of the ticket. Nikki Haley has that vision, and she's going to be an outstanding president."
Haley thanked Norman for his support on Wednesday, tweeting, "From our days in the state legislature to today, you have been a voice for fiscal sanity and conservative leadership. I'm honored to have you on @TeamHaley!"
Norman, who was elected to the state legislature with Haley in 2004, was the first public official to back Haley in 2010 when she ran for governor. After winning the 2010 election, Haley served for two terms as South Carolina's first female governor and the youngest governor in the country at the time.
Newsweek reached out to Trump's campaign for comment.