Donald Trump Is Losing the Midwest and Republicans Could Pay a Heavy Price in Midterms, Poll Indicates
President Donald Trump is losing support in the Midwest—and so is the Republican Party, a new poll shows, less than two months before the November midterm elections in which they are fighting to keep control of the House and the Senate.
Trump's job approval rating in an NPR/Marist poll released Wednesday was just 39 percent among participating registered voters, the same as the poll's result in July, but support for him in the Midwest is dwindling. In July, 40 percent of registered voters in the Midwest approved of Trump's performance versus 38 percent in September, and his disapproval rating among Midwesterners jumped from 50 percent in July to 55 percent in September.
Republican Party candidates saw an even greater decline. Only 38 percent of voters in the new poll said they would vote for a Republican candidate in the November elections while 50 percent would back a Democratic candidate, compared to 40 percent for Republicans and 47 percent for Democrats in July.
The widened gap from 7 percentage points to 12—the largest since December 2017 when Democrats had a 13-point lead—was down in large part to Midwestern voters. In July, 42 percent backed Republicans and 43 percent supported Democrats, but by September only 37 percent were for Republicans and a whopping 51 percent backed Democrats.
"Every way we are looking at the data, the same general pattern is emerging. The Midwest is an area that is getting restless about what they hoped was going to occur and what they feel is not occurring," Lee Miringoff, director of the Marist Institute for Public Opinion, told NPR.
Miringoff added: "Presidents' approval ratings, when they are low in midterm elections, cause havoc for the party in power." Accordingly, Trump's low approval rating is "casting a cloud over the GOP Congress," he said.
Waning support for Trump, and the GOP, in the Midwest may owe much to impacts the president's policies have had on the region. Trump engaged in trade wars abroad with the intent of renegotiating deals. But foreign countries responded to Trump's tariffs on imports with tariffs on exports, hurting Midwestern farmers and some automobile manufacturers.
"Republicans have not only been fairly silent in opposition to the president," Miringoff said. "Congressional Republicans are buying into Trump for November. In terms of brand, they look totally in lockstep with the president—and that has become extremely clear to voters."
Trump has been campaigning regularly for Republican candidates ahead of the midterms, as has his eldest son Donald Trump Jr. Aides for Trump discussed having first daughter Ivanka Trump rally supporters in states where her father is unpopular, The Washington Post reported last month.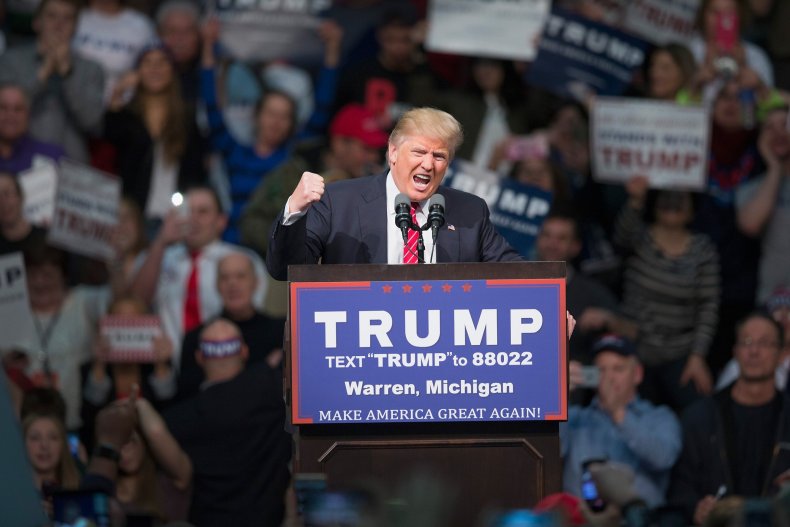 History is not on Trump or the GOP's side. Dating back to President Harry Truman, the president's party has lost 28 House and 3 Senate seats on average in the first-term midterm elections.
Trump Jr. on ABC News Tuesday encouraged "our people, the MAGA people" to "get out and vote and I think we can break history."
The latest poll, conducted from September 5 to 9, involved 777 registered voters and had a margin of error of plus or minus 4 percentage points. Marist found the Midwestern shift away from Trump and Republicans in other statewide polls it conducted in Michigan, Minnesota and Wisconsin.