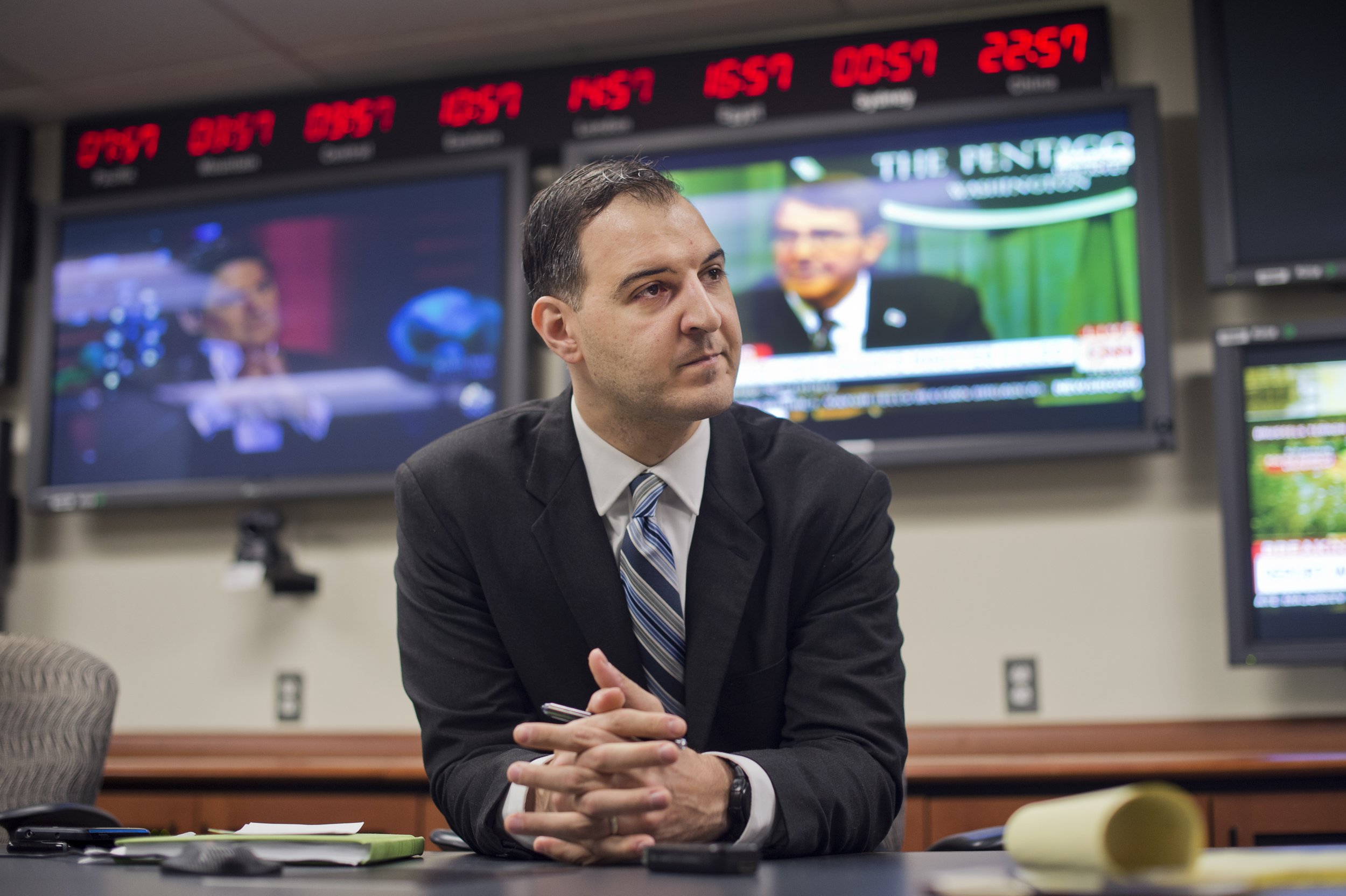 After having served in various positions under presidents George W. Bush and Barack Obama, the founding director of the Department of Homeland Security's Office for Community Partnerships and leader of the federal Countering Violent Extremism Task Force resigned his post about six months into the administration of President Donald Trump. In explaining his departure, which he emphasized was by choice, George Selim pointed to "hyper-partisanship" in Washington and budget cuts the Trump administration had threatened to the CVE programs ge worked on.
"It was time to leave government and try to be a vocal advocate for these issues from the outside," Selim told NPR in early August. On Monday, the Anti-Defamation League announced it had appointed Selim to do just that, in the newly created role of senior vice president of programs. He will also oversee the ADL's Center on Extremism.
"I am thrilled to join ADL and work with a world-class team to protect the Jewish people and secure justice and fair treatment to all. As we saw in Charlottesville, [Virginia,] this mission is more important than ever," Selim said in a statement. "From training law enforcement, to monitoring and combating extremism, to working with schools on anti-bias training, the organization has an impressive, comprehensive approach that I look forward to building upon."
Before assuming his most recent roles in the last two years, Selim worked at the White House as director of community partnerships on the National Security Council staff. He worked on policies and programs related to domestic and global security and other issues, oversaw efforts to prevent violent extremism in the U.S. and worked to create a network of government and civil society leaders who could together address security issues. Selim has also worked as a senior policy adviser at the DHS Office for Civil Rights & Civil Liberties, the U.S. Department of Justice and the Arab American Institute.
"Part of the great work that I got to do is build and establish a team of people, a grant program, a network of NGOs and civil society leaders, who could work on these issues, both at home and abroad," Selim told NPR. "I viewed my role as now needing to step out and potentially be more of an asset from the outside."
The programs Selim has worked on have drawn criticism both from right-wing figures who disapprove of such partnerships with American Muslim communities and from American Muslim organizations, which call out CVE efforts for focusing primarily or entirely on Muslims.
"As a federal program intended to counter violent extremism within the United States, CVE's primary focus on the Muslim community cannot be justified," wrote Amineh Safi, government affairs coordinator for the Council on American-Islamic Relations (CAIR), in an op-ed earlier this month, following the U.S. House Oversight and Government Reform Committee's congressional hearing on the government's CVE policies. "The underlying goal of the CVE program has been to gain access to, surveil and collect information on the American Muslim community," she claims. "This motive was exposed by the Trump administration's withdrawal of CVE funds from projects that do not focus on Muslims and where law-enforcement is not involved."
Within weeks of Trump's inauguration, Reuters reported that the new administration intended to revise the government's CVE program and rename it "Countering Islamic Extremism" or "Countering Radical Islamic Extremism," pointedly eliminating any attention and resources it had devoted to countering white supremacists and other non-Muslim extremists. That news followed closely on the heels of Trump's first attempt to ban travel to the U.S. from seven Muslim-majority countries.
Selim designed and implemented a CVE grants program at DHS, with the first round of recipients announced just before Obama left office. In May, the new administration froze the $10 million in grant money. When DHS unfroze the funds and reannounced the CVE grants, groups like Life After Hate—a nonprofit that works to help people leave white supremacist and neo-Nazi groups that was supposed to receive a $400,000 grant— were not on the list. Trump's budget proposal for 2018 revealed in May that his administration hoped to cut funding to the CVE program entirely, reducing allocations from $50 million to zero.
At around the same time that Trump released his budget proposal, the ADL's Center on Extremism—which Selim will now oversee—published a report titled "A Dark and Constant Rage: 25 Years of Right-Wing Terrorism in the United States," which emphasized that "the very real specter of radical Islamic terror in the United States has existed alongside an equally serious threat of terror from right-wing extremist groups and individuals."
At ADL, Selim will oversee the organization's work training law enforcement and its anti-bias, anti-hate education efforts. Unlike the government's increasing focus on what the ADL has called "radical Islamic terror," Selim's new home works to combat hate coming from all directions.
"George Selim has unparalleled expertise in engaging communities to stop the destructive extremism that comes from all sides of the ideological spectrum," Jonathan Greenblatt, the CEO and National Director of ADL, to whom Selim will report, said in a statement. "Particularly in the aftermath of the events in Charlottesville, we look forward to the leadership he will bring to our fight against anti-Semitism and bigotry, and our work promoting justice and fair treatment for all."