Donald Trump is 'More Loyal to Putin Than to Our NATO Allies,' Democrat Leaders Say After Germany 'Insults'
Democratic leaders attacked President Donald Trump as signifying he is "more loyal" to Russian President Vladimir Putin than he is to the United States' NATO allies after Trump launched his latest attacks on U.S. partners. At a breakfast meeting with NATO Secretary General Jens Stoltenberg on Wednesday, Trump claimed Germany was "totally controlled by Russia," because of its level of energy dependence on the country.
"President Trump's brazen insults and denigration of one of America's most steadfast allies, Germany, is an embarrassment," read a statement from Senate Minority Leader Chuck Schumer and House Minority Leader Nancy Pelosi. "His behavior this morning is another profoundly disturbing signal that the President is more loyal to President Putin than to our NATO allies."
Since the start of his campaign for president more than three years ago, Trump has been accused by critics of taking a more favorable stance toward Russia, a traditional rival to U.S. power, than the United States' allies. At the same time, his campaign has faced allegations of colluding with Russia during the 2016 election. An investigation into Russia's meddling and its links to the Trump campaign is ongoing.
Trump has long fueled such criticisms. Ahead of his trip to Europe, where he will attend NATO's annual summit before heading to the United Kingdom and then flying to Helsinki for a sit-down with Putin, Trump said the meeting with Putin "may be the easiest" on his trip.
"If the President leaves the meeting without ironclad assurances and concrete steps toward a full cessation of Russian attacks on our democracy, this meeting will not only be a failure—it will be a grave step backward for the future of the international order and global security," Schumer and Pelosi said. "A successful meeting means real action, now.
"The president needs to remember that, as Commander-in-Chief, his duty is to protect the American people from foreign threats, not to sell out our democracy to Putin."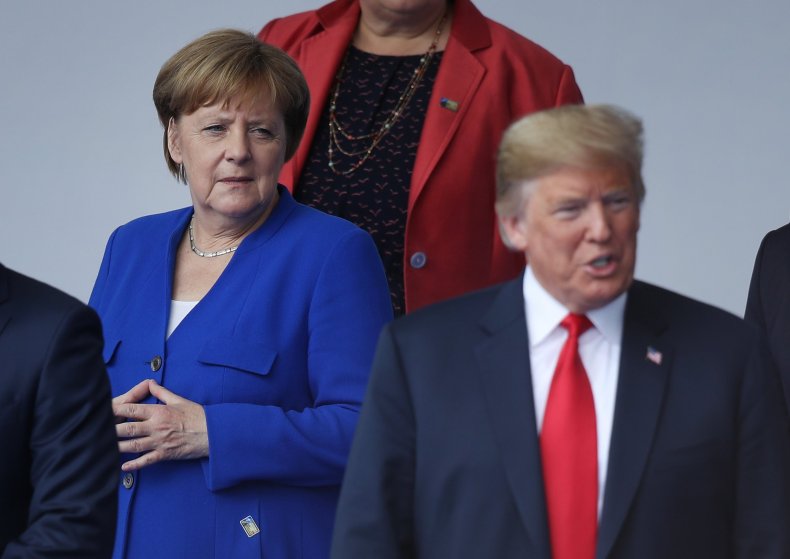 Trump's words about the upcoming Putin meeting contrasted sharply with the way in which he assailed Germany as he arrived in Brussels.
"Germany is totally controlled by Russia because they will be getting from 60 percent to 70 percent of their energy from Russia, and a new pipeline, and you tell me if that's appropriate because I think it's not and I think it's a very bad thing for Nato," Trump said, adding that "Germany is a captive of Russia."
The comments received a swift and sharp rebuke from German Chancellor Angela Merkel.
"I want to say that I have experience of when a part of Germany was controlled by the Soviet Union," Merkel, who grew up in Soviet-controlled East Germany, said.
The two leaders had a one-on-one meeting later on Wednesday, after which Trump claimed: "We have a tremendous relationship with Germany."