Donald Trump Is Still Lying About His Crowd Sizes Almost 2 Years Into His Presidency
Nearly two years into his presidency, Donald Trump is still lying about his crowd sizes at rallies and campaign events around the country.
At a rally in Houston on Monday evening, the president boasted, without evidence, that there were 50,000 people were watching the event outside the arena. Contradicting Trump's account, Houston Police Chief Art Acevedo tweeted that there were only 3,000 people watching outside the Toyota Center, where Trump rallied in support of his former foe Senator Ted Cruz in his re-election bid.
"This is some record crowd," Trump said in the opening remarks of his 76-minute speech, in which he hit on major campaign messages about immigration and trade. "They just told me we broke the record, but we could really break it if we could get all the people that are outside in here. We would break it by three times."
The president later added that they put big screens up for the "50,000 people outside who we love," telling the crowd inside to "wave to them."
Before the rally began, Trump tweeted an aerial video showing "massive crowds inside and outside" the Houston arena.
As Trump continues to campaign around the country for vulnerable Republicans ahead of the 2018 midterm elections, he repeatedly exaggerates the size of his rally crowds.
At a rally in Springfield, Missouri, in late September, Trump claimed that there were 45,000 supporters stuck outside the event being held in JQH Arena. The public information chief for the city of Springfield told reporters that there were about 11,000 people inside the stadium and another 1,000 outside.
In late August during a rally in Evansville, Indiana, Trump went off on a tangent that if Hillary Clinton had won the 2016 election and was holding the same midterm election rally that her crowd sizes would have been much smaller than his.
"If crooked Hillary came here, if she had 300 to 500 people—first of all, she wouldn't be in this building. She'd be in a hotel conference room. It would be a conference room, right?" Trump said, prompting applause from the crowd.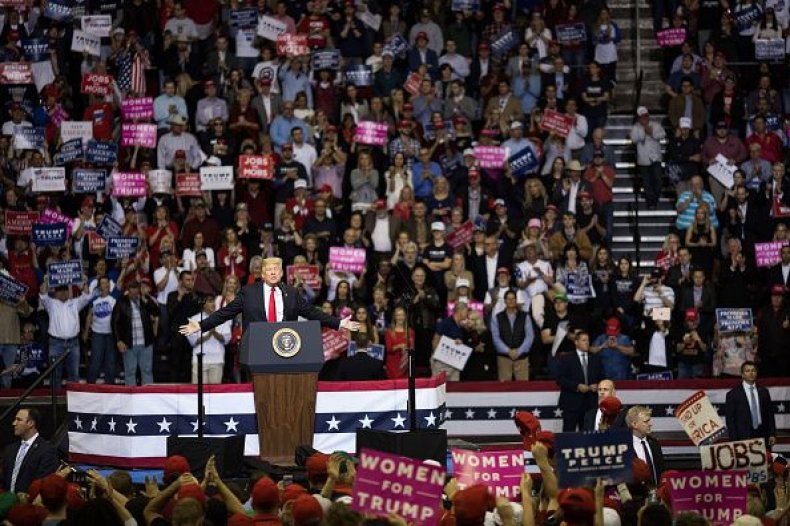 Trump's obsession with his crowd sizes began the day of his inauguration when he falsely claimed that he had the largest inauguration crowd in history. It was also later revealed in a report by The Guardian that a government photographer altered and cropped the photos from inauguration day to make the crowd seem larger.
Sean Spicer, then the White House press secretary, later said that he "screwed up" by insisting Trump had the biggest inauguration audience ever.