Donald Trump Acknowledges He Hasn't Yet Made America Great Despite Being President for Over 2 Years
Donald Trump may be more than halfway through his first term as president but he is still trying to "Make America Great Again." On Wednesday, Donald J. Trump for President, Inc. announced a "MAGA" rally in the Texas border city of El Paso on Monday.
"We are pleased to announce a Make America Great Again rally on Monday, February 11th in El Paso, Texas, featuring President Donald Trump," Michael Glassner, chief operating officer of Donald J. Trump for President Inc., said. "As the President continues his fight to secure our border, there's no better place to demonstrate that walls work than in El Paso. President Trump looks forward to visiting with the patriots of Texas who are on the front lines of the struggle against open border Democrats who allow drugs, crime, and sex trafficking all along our border every day."
The rally will be Trump's first since he crisscrossed the country to campaign for Republicans ahead of the 2018 midterms, when the GOP lost control of the House of Representatives but took advantage of a favorable electoral map to grow its majority in the Senate. It will also be seen by many as the start of his campaign for re-election.
Still, despite being in office for more than two years, Trump's slogan has not moved on from the one he used to blast previous presidents who he said had dragged down the United States over a series of decades. Trump has said repeatedly over the past year that he would tweak his slogan to "Keep America Great."
"By the way, this is the first, for Indiana," he said at a rally in Indiana in May 2018. "Our new slogan for 2020. You know what it is? 'Keep America Great.' Because we're doing so well that in another two years when we start the heavy campaign, 'Make America Great Again' wouldn't work out too well."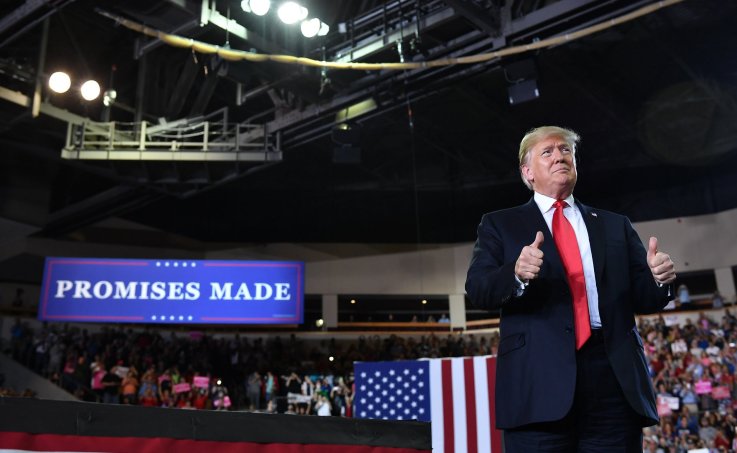 It remains to be seen exactly when Trump will officially unveil his new rally slogan, but many of his potential Democratic rivals for 2020 have already announced their campaigns for president.
As well as suggesting that he has not yet made the country "great," despite his repeated touting of economic numbers, the fact that Trump continues to use his 2016 slogan for a trip to discuss the southern border will also highlight that he has yet to fulfill one of his signature promises from his last campaign.
Trump's charge for the White House was ignited by a call for a wall along the southern border with Mexico. But, despite Republicans controlling all three branches of federal government during his first two years in office, Trump is no closer to making that a reality. Last month Trump backed down on his demand that Democrats agree to provide $5.7 billion for the wall when he relented and ended a government shutdown that dragged on for a record 35 days.
Trump's failure to get the wall built has prompted fierce criticism from some prominent conservatives.
"45 minutes in, we got 30 seconds on the wall. He better be breaking ground tomorrow," Ann Coulter wrote on Twitter during Trump's State of the Union address Tuesday night.
"If you don't build a wall & deport illegals, we'll be a socialist country in about 5 years. Nice words though," she added.
Donald Trump Acknowledges He Hasn't Yet Made America Great Despite Being President for Over 2 Years | U.S.