Donald Trump Makes Fun of Peter Meijer's Name at Michigan Rally
Donald Trump made fun of the spelling and pronunciation of Rep. Peter Meijer's last name during a rally in Michigan on Saturday.
Meijer, a Republican representing Michigan's third congressional district, has been a target of the former president since voting to impeach him over the January 6 attack on the U.S. Capitol, just days after he was sworn into Congress last year.
At the rally in Washington Township, Trump urged the crowd to oust Meijer in the August primary.
He then appeared to go on a tangent about what he viewed as the odd spelling of the congressman's name.
"A guy who spells his name M-E-I-J-E-R but they pronounce it Meyer," Trump said. "The hell kind of a spelling is that?
He continued: "I said, how the hell do you pronounce this guy's name? Nobody knows if he's done nothing in Washington... I said, how do you pronounce his name, is it MA-GER, MY-GER? They said it's MY-ER. How the hell do you get MY-ER out of it?"
However, most Michigan residents are likely familiar with the spelling and pronunciation of Meijer, whose family founded the Michigan-based Meijer superstore chain that is popular in the Midwest.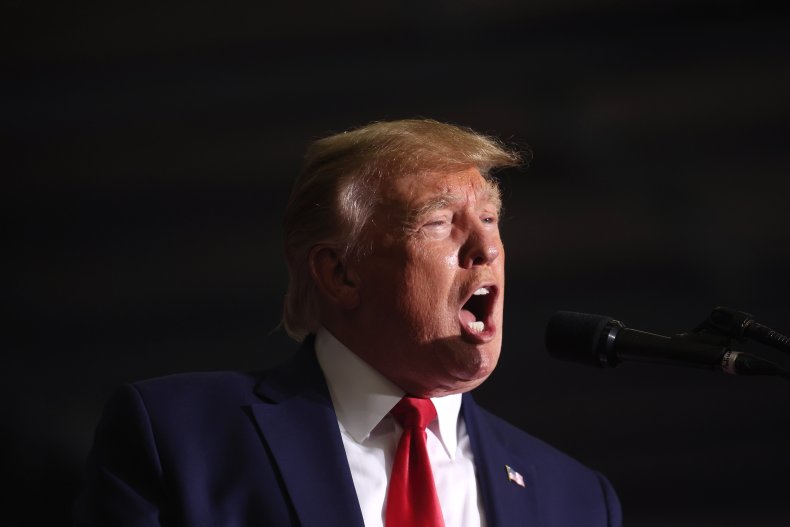 Meijer is the grandson of store founder Frederik Meijer, but has never worked for the family company besides stocking shelves and collecting carts, according to Forbes.
Twitter users were quick to accuse Trump of being out of touch with Michiganders.
"Just wait til he finds out we call the store "Meijer's" and not Meijer," Michigan State Rep. Mari Manoogian, a Democrat, tweeted.
Jennifer Mercieca, a historian of political rhetoric, wrote: "Every single person in Michigan knows how to pronounce Meijer. Meijers is the HEB of Michigan, everyone loves it. Ad hominem failure."
"How out-of-touch with Michigan do you have to be to not know how to pronounce "Meijer"?" wrote journalist Brad Polumbo.
Priti Kothari, who works in television production, wrote: "It's pronounced MY-ER & the Meijer family is practically royalty in Western Mich. They created a grocery store empire & have beautiful botanical gardens, a state park, and hiking trails to their name. How utterly embarrassing for Trump and his idiot audience. So sorry @RepMeijer."
Todd Hagopian of the Libertarian Party added: "Meijer is Michigan's 5th largest employer, and possibly the best grocery store in the Midwest. Which is probably why nobody laughed."
Journalist and author James Surowiecki wrote: "Trump has not only never been in a Meijer superstore. He doesn't even know what one is. Hell, he's probably never even been in a Walmart. But he's the tribune of the people."
Others pointed out that Trump's German ancestors were Drumpfs before changing their surname to Trump. "Kind of an odd critique from a guy whose family name was originally spelled 'Drumpf,'" author Jonah Blank wrote.
"Says the descendant of a man who changed his name from Drumpf to Trump," MSNBC's Mehdi Hasan wrote.
Peter Meijer's office has been contacted for comment.