What Is Extreme Vetting? Trump Targets Immigrants After NYC Truck Attack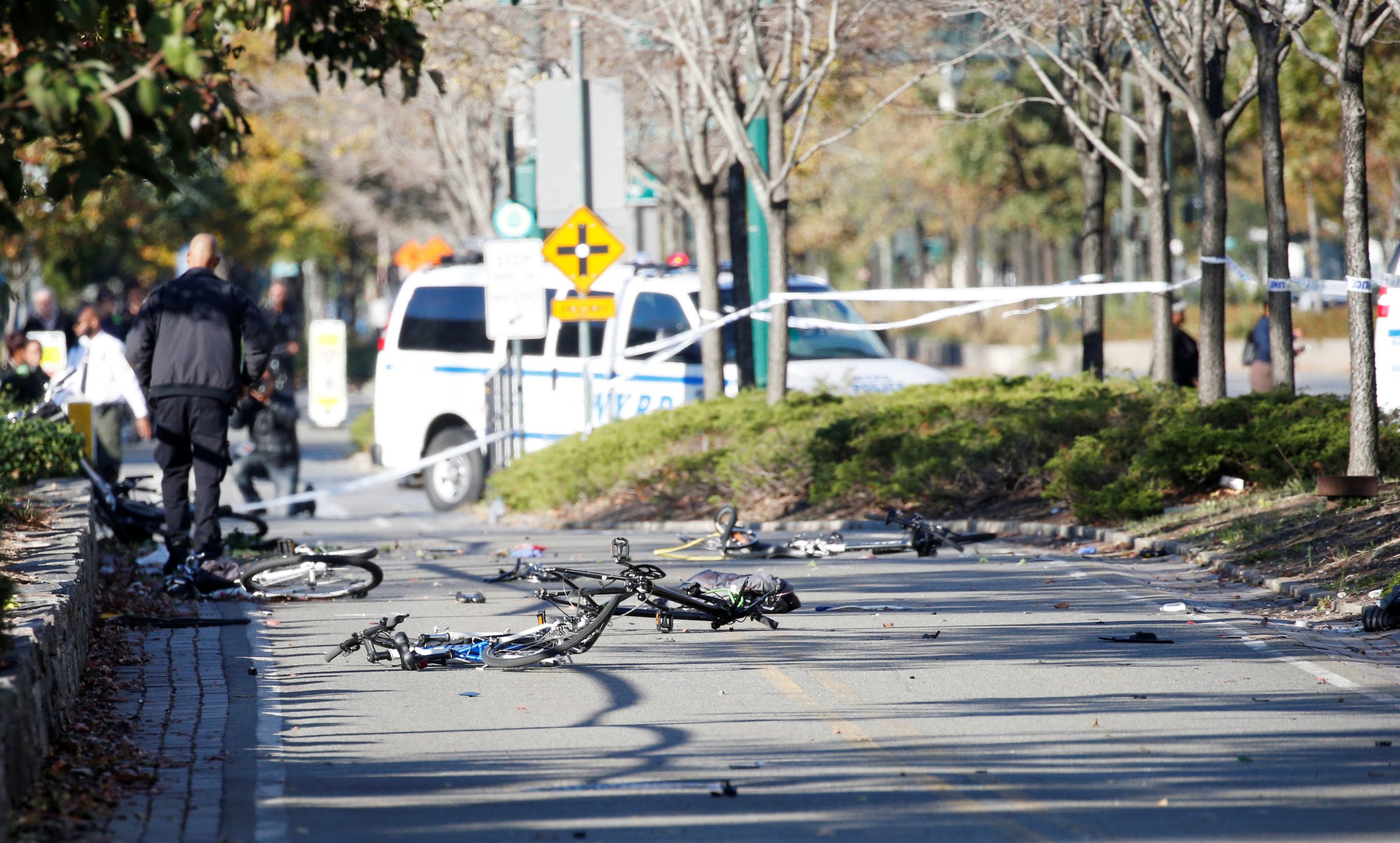 Updated | President Donald Trump vowed Tuesday to ramp up "extreme" vetting of those entering the United States, tweeting out his intentions hours after a driver intentionally mowed down cyclists in his hometown of New York.
"I have just ordered Homeland Security to step up our already Extreme Vetting Program. Being politically correct is fine, but not for this!" the president tweeted at 9:26 p.m. after eight people died and more were injured in a surprise attack near the World Trade Center.
Trump initially began tweeting soon after the driver, identified by authorities as Sayfullo Habibullaevic Saipov, 29, ran his rented Home Depot truck down the bike path adjoining Manhattan's West Side Highway.
At 5:30 p.m., the president said the incident appeared to be "another attack by a very sick and deranged person." About an hour later, he tweeted again, saying, "We must not allow ISIS to return, or enter, our country after defeating them in the Middle East and elsewhere."
Saipov, who was shot by a New York Police Department officer but lived, was identified in media reports as originally from the former Soviet republic of Uzbekistan and was to have shouted "Allahu Akbar" in the hearing of bystanders before his rampage came to an end.
Just before 7 p.m., Trump offered his "thoughts, condolences and prayers to the victims and families" of the attack via Twitter, echoing his in-person comments to the nation the day after a gunman slaughtered concertgoers in Las Vegas on October 1.
Trump's leap into action follows months of court battles over his administration's attempts to institute stronger restrictions on travel to the U.S. from a group of majority-Muslim nations in the interest of national security. Uzbekistan is not among the nations on the list for the restrictions, which have been challenged as discriminatory.
Trump's Wednesday public schedule made no mention of any plans to travel to his hometown in the immediate wake of the tragedy. It included several standard events, as well as a private lunch with Vice President Mike Pence, Secretary of State Rex Tillerson and Secretary of Defense James Mattis.
According to a federal advisory, Tillerson was scheduled to meet with Belgian Foreign Minister Didier Reynders Wednesday morning in Washington. The minister on Tuesday had via Twitter identified one of the attack victims and three of the injured as Belgian nationals.
A State Department official said "the meeting had been scheduled prior to the terror attack in New York City."
This article has been updated to include comment from the State Department.