Donald Trump Has 'Manhood Issue' Over Border Wall, Says Nancy Pelosi
President Donald Trump has a "manhood issue" when it comes to his proposed wall along the country's shared southern border with Mexico, according to House Minority Leader Nancy Pelosi.
The California lawmaker appeared Tuesday at Harvard University's Institute of Politics to speak about a variety of topics, including what Democrats would do if they manage to take back Congress following next month's midterm elections.
Pelosi said her party could work with Trump on several issues and policies, but that the border wall was not one of them. She was taking a question from a Harvard student who asked what Democrats would trade for the president to get his wall, and Pelosi said "nothing," according to The Washington Post.
"It's immoral, expensive, ineffective and not something people do between countries," Pelosi said. "In any event, it happens to be like a manhood issue for the president, and I'm not interested in that."
Pelosi's comments came the same day Trump had labeled former adult film actress Stormy Daniels as a "horseface" and Daniels, whose legal name is Stephanie Clifford, responding by calling the president "tiny." Many of Trump's critics have challenged his ego and the president has responded with insults or quips.
Pelosi did state that Democrats could work with the Republican president on better infrastructure and that the people in her party "have to always try" to work with the commander-in-chief.
Still, Pelosi's comments might stand as a proverbial line in the sand for a president who campaigned heavily on hindering illegal immigration specifically by constructing a massive border wall.
And Republicans had previously predicted any funding for a wall could constitute a significant fight between the executive and legislative branches.
Throughout his nearly two years in office, Trump has railed against Congress and his own party for failing to secure funding for the wall, with the president even threatening to shut down the federal government unless such funding was appropriated.
"That could be one of the big year-end fights and battles that still remains to be played out," said third-ranking Republican and Senator John Thune to CNN. But Thune also said he did not "accept" Trump would actually shut down the government.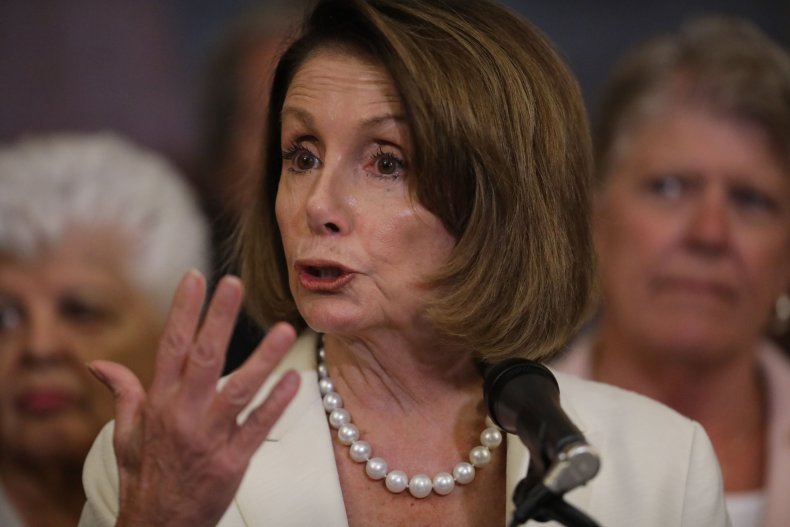 The president had long blasted Democrats as wanting "open borders" and failing to enact strong immigration policies while blaming the Obama administration for allowing immigrants to run amok around the country after initially being detained at the border.
On Tuesday, Trump tweeted his administration had warned the governments of Honduras, Guatemala and El Salvador to stop a caravan of immigrants from making its way to the U.S. or "payments" to those countries would "STOP (END)!"
"We have today informed the countries of Honduras, Guatemala and El Salvador that if they allow their citizens, or others, to journey through their borders and up to the United States, with the intention of entering our country illegally, all payments made to them will STOP (END)!" Trump said.