Donald Trump's Mar-a-Lago Trips Cost Taxpayers $3.4 Million Each, Government Watchdog Says
President Donald Trump's first four trips to his south Florida club Mar-a-Lago after taking office in 2017 cost taxpayers $13.6 million, or an average of $3.4 million per trip, a government watchdog agency concluded in a report published Tuesday.
The Government Accountability Office (GAO), which conducted the report, found the president's four trips between February 3 and March 5 of 2017, had operating costs of government aircrafts and boats totaling $10.3 million. The government's personnel costs supporting Trump's travel, including transportation, lodging, meals and other expenses, totaled $3 million. The costs did not include some classified expenses and the salary or benefits of the traveling personnel, who would have paid regardless of the trips.
Throughout the four trips, Trump was at the resort for 14 days, equating to a taxpayer cost of around $1 million per day.
Roughly $60,000 of the $13.6 million went directly to Mar-a-Lago. Of that money, $24,000 for lodging came from the Department of Defense and $36,000 from the Department of Homeland Security.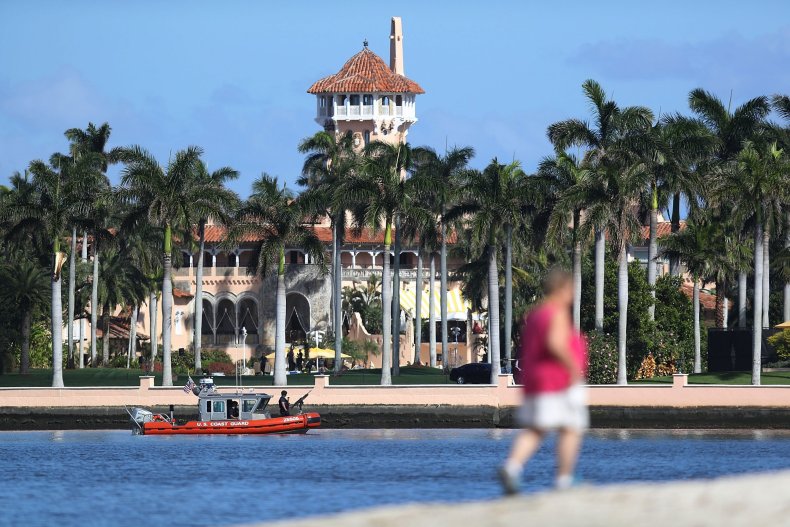 In addition to revealing the multimillion-dollar price tag for each Mar-a-Lago trip, the GAO report says three international trips in January and February 2017 made by the president's eldest sons, Donald Trump, Jr. and Eric Trump, cost the Secret Service $396,000. The trips include Eric traveling to Uruguay and the Dominican Republic, and both sons traveling to the United Arab Emirates with their spouses.
"GAO is making recommendations to the Secret Service and DOD to ensure that the reports required under the Presidential Protection Assistance Act of 1976, as amended, are prepared and submitted," the report suggested. According to GAO, the 1976 law requires the Secret Service, DoD and the Coast Guard to "submit semi-annual reports to six congressional committees on expenditures made pursuant to the act."
GAO said DHS and DoD agreed with the watchdog's recommendations.
The White House did not immediately respond to Newsweek's request for comment.
When asked in 2017 about his travel expenses to the exclusive club, White House press secretary Sarah Huckabee Sanders said: "The bottom line is the president is the president no matter where he goes, and he doesn't get to control the level of costs and security that may come along with that."