Trump Praised As Anti-Abortion 'Champion' Amid Plans To Make History As First President To Speak at March For Life
President Donald Trump has drawn accolades from anti-abortion advocates and lawmakers after March for Life organizers announced that he would be making history as the first president to speak at the annual event on Friday.
"We are deeply honored to welcome President Trump to the 47th annual March for Life," March for Life President Jeanne Mancini said in a statement on Wednesday.
Noting that Trump would be the "first president in history to attend," Mancini said organizers of the event campaigning for an end to abortion care were "so excited for [Trump] to experience in person how passionate our marchers are about life and protecting the unborn."
The March for Life president praised Trump as a "champion" for anti-abortion efforts, asserting that "from the appointment of pro-life judges and federal workers, to cutting taxpayer funding for abortions here and abroad, to calling for an end to late-term abortions, President Trump and his Administration have been consistent champions for life."
"Their support for the March for Life has been unwavering," she said.
"We are grateful for all these pro-life accomplishments and look forward to gaining more victories for life in the future," Manicini added.
The White House did not immediately respond to a request from Newsweek for comment or confirmation that Trump would be speaking at the event.
However, praise for the president's expected historic move has already flooded in, with other anti-abortion campaigners and politicians applauding Trump for what will undoubtedly come as a clear message on his stance on abortion.
"Great news!" Republican Iowa Sen. Joni Ernst said in a tweet praising the decision. "Thank you for standing for life @realDonaldTrump."
Fellow GOP Sen. Mike Braun of Indiana also joined in applauding Trump for making "a bold statement that this administration whole-heartedly believes in the sanctity of life and supports those who stand for it."
Anti-abortion activist and founder of Live Action Lila Rose also weighed in on the news, thanking Trump for his "commitment to fighting for the lives of the most vulnerable."
While news of Trump's plans to speak at the March for Life rally will undoubtedly spark outrage and condemnation from abortion rights activists, much of the feedback flooding Twitter by early Thursday morning appeared to be praise from anti-abortion advocates.
The news of Trump's plans to speak at the March for Life event came on the 47th anniversary of Roe v. Wade, the landmark 1973 Supreme Court ruling that established the right to abortion in the U.S.
For pro-abortion campaigners, the anniversary came as bittersweet, with many worried that the ruling could soon be overturned, well before it ever reaches its 50th anniversary.
In an interview with Newsweek, Mary Ziegler, a professor at Florida State University's College of Law who specializes in the legal history of reproduction and the Constitution, said celebrations of Roe v. Wade's legacy were being overshadowed this year by the possibility that the ruling may soon be rescinded.
"I think about the anniversary every year. Most years, people are looking back at what the legacy has been," Ziegler said. This year, however, "there are genuine concerns about the long-term future" of Roe.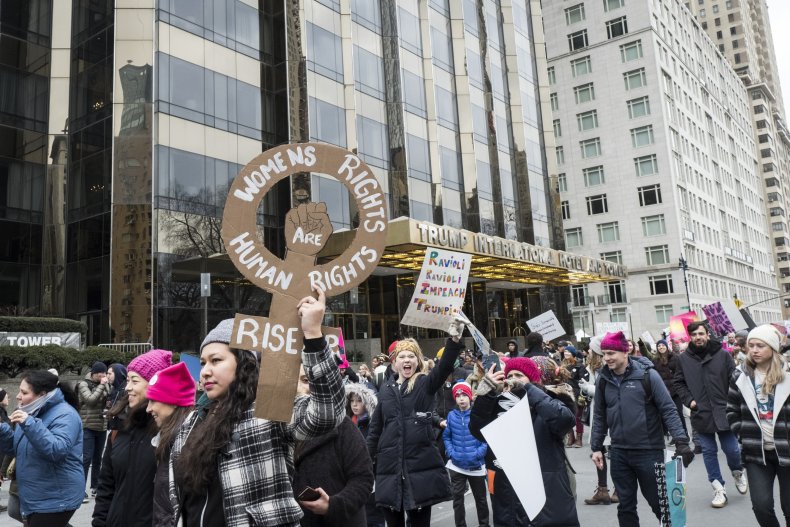 Those concerns, of course, are pinned on the fact that the Supreme Court now has a five-justice conservative majority following the controversial confirmation of Justice Brett Kavanaugh, who joined the court despite widespread opposition over allegations of past sexual misconduct.
Over the past year, states have rushed to usher in new legislation banning abortion to varying degrees in the hopes that those rules will be ready to come into effect if the Supreme Court does overturn Roe.
At the same time, however, other states have made strides in introducing new legislation aimed at protecting access to abortion, even if it is no longer protected as a right.
The graphic below, provided by Statista, illustrates how the number of legal abortions have been declining in the U.S.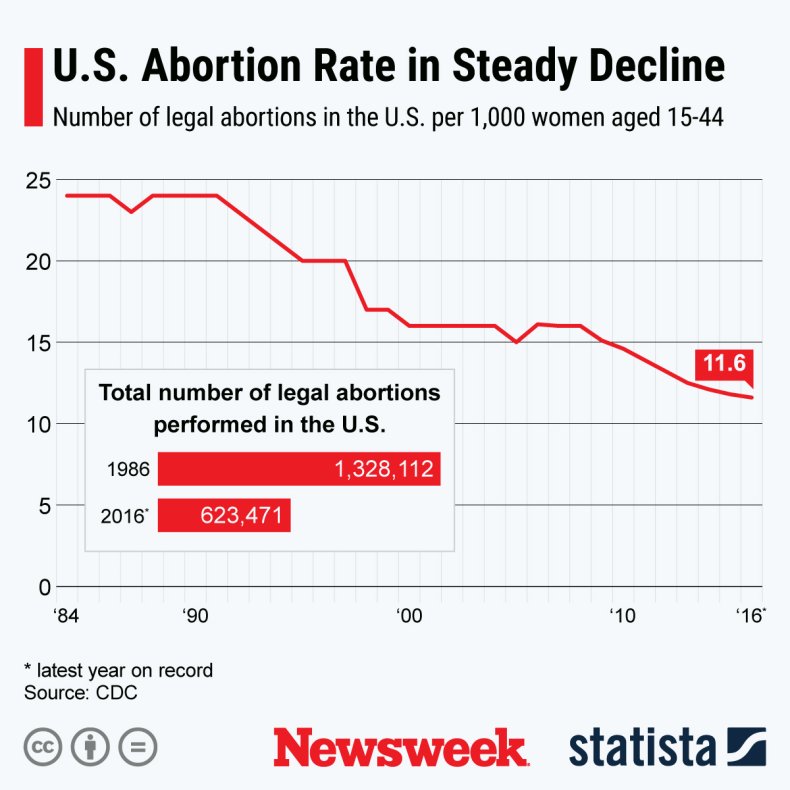 This article was updated to include an infographic.