Legal Weed: Donald Trump Delivers Latest Blow to Sessions, Says He'll 'Probably End Up Supporting' Marijuana Legislation
President Donald Trump delivered another blow to Attorney General Jeff Sessions on Friday morning when he told reporters he would support new bipartisan marijuana legislation.
Addressing the media at the White House before departing for the G-7 summit, Trump said he would "probably end up supporting" the recent bill being circulated through the Senate by Republican Cory Gardner and Democrat Elizabeth Warren.
"I really do. I support Senator Gardner," Trump said. "I know exactly what he's doing, we're looking at it. But I probably will end up supporting that, yes."
The legislation, which was unveiled Thursday, would not legalize marijuana. Instead, it would protect people who chose to use the drug as long as they followed state and local laws on the matter. The bill, which amends portions of the Controlled Substances Act, also states that buying or selling pot would not be considering drug trafficking.
Senator Warren took to Twitter to promote the bill in a series of social media posts, writing that the "federal government's marijuana policies are broken, outdated, and disregard the rights of states like MA & CO that have taken their own thoughtful approaches."
According to a recently released Gallup poll, 65 percent of Americans believed it was "morally okay" to use marijuana. A majority of people even thought smoking pot was more ethical than buying or wearing clothing made of fur. Lawmakers have also been jumping on board and supporting marijuana legalization in increasing numbers.
Trump's embrace of the bill is another blow to Sessions, a longtime opponent of marijuana. In his tenure the attorney general reversed Obama-era legislation by giving prosecutors more leeway in enforcing federal laws against the drug in states where it was already legal.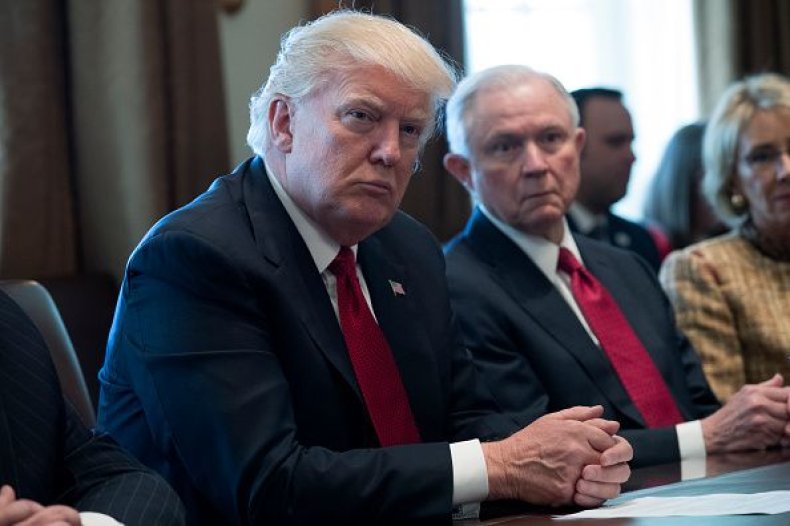 Sessions has also said he believed the marijuana legalization movement was a serious contributing factor in the country's opioid crisis and overdose deaths.
Trump has shown little love for Sessions since he recused himself last year from the federal investigation of Russia's meddling in the 2016 election. The president once tweeted that he wished he had chosen another attorney general in the first place.
Along with questions about the new legislation, reporters asked Trump on Friday whether he was considering firing Sessions. Trump was quick to respond that "we'll see what happens."